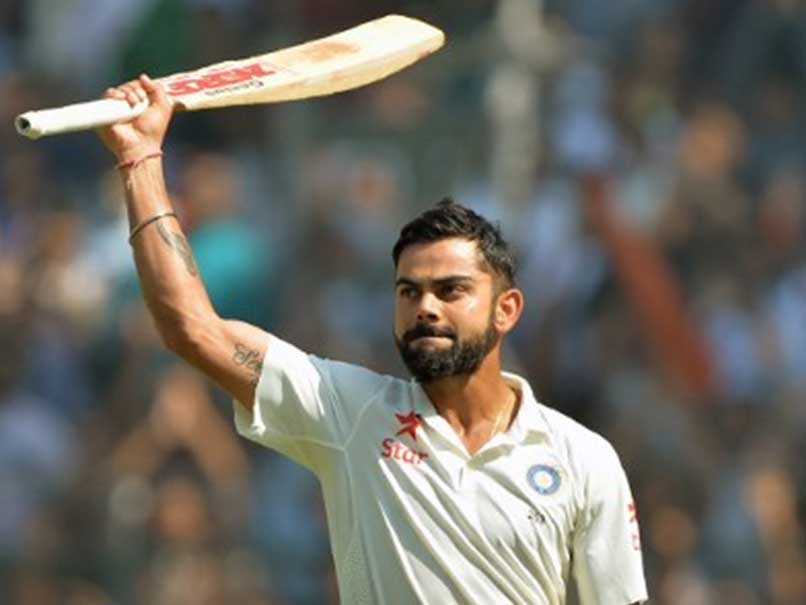 Virat Kohli has been enjoying a superb run of form in 2016.
© AFP
Despite Virat Kohli's incredible run of form this year, England pacer James Anderson has said that the Indian Test skipper hasn't changed since the 2014 series in England.
Instead, Anderson believes that the slow Indian tracks have helped remove the technical glitches in Kohli's game.
Referring to the 2014 Test series, in which Virat Kohli struggled with the bat, the England cricketer said, "I am not sure if he (Kohli) has changed. I just think any technical deficiencies he has got are not in play out here. The wickets just take that out of the equation."
"There is not that pace in the wicket to get the nicks, like we did against him in England - with a bit more movement," he added.
Anderson, who is England's highest wicket-taker in Tests, said his side failed to execute their plans against Indian all-rounder Jayant Yadav, who scored 104 runs while batting at No. 9.
"We plan for every batsman -- from Nos 1 to 11. We have played three Tests now against Yadav, so it is no surprise - we knew he can bat very competently. We had plans for him. Sometimes they don't come off; sometimes you don't execute your plans well enough, as was the case today. I thought he played exceptionally well," he stated.
Anderson is hoping against hope that the England lower order will script a dramatic turn-around on the final day to save the visitors from another embarrassing defeat.
"We are going to come here tomorrow and try to fight our way back into this game if we can. We are 50 runs behind. If we can bat with the positive intent we showed today, there's no reason why we can't get a hundred ahead of them and then try to put some pressure on them with the ball," said Anderson after England had ended Day 4 at 182 for six, still needing to make 49 runs to make the hosts bat again.
Anderson conceded that their bowling in the morning was below par which enabled India to score 128 runs in 29 overs before lunch.
"It is immensely frustrating. Coming to the ground this morning, needing to get three wickets with them 50 ahead, if we could get them we are still well in the game. Unfortunately we didn't bowl as well as we could have first thing," he said.
"The ball started flying around this morning, and then they got settled and managed to put on a big partnership," added England's highest Test wicket-taker.
Although his team's top batsmen have found the Indian spin bowlers hard to tackle, Anderson said it can be done as was shown by Joe Root in his classy innings of 77 and Jonny Bairstow, who was unbeaten on 50 at stumps.
"I am not sure if they are too difficult to handle. They are obviously world-class spinners, but we knew the task ahead when we came over here. We knew it was going to be difficult.
"But I enjoyed watching Joe Root and Jonny Bairstow bat. I thought they did it with real positive intent, and showed you can still score runs out there," he said.
"We hope that is a given the lads down the order a bit of confidence going into tomorrow - because we're certainly not going to be trying to bat out for a draw. If we are going to keep this series alive, we're going to have to try to get past them and try to put some pressure on in the fourth innings," said Anderson at the cost of sounding impractical.
Asked whether the England spinners had improved, Anderson complimented leggie Adil Rashid in this respect.
"Adil, for me, has been the biggest improvement. Certainly he's shown he can be England's frontline spinner in the future."
Asked about his own performance in the series, Anderson said he was quite happy with the way he had bowled since returning after his injury lay-off but not with the meagre returns in terms of wickets.
"I have been happy with the way I have bowled but not happy with the amount of wickets I have got. That happens -especially in these conditions. It is tough. I would have liked more wickets," said the fast bowler who has taken just four wickets in three Tests he has played in the series so far.
(With inputs from PTI)