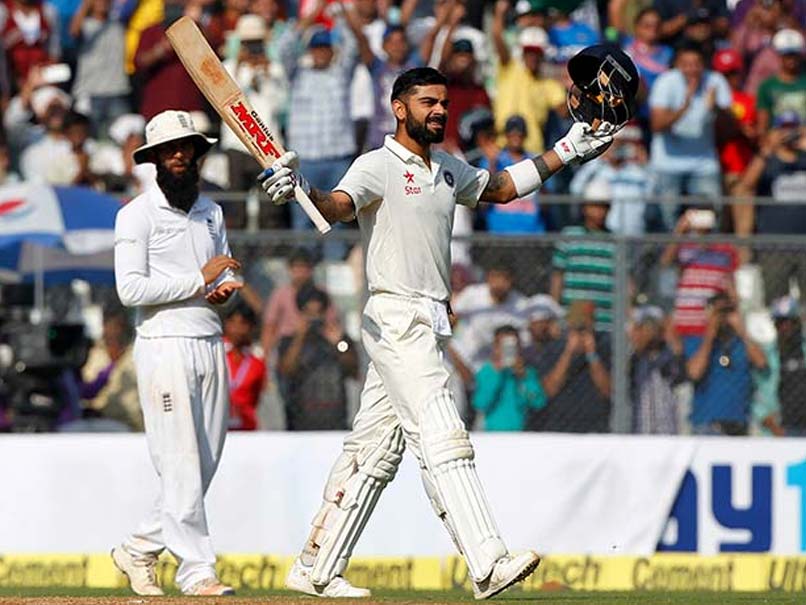 Virat Kohli has scored three double centuries as India captain.
© BCCI
Virat Kohli on Sunday created history as he became the first Indian captain to score three double hundreds.
The 28-year-old's double century against England on the fourth day of the fourth Test at the Wankhede Stadium in Mumbai was more than just a classy knock. It was attestation of his class and form. Above all, it decided, once and for all, who is the best batsman in the world now.
All the competition, in the shape of Joe Root, David Warner, Steve Smith and Kane Williamson can now sit back and enjoy the show with the rest of us. This is a champion we are seeing in action.
Three double centuries as skipper in the same year - in the West Indies, against New Zealand at home and now this -- is something amazing. He is the first Indian and the fifth batsman overall to score three double tons in a calendar year.
But this one he will cherish, given his poor average 13.40 against England before this series. That too if it seals off the series for his side. His score of 235 is also the highest by an Indian skipper, surpassing Dhoni's 224 vs Australia in 2013.
Kohli crossed the average of 50, a defined milestone in a potentially great career, on Saturday evening. Now, he is going to go ahead in the really big league.
Tiger Pataudi, Sunil Gavaskar, Sachin Tendulkar and MS Dhoni have all scored a double ton each as India captains. At 28, Kohli has three and he's just getting started.
Captain's Knock! @imVkohli @Paytm Test Cricket #INDvENG pic.twitter.com/SdZCdhV84M

— BCCI (@BCCI) December 11, 2016
Kohli, who has enjoyed a record-breaking year, passed 1,000 Test runs for 2016 and 4,000 for his career during his time at the crease on Saturday.
He scored 167 in the second Test of the five-match series against England at Visakhapatnam and has been the standout batsman of the contest.
It seems that between Saturday and Sunday, Kohli crossed over from a being a very good batsman to a great one.
Saturday saw him get his 15th Test century, as he crossed the 50-mark batting average, a milestone that all top batsmen aspire for.
Then, on Sunday, after his third double century of the year, he crossed his highest score Test score of 211.
Kohli's innings, along with contributions from Murali Vijay and Jayant Yadav, also ensured that England were on the ropes in spite of scoring 400 in the first innings. Only one team can win this Test from here now.
His aggression from Sunday morning ensured that India scored rapidly. There was a time when Yadav was actually outscoring his skipper as the two went after the England bowling.
The plan was clear - add as many runs as you can, as quickly as you can, and take it fight to England.
A message that is clear to the visitors too. But there's precious little they have managed to do about it.
(With inputs from AFP)