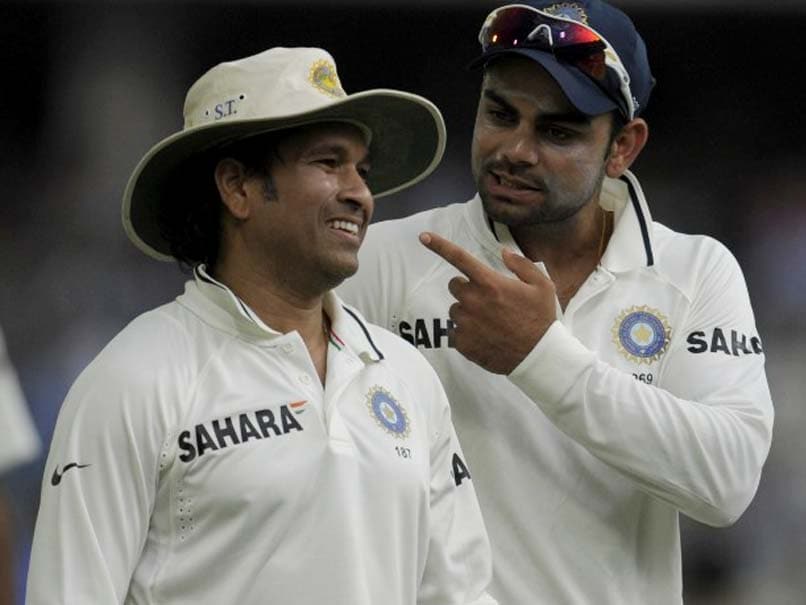 Virat Kohli has scored 15 Test tons so far, while Sachin Tendulkar's world record is 51.
© AFP
There is something about December 10. This is a date that was marked the start of the target of one of the best India has seen, in the shape of Sachin Ramesh Tendulkar. This was the day when he made his debut for Mumbai against Gujarat, at this same Wankhede Stadium. This is where it all started in terms of folklore surrounding the man. It was also the same date when Tendulkar crossed Sunil Gavaskar's record of 34 Test hundreds, albeit in the colder climes of Delhi, in the year 2005 against Sri Lanka. But a Virat Kohli Test century on Saturday just took a little attention away from history.
Mumbai had celebrated then, they are still celebrating Tendulkar's career. But its now time to look beyond, and Indian Test skipper Kohli made Saturday his own, putting a little bit of a statistical package of his own, which will surely challenge Tendulkar's graph, sooner rather than later.
The day saw Kohli do what he does best - lead from the front when the England bowlers were threatening to run through India at Day Three of the fourth Test.
The 28-year-old Kohli not only carved up his 15th Test century, he also crossed 4000 Test runs. He also completed 2000 Test runs as skipper.
These are statistics that will last, and many a batsman in India has been more focused on those rather than the larger picture. This is where Kohli differs - he punched the air, embraced batting partner Jayant Yadav and then went right back to accruing vital runs for India, ensuring that the team got past England's score of 400.
The bigger picture also makes for India's effort to win the Test and seal off the series, especially after England had been fighting for ascendancy on both days.
Kohli's century, and that of Murali Vijay, will be remembered for that feat, if achieved. More than mere statistics and anniversaries.