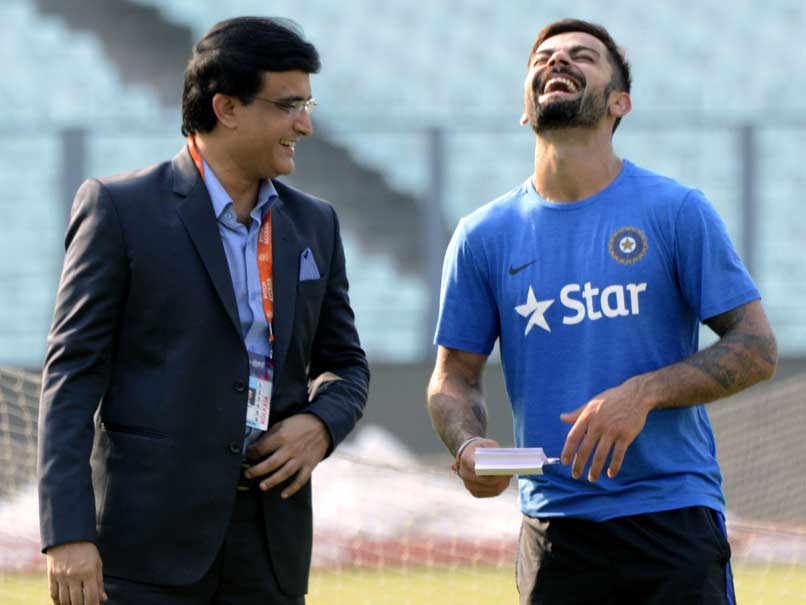 Sourav Ganguly has praised the captaincy of Virat Kohli.
© AFP
Virat Kohli, India Test captain, has never shied away from expressing his aggression on the field. And that attitude has impressed another great captain Sourav Ganguly - who himself was known for his aggressive attitude.
"His (Kohli's) aggression is two-times more than mine," he told reporters in Kolkata.
Ganguly famously celebrated India's Natwest triangular Series win in 2002 by taking off his shirt at the Lord's cricket ground.
Kohli also is not known to give an inch to the opposition.
The dashing right-hander recently led India to their fifth successive Test victory after India's innings and 36 runs win at Mumbai, their biggest triumph over England in Tests at home.
Kohli also became the first Indian captain to win five successive Test series -- 2-1 vs Sri Lanka in 2015; 3-0 vs South Africa in 2015-16; 2-0 vs West Indies in 2016; 3-0 vs New Zealand and 3-0 (leading) vs England in 2016-17.
On his Foundation aimed at school children and the lesser privileged ones at different district schools of the state, Ganguly said, "Through PitchVision we promise to take cricket in West Bengal to the next level.
"We will appoint 100-150 coaches to help in the training of various kids from different schools who will be associated with us. Free coaching will also be given to cricketers who are not financially strong," he added.
(With inputs from IANS)