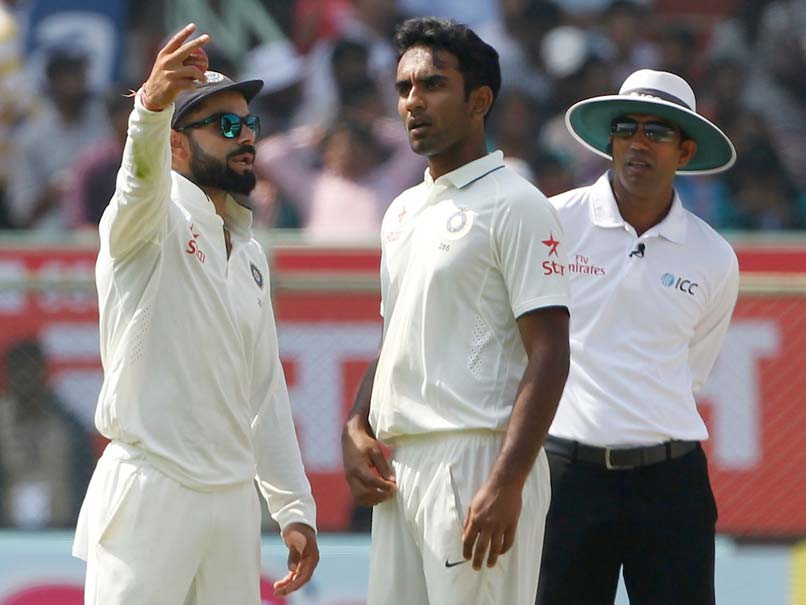 Virat Kohli on Tuesday climbed to number two on ICC's rankings for Test batsmen.
© BCCI
Cricket legend Sunil Gavaskar on Tuesday said that Virat Kohli needed to fine-tune some aspects of his captaincy in order to attain more success in Test cricket. Speaking to NDTV, the former India opener gave Kohli seven out of ten for his leadership after India sealed the five-match Test series against England 3-0. The 28-year-old led from the front in the fourth Test in Mumbai, scoring a record-breaking double century. Riding on Kohli's sensational knock, the hosts thrashed England by an innings and 36 runs in Mumbai.
"I would give Virat Kohli's captaincy a 7 on 10. There are certain areas of improvement," he said.
Gavaskar, however, backed the lad from Delhi to lead India to glory away from home as well.
"Kohli leads from the front and that is what lifts the confidence of the players. This will give them a belief that they can deliver anywhere, in any conditions," Gavaskar added.
The former India captain also lauded Kohli's batting brilliance in recent months.
"Look at the confidence, look at his balance at the crease, look at the way he shapes up to play every delivery. That just tells you that Kohli will have a very special season.
"There is no such thing as a perfect batsman, but Virat is getting closer to it. His double hundred in Mumbai was near perfect," Gavaskar said.
Kohli has been in sensational form in 2016. The stylish right-hander has scored runs in all three formats. This also reflects on the positions he occupies in the ICC rankings in Tests (2nd), T20Is (1st) and ODIs (1st).
Kohli has scored runs all over the world, barring England. But Gavaskar has backed the superstar batsman to get runs when he plays in England next.
"Virat has scored runs everywhere except England. You need to survive the early overs there. Temperament in key and that will decide how well he will perform in England. But I think he will deliver on his next tour there," Gavaskar further added.