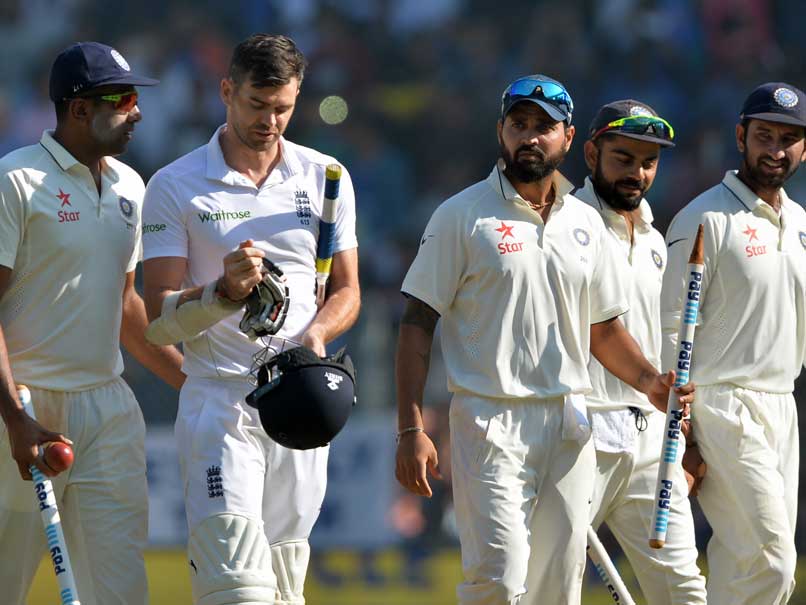 James Anderson's comments on Virat Kohli irked Ravichandran Ashwin and he made it known.
© AFP
After Sunil Gavaskar, Inzamam-ul-Haq, Graeme Smith, now India's first World Cup wining captain Kapil Dev has come in support of Kohli's technique.
Kapil said Kohli can and will score runs in all countries including England, where he endured a tough time two years ago.
"Virat can very well play in all conditions. He is simply playing fabulous cricket. It is great to see an Indian play like this. I have never seen a cricketer like him," Kapil said.
Anderson triggered a controversy by saying Kohli had made a mountain of runs in Indian conditions, which according to the England pace spearhead, "take any flaws out of the equation".
In a lighter vein, Kapil went on to say that Kohli can even score runs with his sunglasses on, considering he is in the form of his life.
The 28-year-old Kohli has already scored 41 international hundreds and averages more than 50 in all three formats.
Is he good enough to break Sachin Tendulkar's records and is he better than his peers - Joe Root and Steve Smith? Kapil said, "All I would say is look at Virat's record. That speaks for itself. The records show that he is the best at the moment," said Kapil.
However, he said that it is too early to judge Kohli's captaincy even though he has managed to win five successive series. "It is too early. He has got a long way to go."
The former India all-rounder also lauded the effort of star spinner Ravichandran Ashwin, who alongside Kohli has been instrumental in the team's recent success.
"He is one of the fabulous bowlers we have seen. Rather than he breaking my record or anyone else's, what target he would set for others is more important," he said.
Former India coach Madan Lal was also part of the gathering. He too praised Kohli besides expressing surprise at England's abject failure in the ongoing five-match series.
"I was a bit surprised with England's performance. They played very badly. They have not even played 30 percent of their calibre despite winning the toss a couple of times. India simply outclassed them," Lal, who represented India in the 80s, said.
On Kohli, he added: "He has created new passion in the team and has given confidence to all the players. A leader has to give a lot of confidence to the players and he has done that. His batting form has been phenomenal. Let people like Anderson say whatever they want, it doesn't make a difference," Lal added.