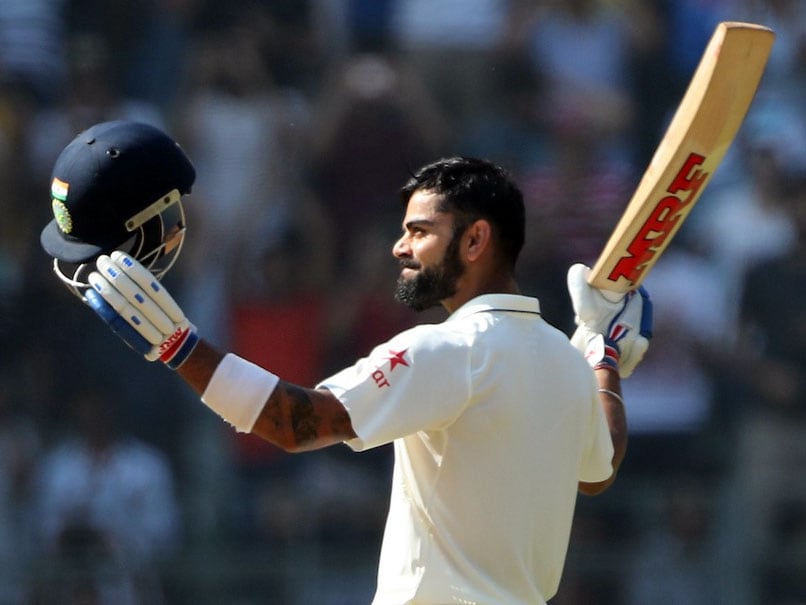 Virat Kohli scored his third double century of 2016 during India vs England 4th Test.
© BCCI
Virat Kohli's steady ascendancy towards greatness has startled all. In the last couple of years, he has time and again proved to be best player of the current generation. Former India captain Sunil Gavaskar, in an exclusive interview to NDTV, went a step ahead and said that Kohli is the most unique player. Gavaskar and former India opener, Aakash Chopra, waxed eloquent about Kohli after India's win in the fourth Test against England.
"There has never been another like Virat Kohli. The way he batted on a turning track at the Wankhede Stadium and scored 235 was exceptional. On that pitch, a good batsman may be expected to score a century, but Kohli went a notch higher," Gavaskar said.
Kohli has so far scored three double centuries in 2016. His 235 is also the highest by an Indian Test captain. He also averages above 50 in all three formats of the game.
However, after the fourth day England bowler James Anderson said the flaws in Kohli's technique have been negated due to the nature of Indian pitches and that's why he was successful.
"I am not sure if he (Kohli) has changed (his technique). I just think any technical deficiencies he has got are not in play out here. The wickets just take that out of the equation," Anderson said.
"There is not that pace in the wicket to get the nicks, like we did against him in England - with a bit more movement."
'Kohli's temperament stronger'
Gavaskar agreed that Kohli might not have changed his technique but added that temperament-wise the India captain is much stronger now.
"Temperament separates men from boys. Technique doesn't change. In temperament Virat Kohli has become stronger," he said.
Chopra, however, said that Anderson's comments were not in good taste.
"One should accept defeats gracefully. Anderson's comments were in bad taste," he said.