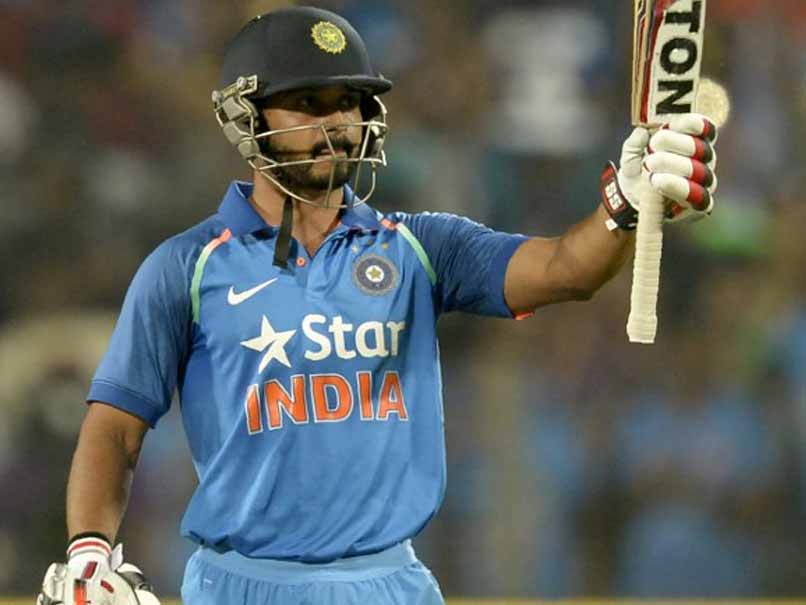 Kedar Jadhav was awarded Man of the Match for his brilliant performance
© AFP
Between the parents' proud smiles and his mother's worried look as he cramped up, local boy and Man of the Match Kedar Jadhav made an indelible mark for himself in the record books of Indian cricket as India cruised to an improbable three-wicket win over England in the first One-day International at Pune on Sunday.
Kedar Jadhav is not your archetypal India cricketer - he does not likely have any Twitter following or people don't seek him out on Google. But in Pune, the home boy did something that he will be remembered for a long time indeed. When Jadhav joined skipper Virat Kohli in the middle with India on 63 for four, chasing 350, few thought the hosts would actually win. But when Kohli departed, after the two had stitched together an even 200 runs for the fifth wicket, all eyes turned to the low profile Jadhav.
The diminutive cricketer did not fail them. While he would have loved to be there when the winning runs came, the 31-year-old did enough to make sure that the side was ahead of the asking rate by the time he departed. Jadhav departed for 120 off 76 balls but his second ton in 13th ODI match also became the fifth fastest by an Indian. 
Wracked with cramps that changed his mother's proud smile to a concerned wince, Jadhav did not wilt. He opted for the big shots since the running between the wickets had become almost impossible.
There was a time when he collapsed on the crease after playing a shot. But none of it stopped him, and he battled to get a century which attested his determination as well as his skill to keep the faith and support his skipper to the hilt.
"A partnership I will remember for a long time," skipper Virat Kohli said after the win.
So will we all.