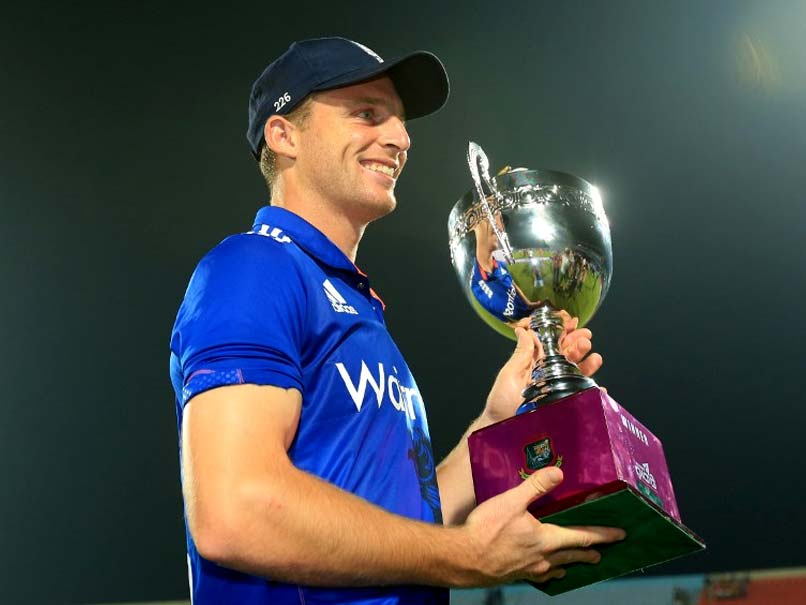 Jos Buttler said England will try their best to win the second ODI in Cuttack.
© AFP
England may not have won even a single match yet in their tour of India but team vice-captain Jos Buttler on Wednesday said that the host country is unique place for playing cricket. The wicketkeeper-batsman was part of the England team that lost the five-match Test series 0-4 at the end of last year and said that the visitors were looking forward to win the do-or-die second One-Day International (ODI) in Cuttack on Thursday.
India chased down England's total of 350 with three wickets to spare in Pune on Sunday after Virat Kohli and Kedar Jadhav struck two fantastic centuries to take the hosts home.
"There's no place like India to come and play cricket. It is a fantastic experience for someone to cherish and really embrace. The atmosphere the other day in Pune (first ODI) was fantastic. The quieter it is, it's better for us. It's a fantastic challenge for us and a really enjoyable one," Buttler said at the pre-match press conference.
"We've lost the first match, so straightaway it's a knock-out game for us tomorrow. Looking ahead, there's a tournament coming up in the summer and it's fantastic to be under the pressure," he added.
Buttler said his side have the capability to make a turnaround as they trail 0-1 in the three-match ODI series after losing the first game by three wickets.
"As a side if we can come from 1-0 down and win the series 2-1... obviously we've got to progress one game at a time but I think it is great that we can get that excitement, not just for myself but for the group that straightaway tomorrow is a knockout type of a game. I think that's a real motivation."
England failed to defend their best ever total of 350 against India in the first ODI in Pune but Buttler sought to draw positives from that match.
"We reached 350 without anyone going on getting a 100. That's the difference between the two sides, two guys standing up for the Indian team and going past three figures. Getting to 350 should give us confidence. Guys do go on and make telling contributions, 350 plus is achievable for us as a side," he said.
Kohli came up with another masterclass century while Jadhav hit an outstanding 120 to help India script an astonishing chase to take a 1-0 lead going into Cuttack one-dayer.
"He (Kohli) occupies as much space as anyone else. He's been in fantastic form for a long period of time. His record is very good. Guys constantly have been coming up with plans for him," Buttler said of Kohli.
"India have some other fantastic players in their side as well. We can't focus on just one player and forget about the others. Something we've been trying to do as group is focus on our strengths and really back out strengths. Obviously you have to specific plans."
Back into a vice-captain's role, Buttler said he's happy to be under Eoin Morgan.
"Yes definitely, I'm enjoying it. Under Eoin (Morgan), it's fantastic to have him back. As a wicket-keeper, your role is to always offer advice to the captain and try and come up with plans and solution," said Buttler.
Showering praise on Morgan, he said: "He has a wealth of experience, he's played a lot of cricket compared to the young group that we are. He really champions people playing in the way they believe and he goes out and shows that in the way he plays and he has done that for England.
Just a few fans came down to watch training today... pic.twitter.com/FN2SSCugB1

— England Cricket (@englandcricket) January 18, 2017
"He's one of the first revolutionary players for England and that probably shows in the group in the way the people look to him, the way he's taking his career forward and the way he champions guys to play. He gives guys a lot of confidence to go out there and play in that fashion. He's very calm under pressure, a very forward thinking guy."
Buttler said he enjoyed his responsibility in the team.
"That's something I want to be as a player, someone who can win games of cricket for England. That's the main driving force. The real motivation is to try and win games of cricket for England."
Wicketkeeper-batsman Jonny Bairstow and Sam Billings are out of England eleven and Buttler said it would have been great if they could have a couple of substitutes.
"I think it shows the strength and depth of the side. Sam and Jonny have been around with the group and for a long time. Getting them in the XI is the job of the selectors and captain to the pick the team and there's great competition in our squad."
More England Cricketers in IPL
Buttler said the time he spent with the Mumbai Indians in the Indian Premier League 2016 made him a better cricketer.
"I think the IPL is probably the best cricket experience I've ever had. I've learnt as much, not just about T20 but about myself, about all forms of cricket, about what it takes to become a top cricketer. It's the best experience I've had as a cricketer," the 26-year-old told reporters.
"Whether other people will feel that, I don't know. I could only have good things to say about it. So hopefully, from my point of view, there are more English guys involved in experiencing playing in these conditions, in front of these crowds, under the pressure of being overseas players.
"It can only stand you in good stead, looking forward to when you play for England, and when you play in different competitions and knockout competitions, I think it is a great experience to be part of," he said.
Buttler is expected to give his English teammates his advice ahead of the IPL-2017 auction slated to be held in Bengaluru on February 4.
"Well, little bit maybe. If the guys ask, I am obviously happy to discuss it. I think it is always going to be a little bit of an individual decision. I can only speak from my own experience."
Asked whether he would focus more on the Champions Trophy nearing in less than six months time or the franchisee-based lucrative league, Buttler said, "It's a tough question. End of the day, you want to play for England and represent England."
England will prepare for the Champions Trophy in June by hosting Ireland for two match ODI series.
"Obviously the management will make the call on the players, and the availability for the Ireland games. I think its a great thing for Irish cricket as well to be playing England in England.
"One of the game is in Lord's as well, so that's a good thing for cricket as a whole. It is important for growing the game of cricket as whole. I understand that it is a tricky sort of situation -- the IPL is a great experience but playing for England is obviously a fantastic opportunity and a privilege as well. It's a tough question."
(With PTI inputs)