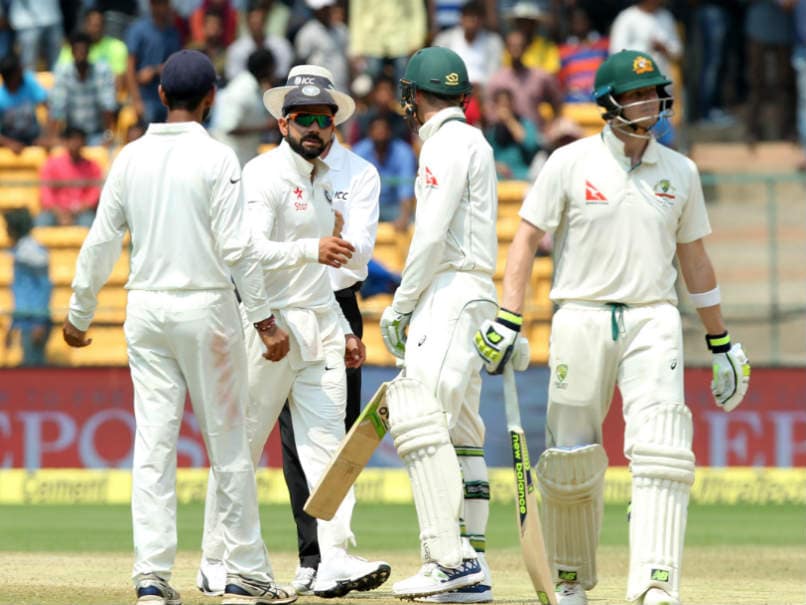 Virat Kohli gave his opposite number Steve Smith the royal send-off in the 2nd innings of 2nd Test.
© BCCI
Former Pakistan fast bowler Shoaib Akhtar defended Indian captain Virat Kohli after he was recently criticised by former Australian wicketkeeper Ian Healy, who said he was losing respect for Kohli due to his constant sledging of the Australians in the ongoing four-match Test series. After India's thrilling win over Steve Smith's men in the second Test at Bengaluru, Kohli responded to Healy's comments during the post-match press conference. India won the Bengaluru Test to level the series 1-1. The third India vs Australia Test will be played in Ranchi, starting on March 16.
"We have 1.2 billion people in India and one person doesn't make a difference," said Kohli after India's 75-run win.
"And also I think you should go and search on YouTube when he was given out in Centurion down the leg side. I heard he said something about me not having good behavior with the umpires. I think you all should YouTube that video," the Delhi batsman further added.
Kohli found support in Akhtar, who took to Twitter to remind Healy of his own conduct during his career.
Amused 2 read @Iheals take on @imVkohli. Come on Heals have heard many 'polite enquiries' in ur deep voice, case of pot calling kettle black

— Shoaib Akhtar (@shoaib100mph) March 7, 2017
If anything @Iheals comments on @imVkohli may have switched him & his team on even more. Sorry Heals this was a self-goal!

— Shoaib Akhtar (@shoaib100mph) March 7, 2017
"The pressure is starting to tell on (Kohli). I'm losing respect for him. He's got to be a lot more respectful of his opponents. The stuff he did with Steve Smith was unacceptable," the 119-Test veteran Healy told Melbourne radio station SEN.
"I've said in the past, he (Kohli) is the best batsman I've ever seen. His feistiness and real aggression towards the opposition has been good (in the past), especially when he was not captain. It would lead his team with him. They're more timid than they look and they let on, the Indian cricketers.
"So Kohli's aggression was good for them. But I think it's not good for them anymore. He's really putting some pressure on (his players). You can read pressure all over Ravichandran Ashwin's face. I think there are massive cracks showing in (Kohli)," said Healy.
Having set the visitors a target of 188 runs to win, Indian bowlers made the most out of a favourable bowling track as the Australian batsmen crumbled under pressure. Ravichandran Ashwin finished with figures of 6/41, while Umesh Yadav picked two crucial wickets for the hosts. Ishant Sharma and Ravindra Jadeja both claimed a wicket each.