Story Progress
Back to home
India vs Australia Series Was The Best: Rohit Sharma
India defeated Australia 2-1 in the recently concluded four-Test series to reclaim the Border-Gavaskar Trophy.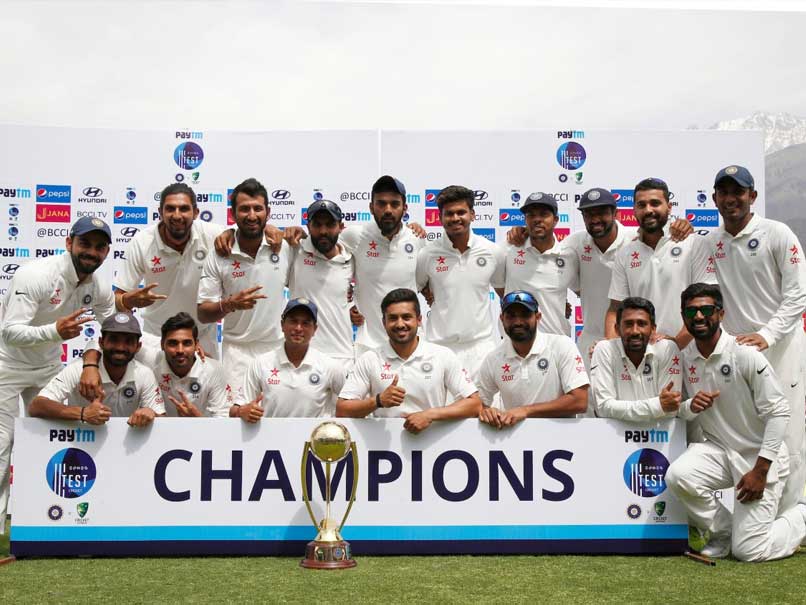 India beat Australia in the final Test in Dharamsala to clinch the four-Test series 2-1.
© BCCI
Highlights
Rohit Sharma dubs India vs Australia seires as the best

Rohit Sharma praised the competitive nature of the series

India beat Australia 2-1 to reclaim the Border-Gavaskar Trophy
Rohit Sharma heaped lavish praise on the recently concluded India vs Australia four-Test series, which the hosts won 2-1 to reclaim the Border-Gavaskar Trophy. Lauding the highly competitive nature of the series, the fit-again batsman felt it was the best among the four home rubbers this season. "The last series against the Australians was the best among the 3-4 series at home because of the way it went through from the first Test. Losing the first Test and then bouncing back to win two Test matches (to win the series 2-1) was a fantastic effort (by India)," said Sharma in Mumbai on Sunday.
The flamboyant batsman, who played in the first of the three Test rubber against New Zealand before getting injured in the ODI game against the Kiwis at Vizag to miss the rest of the Test season, said the beauty of the series was the fact that different individuals came through to fill the gaps and performed well too.
"It was not about one individual; a lot of guys came in at different times, took up the challenge and performed, which is why it was the best series. The wickets were not easy and were challenging for batters. It was wonderful to watch from outside."
He insisted that although both teams fought hard they never crossed the limits vis-a-vis player behaviour and felt some incidents were blown out of proportion.
"India-Australia series have always seen good rivalry over the years and I was not surprised at what happened. When you play against a top side in the world, these things are bound to happen. As long as one remembers not to cross limits it's good.
"It was a hard-fought battle and some things were blown out of proportion. Players know what needs to be done on and off field," he concluded.
The series was bitterly fought and there was a lot of verbal duels indulged by both the teams' players right through the four-game rubber that ended with India's series triumph at Dharamsala last month-end.
(With inputs from PTI)
Topics mentioned in this article