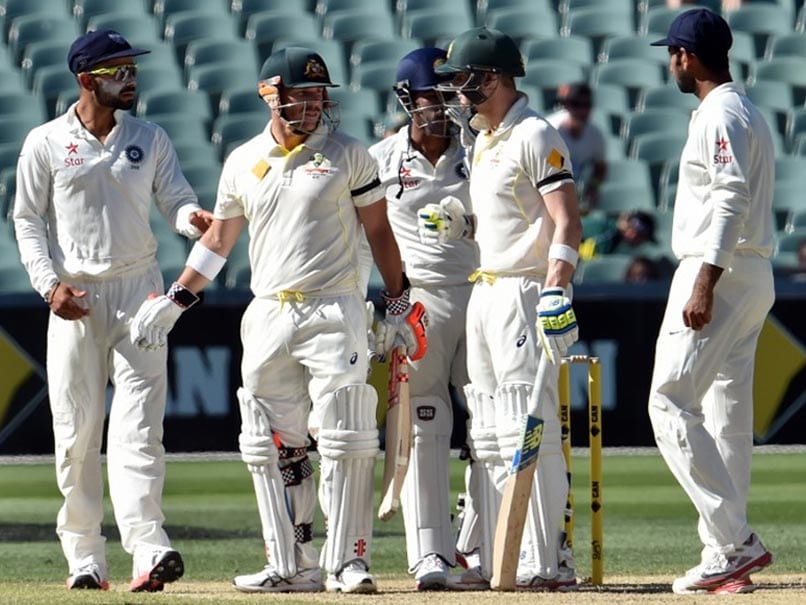 Virat Kohli and Steve Smith have been involved in a war of words since the 2nd Test.
© AFP
If the Virat Kohli-Steve Smith war of words is anything to go by, the 3rd India-Australia Test, beginning in Ranchi from Thursday, should be quite a battle. The Indian skipper, while saying today that it was time to move on, also stuck to his guns and said he had no regret about his comments in the DRS controversy that headlined the Bengaluru test. His Australian counterpart Smith was in no mood to relent either, calling Kohli's allegations against the Australians "absolute rubbish."
So, irrespective of the olive branches the Board of control for Cricket in India (BCCI) and Cricket Australia are waving ahead of the match, it is evident that the Ranchi Test will be a testy affair.
At a press conference a day before the match, Kohli was keen to focus on cricket, and said, "A lot has been given into the incident. It's time we focused on the remainder of the series. There's lot of cricket to be played and it should not happen in bad taste. What's happened in Bengaluru happened in Bengaluru, we are in Ranchi and we should look forward to tomorrow."
Both teams have moved on from Bangalore. The focus should be back on the series. Priority is cricket: India captain @imVkohli #INDvAUS pic.twitter.com/ahHlZkEard

— BCCI (@BCCI) March 15, 2017
However, he emphasized that he had no regret over accusing Australia of systematically abusing the Decision Review System (DRS) in Bengaluru.
"I don't regret anything that I have said but at the same time it's very important not to be stupid and go on about the same thing on a daily basis," said Kohli in Ranchi on Wednesday.
Smith reacted angrily, denying that he was guilty of more than a momentary lapse.
There's a new sheriff in town! Duelling skippers face veteran peacemaker #INDvAUS https://t.co/9y6jMC0ITQ pic.twitter.com/Idi7qcVEdZ

— cricket.com.au (@CricketAus) March 15, 2017
"Virat obviously stuck by his comments. From my point of view they are completely wrong. I obviously came out of the game and said I made a mistake," Smith told reporters.
"In regards that we do it consistently is absolute rubbish in my opinion. I think he was wrong in his statement."
All of this comes in the backdrop of the International Cricket Council (ICC) planning to hold talks between the two men, but the tenor of the two captains promises little in terms of reconciliation.
No regrets over DRS allegations: Kohli https://t.co/VUlsrwXCwY pic.twitter.com/A7G60L2MEJ

— cricket.com.au (@CricketAus) March 15, 2017
Smith had a meeting with ICC match referee Richie Richardson on Wednesday, but the Kohli-Smith meeting is still pending and according to Smith, will be held ahead of the match on Thursday.
"I just met with Richie ... and the other umpires. Basically what they said was 'we want to see cricket as the winner in this Test match (and) both teams to play within the rules of the game'," said Smith.
"And they said, 'we know both teams, Australia and India Test matches are fiercely contested - number one and number two in the world. It's just about playing within the boundaries of the game'."
"Both Virat and I are meeting with Richie ahead of the game tomorrow. I think it will be a similar sort of thing with Richie ensuring that we are both here to play the game of cricket," he added.
(With agency inputs)