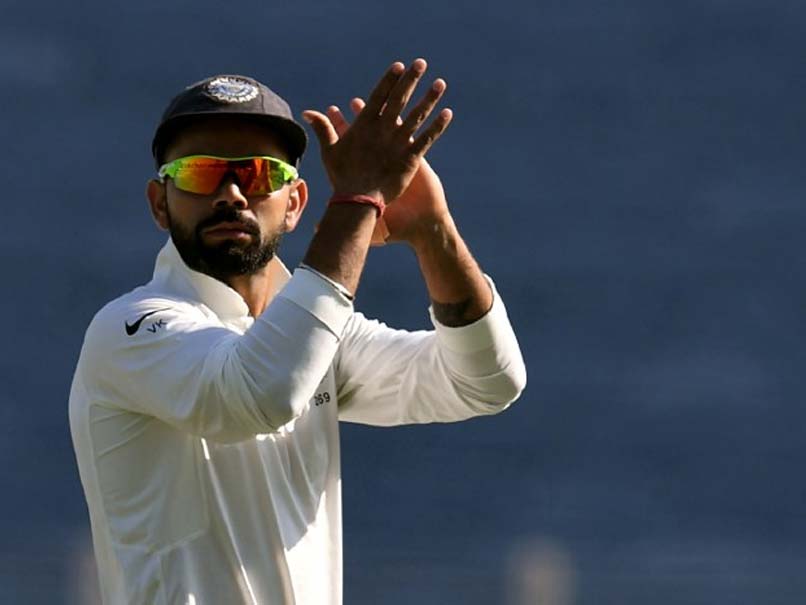 Virat Kohli said he wanted to look ahead and not think about the Bengaluru Test.
© AFP
The Indian team captain Virat Kohli does not really bother with what is being said about him, especially in the Australian media. The press corps from Down Under has been quite vocal in Kohli's criticism after he had taken on Australia skipper Steve Smith in the now-famous 'brain fade' episode during the 2nd Test in Bengaluru. Kohli says he is past that and would like to focus on just the cricket.
Questions about whether he was being targeted were natural to come up during the pre-3rd Test press briefing.
"It does not matter to me honestly," was Kohli's response. "I don't start a series saying 'focus on me, speak about me or write about me'. It's not in my control. What's in my control is what happens on the field. If people chose to write about me, speak about me, that's their choice.
"Whether it's criticism or praise, it's all happened all in the past as well. Honestly these things don't affect me. It does not matter who writes what about me. They are doing their job, I'm doing mine.
"No one plays 15-16 years of international cricket without being criticised. Everyone's making most of their jobs and my job is to play on the field," he added.
Asked about the 'allegations' against him, Kohli said he'd like to move forward.
"What were the allegations? If no charges were pressed against me how are those allegations? As I said, we need to move on and focus on the Test tomorrow. There are two sides of the coin," he said.
"I could be talking about another again and things are not just going to move forward. Everyone here has their own interests. Our focus remains on the game and we need to look forward."
Appreciation for question on cricket
With the spotlight in the news conference firmly on the Bengaluru episode, Kohli went on to thank a journalist who asked a question on Cheteshwar Pujara and Ajinkya Rahane's match-turning century-plus partnership.
"Thank you for asking about cricket. Individually I think it's adjustments that guys make in their techniques. I saw Pujara opening up his stance, I think it was apt to give himself more space," he said.
"Ajinkya trying to play inside the line of the ball not trying to play through the covers. KL (Rahul) has been batting really well. But those two guys really stepped up and found their ways. That was the difference.
"Such minor things can make massive differences. We certainly saw that as those two guys are finding ways to get runs on the wicket," he added.
Kohli said the series is not about any individual contests.
"We don't focus too much on the opposition. Honestly Ashwin did not look at it as a reply to Nathan's eight-wicket haul. He bowled well for Australia, he got eight wickets, he deserved to get them," he said.
"Ashwin bowled well in the second innings and he deserved to get six wickets. It's as plain and simple to us. We don't look at any of these competitions as such before the series, who versus who. I think these contests are created to get more excitement in the series which is fair.
"But we just focus on what we need to do in certain sessions to win games for Team India. That remains our priority. We don't get too much into looking at the other guy -- how many runs or wickets they've got. That takes the focus away from what we need to do. That's not a good mindset to be in and we certainly don't think like that," the Indian captain added.
(With inputs from PTI)