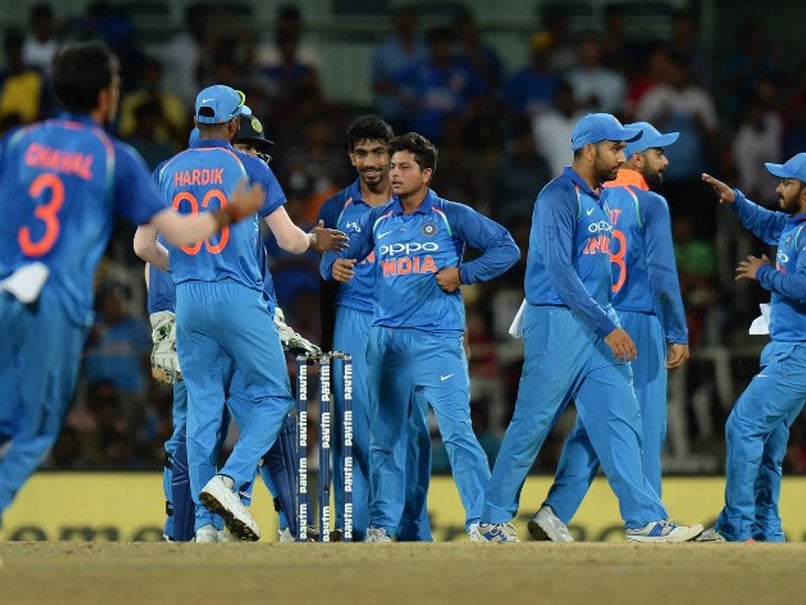 Kuldeep Yadav claimed his maiden hat-trick against Australia at Eden Gardens
© AFP
India's left-arm wrist spinner Kuldeep Yadav on Thursday became the third Indian bowler to claim a hat-trick in one-day internationals. The chinaman bowler achieved the feat during the second ODI against Australia at the Eden Gardens in Kolkata. The 22-year-old dismissed Matthew Wade (2), Ashton Agar (duck) and Pat Cummins (duck) to bag his maiden ODI hat-trick. Before Kuldeep, only former India pacer Chetan Sharma and the 1983 World Cup winning captain Kapil Dev had achieved this milestone.
Chetan Sharma, the first Indian to take a hat-trick, achieved the feat against New Zealand in 1987, while Kapil did it against Sri Lanka in 1991.
The Australian batsmen failed to pick him up in Chennai and it was no different tonight.
His best ball without a doubt was the hat-trick ball. The young spinners showed remarkable calm to bowl the wrong one that took a thick edge of Cummins' bat before landing into the hands of MS Dhoni.
Yadav got through Wade's stumps before trapping Agar infront of the stumps to be on a hat-trick. It was not the first time that Yadav took a hat-trick for his country. He had become the first Indian to take a hat-trick in the U-19 World Cup, achieving the feat against Scotland in the 2014 edition.
Yadav said it was a special night for him. "Initially I was struggling to bowl in a particular area. It is a game of cricket, everything happens. Last match, where I was hit for three sixes in an over, it was a learning experience," he said.
Asked how he planned the hat-trick ball, Yadav added: "Mahi bhai (Dhoni) what I should bowl, he said 'tujhe jaisa lagta hai wo daal (bowl what you want)'. This is special for me, changed the game for us. Really proud moment."
Here's how Kuldeep claimed his hat-trick:
Kuldeep Yadav To Matthew Wade:
OUT! Dragged on! Kuldeep Yadav picks up his first and Kohli has something to say to Wade. A banter happened when the Indian skipper was batting and he gives it back. Yadav bowls it short and a bit wide outside off, Wade gets across a long way to push it away but gets an inside edge back onto the stumps.
A hat-trick for @imkuldeep18. He becomes the third Indian to achieve this feat, after Kapil Dev and Chetan Sharma #INDvAUS pic.twitter.com/1VNgiDUvzj

— BCCI (@BCCI) September 21, 2017
Kuldeep Yadav to Ashton Agar:
OUT! LBW! It's two-in-two for Kuldeep Yadav now. All of a sudden the Aussies are falling here like a pack of cards. Bowls a loopy ball, Agar looks to flick it away but the ball dips in and hits him on the pads right in front of the stumps. A loud appeal to which umpire raises his finger, after taking his time. Ashton confers Stoinis if he should opt for the review, his partner says no and gives him the marching order.
Kuldeep Yadav to Pat Cummins:
OUT! HAT-TRICK FOR KULDEEP YADAV! And the entire Eden Gardens is up on its feet. What a feat for this man, the feeling would be totally unreal. All his mates barge towards him. Bowls a googly and Cummins lunges forward to defend it. The ball turns away a bit, takes the outside edge and Dhoni behind the stumps doesn't make any mistake. It's the 3rd hat-trick for India in the ODIs. Australia in dire straits now.
(With PTI inputs)