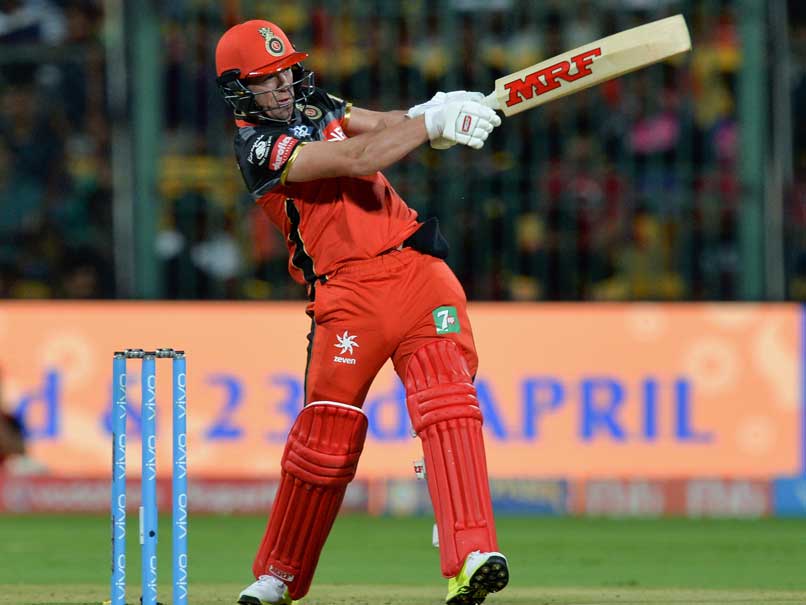 AB de Villiers is not making any excuses for RCB's dismal performance in the IPL.
© BCCI
Royal Challengers Bangalore (RCB) are out contention for the Indian Premier League (IPL) title and AB de Villiers is not making any excuses for the team's dismal performance. One of RCB's batting mainstays, South African De Villiers acknowledged that the team performed well below par but praised skipper Virat Kohli's role in handling the situation. RCB have only two wins in 11 matches so far. However, with Champions Trophy coming up next and India still not sure of participating, De Villiers hoped the team would be seen in England when the tournament begins June 1.
"I don't want to make any excuses. We've just not played well enough," De Villiers told NDTV. "I think there are some valuable lessons we have learnt throughout the season. I think we have let ourselves down a little bit in the last few games by not competing as well as we would have wanted to.
"We have a few more games left and hopefully will finish the season with dignity," De Villiers added, unhappy that RCB were unable to close out many of the games.
Despite RCB's performance, he is all praise for Kohli.
"Virat has dealt well with our losses. He had a great future ahead as captain... it takes character to deal with defeat," De Villiers said.
He has been associated with the IPL for 10 years and called it 'life changing'. "I started my IPL career at the Delhi Daredevils for the first three years, which was a very good experience and then moved to Royal Challengers Bangalore and this is my seventh season with them now. I could not have asked for a better franchise to play IPL for. They are a very professional unit."
Captaining the South African team in the Champions Trophy after the IPL, De Villiers hoped India would be coming for the tournament.
"The ICC would want India to play the Champions Trophy." he said. "India won it last time in England and they will be ready for a strong campaign around this year as well."
(With PTI inputs)