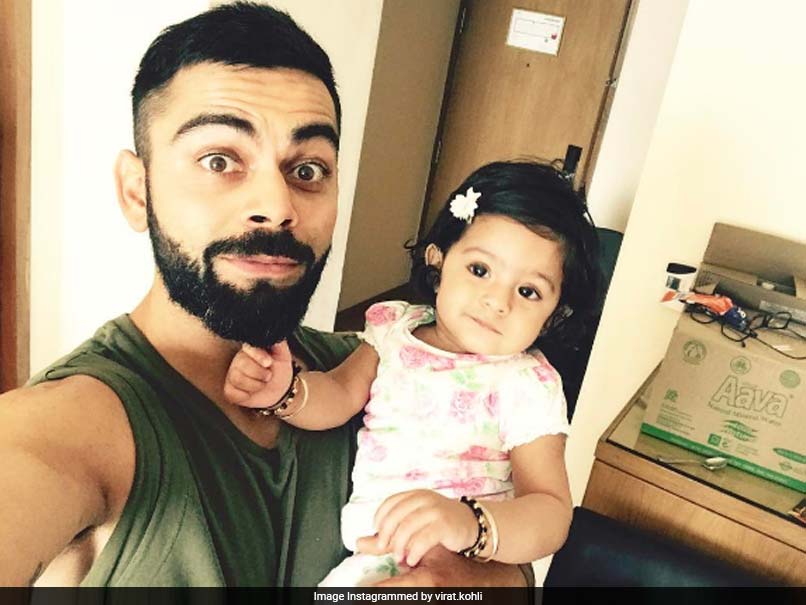 Virat Kohli spent some time with Harbhajan Singh's daughter Hinaya.
© Instagram.
Royal Challengers Bangalore captain Virat Kohli endured a major disappointment on Monday as his side fell out of contention for the Indian Premier League's play-offs spots. Kohli, who missed the early part of the tournament with an injury, wasn't at his best this term. In the sixth over, Mitchell McClenaghan removed Kohli (20) when the RCB skipper flicked a slower ball straight to short mid-wicket and Rohit Sharma took a simple catch.
Like every athlete, Kohli too was disappointed after his side's poor show run in the cash-rich league. However, the 28-year-old made no mention of this when he took to Instagram on Tuesday. Kohli instead posted a picture with India team-mate Harbhajan Singh's daughter Hinaya.
"Baby hinaya looking for something in my beard ?????. And iam surprised how can someone be so beautiful and cuteee. What a blessing to @harbhajan3 @geetabasra. God bless you all," he wrote.
This isn't the first time the Indian captain has spent time with kids of his teammates. During the World T20, Kohli's selfie with MS Dhoni's daughter Ziva had gone viral.
"Baby Zeeva (sic) using my phone and knowing how to handle it. Haha too cute and adorable. Kids are just unbelievable to be around. You literally switch off from everything looking at their innocence. Love it," he said on Instagram.