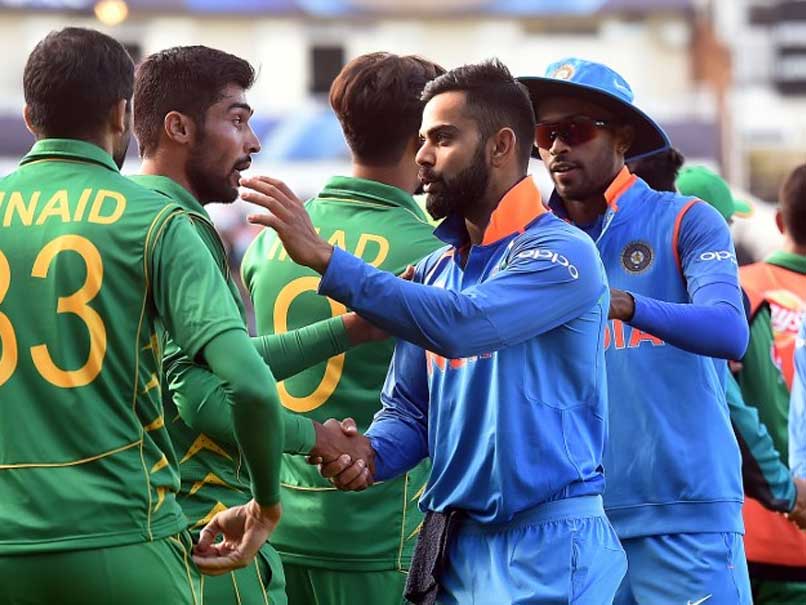 Champions Trophy: Virat Kohli shakes hands with Pakistan players following India's win on Sunday.
© AFP
India started their defence of the ICC Champions Trophy title with a comfortable 124-run victory (DLS method) against Pakistan at Edgbatson, Birmingham on Sunday. For all the build-up to the mega-clash, in the end, it was a complete mismatch between the two teams as the Men in Blue asserted their dominance from the very beginning in the rain-interrupted game. Captain Virat Kohli was delighted with India's "complete performance" but said there was still room for improvement, especially in the fielding department. Put into bat, India piled on the runs with Rohit Sharma (91) and Kohli (81 not out) helping their team post 319/3 in 48 overs. Pakistan never looked comfortable in the chase and kept losing regular wickets to finally fall way short of their revised target of 289 in 41 overs.
Kohli was all praise for the his team's batting performance and made a special mention of Hardik Pandya's brutal hitting at the end of the innings.
"With the bat and the ball we were right up there, 9 out of 10. In the field we were 6 out of 10. If we tune that upto 8 or 9, we will be a very strong side in the tournament. I think this was a very complete performance starting the tournament," Kohli said at the post-match presentation.
"Last time we won here, Shikhar (Dhawan) and Rohit were the key. The intent from Shikhar was outstanding. Rohit took his time. He needed runs under his belt. From the next game he will be expressive and we all know what kind of a batsman he is. I felt like a club batter in front of Yuvi. He took all the pressure off me, when I was not hitting it well. Yuvraj is in the team because he is a game changer. Hardik finishing it off was really outstanding. The batting I would say was 10 out of 10," added the Indian skipper.
The Indian captain also revealed the reasoning behind dropping ace spinner Ravichandran Ashwin and going into the match with four fast bowlers.
"We went with four seamers purely because we're playing Pakistan. Purely because of the fact that we were playing Pakistan. They play spin really well. Most of their line is made up of right-handers." 
"In pressure situations to be able hit over mid-off and mid-on is tough. That allowed us to pick wickets and be aggressive throughout the innings. Guys who don't play spin well, we will play with 2 spinners. It is about who you are playing against," said Kohli.
Yuvraj Singh was given the Man of the Match award for his whirlwind innings of 53 off 32 balls. The stylish left-hander praised Dhawan and Rohit for the start they gave their team and hoped that Team India would take this confidence in to their next match.
"I thought we all batted really well," said Yuvraj. 
"The openers gave us a good start, Virat finished well, and it gave me the opportunity to go and attack. You just have to go and back yourself, and tell the opposition that you're here to attack. I was lucky I was dropped, but I capitalised and I was hitting it well. I finished well. India-Pakistan is always a big game, and I think it has set us up really well. Hopefully we'll take this confidence into the next game against Sri Lanka."
India next face another Asian outfit in Sri Lanka on Thursday at the Kennington Oval in London.