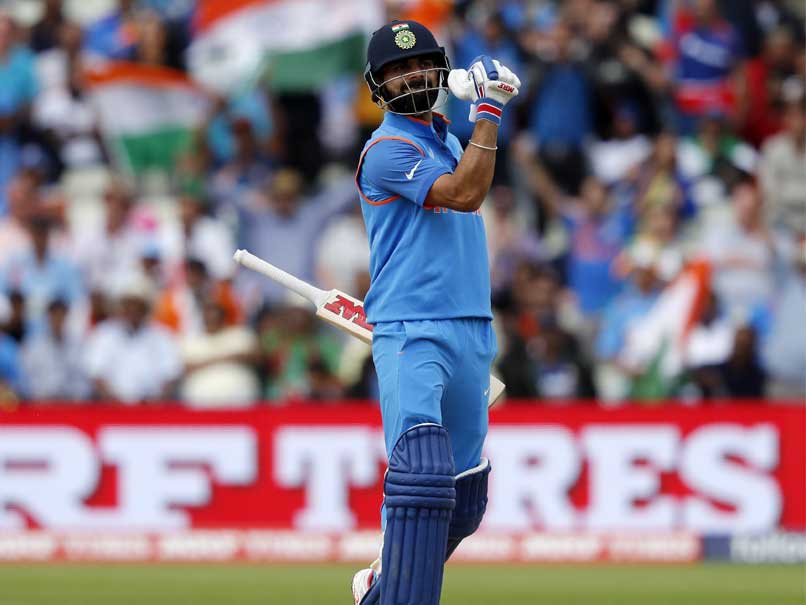 Virat Kohli hit an unbeaten 96 in the semi-final mach.
© AFP
There was no stopping Rohit Sharma and Virat Kohli as they stitched an unbeaten 178-run partnership to help India thrash Bangladesh by nine wickets in the second semi-final of the ICC Champions Trophy on Thursday at the Edgbaston Cricket Ground. India set up a grand finale against arch-rivals Pakistan on Sunday, a re-run of their opening match on June 4 which they won by a huge margin. Captain Kohli was pleased with his team's performance against Bangladesh but was surprised to have won so easily. "Another complete game. We needed to have a clean, collective game. We didn't expect to win by nine wickets, but that's the quality of our top order," Kohli said after the match.
He was full of praise for Kedav Jadhav who took two crucial wickets. Jadhav dismissed opener Tamim Iqbal (70) and Mushfiqur Rahman (61). "He (Kedar Jadhav) has bowled in India as well. He is a part-timer and picks up wickets in the middle overs. He is a smart guy. He knows where to pitch it. Those two wickets turned the game around for us. Had those guys carried on, we would have been chasing 300.," he said.
Kohli came into bat after opener Shikhar Dhawan fell (46). And he remained unbeaten on 96, hitting his 42 nd ODI half-century on the way. "Both the guys at the top gave us a great start. It allowed me to play my natural game. With the ball, we never let them away for anything... I was feeling really good. I always try to give myself sometime. Last time we had lost a wicket and I had to play with patience. Today was an opportunity for me to play the way I can. It came off. Going to 30-35, I knew I was hitting the ball well," said Kohli, who also completed 8000 career ODI runs.
On the much-anticipated final against Pakistan, Kohli said: "Credit to Rohit. To Shikhar as well. Hopefully, they can give us another solid start in the final. It's the end of the tournament but we will approach it like any other game. It might sound boring. The side that gets less excited and has more composure will win the final. We are very keen to get on the park for the final. We might be tested in the final as well but I am confident of our team doing well when the pressure is on. It is never a worry when the guys in the middle order are not batting. It is a worry when the middle order is batting too much too early in the tournament."