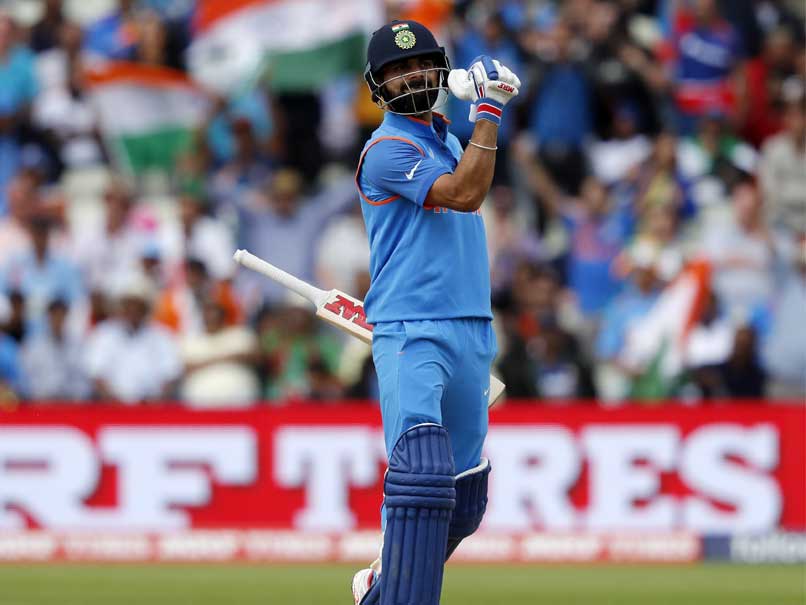 Virat Kohli already has 27 ODI centuries to his name.
© AFP
India captain Virat Kohli said his side was neither intimidated nor arrogant going into the Champions Trophy final against Pakistan. The 28-year-old played down the importance of a group win against a Pakistan side who have since defeated top-ranked South Africa and Sri Lanka in pool play before thrashing previously unbeaten tournament hosts England by eight wickets in the semi-finals.
"On their day they can beat any side in the world," said Kohli of Sarfraz Ahmed's side.
"That's the kind of players they have, we're quite aware of that," added Kohli, with India hammering Bangladesh by nine wickets in Thursday's second semi-final at Edgbaston.
"But, at the same time, neither are we too intimidated nor are we too arrogant about what we are doing."
Kohli said staying "close to reality" was the best way to carry the hopes of a cricket-crazy nation heading into a Champions Trophy final against arch-rivals Pakistan.
Today's showpiece match at the Oval in London is a 24,500 sell-out, with millions more around the world expected to watch the high-profile match.
Reigning champions India are the favourites, having launched their title-defence with a 124-run thrashing of Pakistan at Birmingham's Edgbaston on June 4.
A lone loss to Sri Lanka apart, India have been in commanding form.
Kohli's own performances at the Champions Trophy have seen him return to the top of the one-day international batting rankings.
His four innings, including three not outs, have left him with a colossal tournament batting average of 253 heading into the final.
This week also saw the 28-year-old Kohli become the fastest man to score 8,000 ODI runs, reaching the landmark in 175 innings -- seven fewer than South Africa star AB de Villiers's 182.
Kohli already has 27 ODI centuries to his name, with a career strike-rate in excess of 91, and such has been the passionate drive with which he has led India that his fortunes and those of the team as a whole now seem indivisible.
'Calm'
"I know there are expectations, I know there are people that expect the team and me to do well every time we play," Kohli told reporters at the Oval on Saturday. "But I understand as a player and as a person that it's not possible."
He added: "You have to be close to reality.
"This (pressure) is a part of being an Indian cricketer, you have to find a way to deal with it. You can't ignore it.
"You have to maintain a balance and then focus on what you need to do on the field.
"I think I've been able to strike a good balance until now and I'm sure I'll be fine tomorrow."
Kohli's cool temperament has often been seen to good effect in many a run chase, a quality which could yet prove useful on Sunday.
"If you are thinking 'we are three down and I might get out', then you will get out," he said.
"If you're thinking 'we're three down, I'm going to counter-attack and get the team back on track', it ends up happening, because you're convinced about it.
"That's something I work on. I visualise a lot, and I see myself in difficult situations and actually convincing myself that I can pull the team out in those situations.
"It won't happen every time, but eight out of 10 times it will end up happening because you're so convinced about it."
(With inputs from AFP)