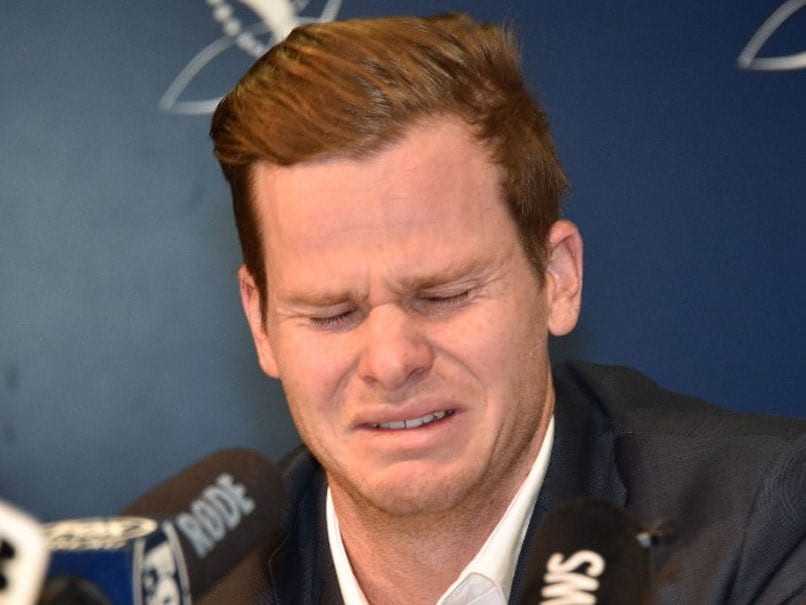 Steve Smith broke down while addressing the media in Sydney on Thursday.
© AFP
Steve Smith has come under heavy fire from all quarters for his role in the ball-tampering scandal that has shook world cricket. The 28-year-old broke down while addressing the media on Thursday, accepting full responsibility for the controversy that has resulted in a one-year ban for both him and his deputy David Warner and a nine-month ban for Cameron Bancroft. Following Smith's emotional press conference, Indian cricketers Ravichandran Ashwin and Gautam Gambhir jumped to the Australian's defence, making a passionate plea to the rest of the world to tone down the criticism of Smith and the other cricketers involved.
Gambhir first questioned in a tweet whether Smith was being dealt with harshly by Cricket Australia for a pay hike revolt by the Australian seniors.
While cricket needs to be corruption-free but feel sanctions on Aussies bit harsh. Are @stevesmith49 & @davidwarner31 paying for revolt for pay hike? History has it administrators deride those who standup for players' cause. Classic case: Ian Chappell #BallTampering #StevenSmith

— Gautam Gambhir (@GautamGambhir) March 29, 2018
The left-hander then backed Smith by saying that the Australian skipper made a mistake but was definitely not a cheat.
I may be getting emotional but @stevesmith49 doesn't look to me a cheat. Don't know about u but I see in him a desperate leader trying to win a Test match for his country, his team. Yes, indeed, his methods were questionable but let's not label him corrupt #BallTamperingScandal pic.twitter.com/xOxAM45QXM

— Gautam Gambhir (@GautamGambhir) March 29, 2018
Following Gambhir's comments on Twitter, Ashwin too took to the social media platform and made a passionate plea for all the three Australian cricketers involved in the ball-tampering saga.
The world simply wants to see you cry, once you have cried they will feel satisfied and live happily ever after. If only Empathy was not just a Word and people still had it. God give @stevesmith49 and Bancroft all the strength to come out of this.

— Ashwin Ravichandran (@ashwinravi99) March 30, 2018
And @davidwarner31 will also need the strength to fight it out, hopefully their players union will provide them with all the support.

— Ashwin Ravichandran (@ashwinravi99) March 30, 2018
Smith and Warner was on Wednesday banned from cricket for 12 months. Bancroft was slapped with nine months ban by Cricket Australia.
Smith was charged with knowledge of a potential plan "to attempt to artificially alter the condition of the ball" but Warner was charged with developing the plan.
While Warner, who was the vice-captain of the Australian team, will not be considered ever for the leadership role of the national team, Smith and Cameron Bancroft would not be picked for captaincy until a minimum of 12 months after the end of their suspensions, Cricket Australia (CA) said in a statement.
Smith and Warner have also been ejected from this year's Indian Premier League, losing contracts worth up to USD 2 million each.
All three players will also be required to undertake 100 hours of voluntary service in community cricket.
Topics mentioned in this article
Australia Cricket Team
India Cricket Team
Steven Smith
Gautam Gambhir
Ravichandran Ashwin
Cricket