Story Progress
Back to home
South Africa vs Sri Lanka Live Score, Over 36 to 40 Latest Cricket Score, Updates
Live Updates of Today Match between Sri Lanka vs South Africa from Riverside Ground, Chester-le-Street. Check commentary and full scoreboard of the match.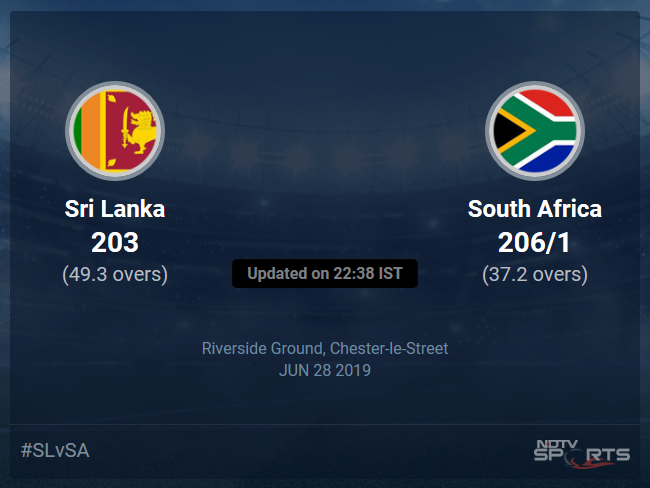 SA vs SL Latest Score
Right then, that's all from this one-sided contest. Apart from the time when the honeybees attacked the ground, there was not a single moment when the South African team was down. Now, we shift our focus to the double-header on Saturday. In the first match, Pakistan will be facing Afghanistan in Leeds at 1030 local (0930 GMT) and in the next one at 1330 local (1230 GMT), the Trans-Tasman rivals, New Zealand and Australia will lock horns at Lord's. We look forward to your company. Cheers!!
South African skipper, Faf du Plessis says it was a good game and they did justice to the talent they possess. Credits Pretorius for his performance. Admits they did not start well but the nature of the wicket made them feel that they should bowl straighter lines and be on top of the stumps. Mentions that it feels bitter sweet as this win has come too late. Adds that they did the basics right with the bat and one big partnership made things look so easy. Admits they have not been able to do that consistently. Shares that the loss against Bangladesh was something that hit them hard and tells they took the hangover of that game into the next one.
Sri Lankan skipper, Dimuth Karunaratne admits they were outdone in all departments especially in batting. Says they played slowly in the middle and could not rotate the strike and that made them try for big shots. Tells that they failed to do that and hence they could get just 200. Reckons the pitch was slow and credits South Africa for the way they bowled. States South Africa fielded well and hence they could not get the singles and had to go for the big shots. Feels they need to learn how to build pressure and how to induce mistakes from the opponents. Wants to win the two remaining games and work hard in all the three departments.
Dwaine Pretorius is the Man of the Match. Says that he is happy that his team got over the line and he contributed. Tells that he just tried to work as hard as possible and is happy to have played well. Mentions that hitting the top of off was a very good option and he is delighted that he could execute it. Further says that it's a vital win for them as it shows what they are about as a team but is sad that it came too late.
Early on, it was a clinical performance by South Africa in the field and that set the tone. They bundled out Sri Lanka for just 203 courtesy some impressive bowling by the likes of Dwaine Pretorius, Chris Morris and Kagiso Rabada. The Islanders failed to turn up in this crucial game for them and this loss has put them in a precarious situation in the points table.
Easy-peasy! The run chase was as good as a walk in the park for the Proteas. They were after a minuscule target and chased it down without breaking a sweat. Losing Quinton de Kock early didn't put them off much as after that the pair of Hashim Amla and Faf du Plessis constructed an unbeaten partnership of 175 runs to see South Africa through. Just their second win of this edition and coincidentally that was also a 9-wicket one (vs Afghanistan).
37.2 overs (4 Runs) FOUR! That is the end. Faf du Plessis finishes it with a boundary. Thisara bowls it on the pads, Faf flicks it fine down the leg side. The keeper dives to his left but to no avail. The ball goes to the fine leg fence for a boundary. SOUTH AFRICA WIN BY 9 WICKETS AND 76 BALLS TO SPARE.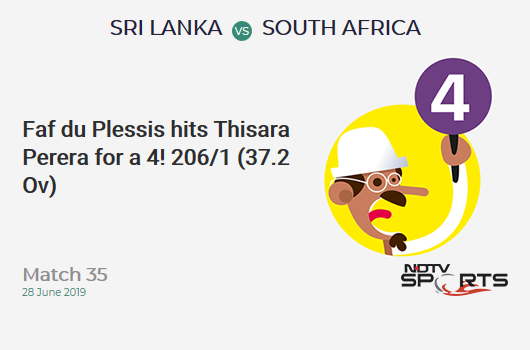 37.1 overs (1 Run) On off, Amla flicks it towards square leg and gets a single.
Thisara Perera to bowl now which might be the last over of the game.
36.6 overs (0 Run) Outside off, du Plessis looks to drive but gets beaten.
36.5 overs (1 Run) Length ball on off, Amla milks it to sweeper cover for a single.
36.4 overs (0 Run) Fuller on off, Amla nudges it to cover.
36.3 overs (0 Run) Good length ball on off, Hashim strokes it to cover.
36.2 overs (2 Runs) On off, Amla flicks it towards mid-wicket for a couple. 200 comes up. South Africa just 4 runs away from a comprehensive victory.
36.1 overs (2 Runs) Good length ball on off, Amla steers it past point and gets a couple.
35.6 overs (0 Run) Full on off, du Plessis pushes it to mid off.
35.5 overs (0 Run) Slower yorker on off, du Plessis blocks it.
35.4 overs (0 Run) Full on off, du Plessis drives it to cover.
35.3 overs (4 Runs) FOUR! Full, almost a yorker on off. Du Plessis hits it through mid off and gets a boundary. Now just 8 needed and Faf is also just 8 away from his century.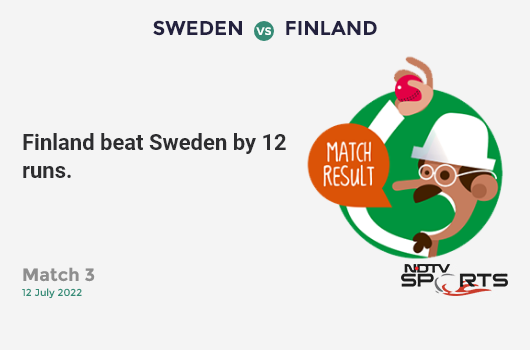 35.2 overs (0 Run) Yorker on middle, du Plessis does well to hit it towards mid on.
35.1 overs (1 Run) Good length ball on off, Amla glances it towards mid-wicket for a single.
Match Reports
Topics mentioned in this article