Story Progress
Back to home
Bangladesh vs Pakistan Live Score, Over 41 to 45 Latest Cricket Score, Updates
Live Updates of Today Match between Pakistan vs Bangladesh from Lord's, London. Check commentary and full scoreboard of the match.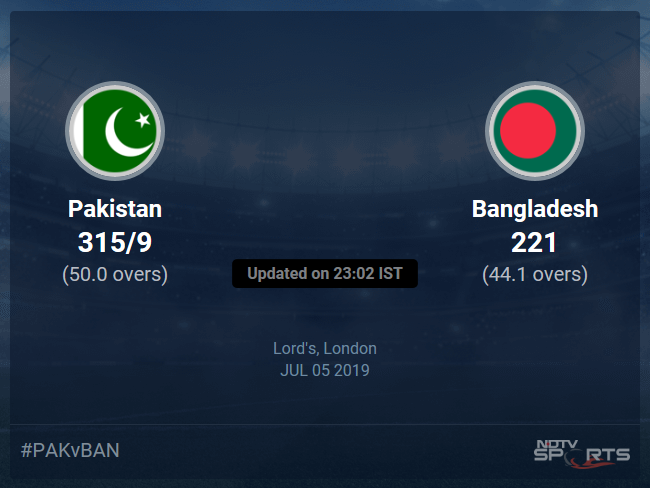 BAN vs PAK Latest Score
So that is it from this game! Pakistan end their World Cup campaign on a good note and Bangladesh in a bad manner. Both though did not have a tournament to remember. On the 6th of June which is a Saturday and which is also the last day of the group stage of this World Cup, there are two games line-up. Two big games as it would decide who finishes on top and who would end up being second. The first game sees Sri Lanka take on India and the second is a battle between Australia and South Africa. The first game begins at 1030 local (0930 GMT). The second begins at 1.30 pm local (12.30 GMT). Till then, goodbye and take care!
Pakistan skipper, Sarfaraz Khan, says it is very unfortunate they came into form at the back end but could not qualify. Admits the game against Windies cost them a lot. Further adds they though played very good cricket throughout the tournament and were good in all three departments. Mentions they started off with a different combination but how Haris Sohail and Afridi came back was commendable. Tells they have a break of almost two months and they need to sit down and have a chat. Credits the batters and the bowlers for the way they played today. Ends by saying the way Shaheen Afridi is bowling in recent times has been exceptional.
Bangladesh skipper, Mashrafe Mortaza, says in the last two matches, Shakib batted well but they could not get partnerships. Mentions they felt they could chase this down but they lacked partnerships. Credits Shakib for the way he has played throughout and feels had he not performed, they would not have played so well. States the fielding cost them in many games, the bowling is an issue but fielding was poor. Further adds batting was excellent. Tells since the time Rahman started playing, he has been brilliant, he did get injured but came back strongly and he hopes he has no injury issues moving ahead. Admits he is not satisfied with their performance, they could have finished on a good note. Ends by saying he will go home and think about whether he wants to continue playing for Bangladesh or not.
MAN OF THE MATCH, Shaheen Afridi, says he has been working hard in the nets and with the bowling coach and he is happy with this success. States it is a special feeling for him, his family and Pakistan. Informs he asked his captain whether he can bowl a yorker, he got the nod and bowled them. Mentions the wicket was slow, Rahman bowled well by using cutters and he did the same. Ends by saying he dedicates this award to his father.
Earlier in the day, Imam's ton and Babar's 96 powered Pakistan to a above par score. Rahman was the best bowler in the first half as he finished with a fifer. It though is for a losing cause as Bangladesh fell well short of Pakistan's total.
The Pakistan bowling was top notch today! When you bowl an opposition out for 221 in, the bowling obviously has done well right? Shaheen though was the star as he finished with a 6-fer. Shadab Khan was on the expensive side but did take two wickets. Amir and Riaz took one each.
A very, very convincing win today for Pakistan! It was like, the Bangladesh batting line-up, which has been so good in this tournament, just never arrived. They needed to get off to a good start chasing 316 but they lost Sarkar early. Tamim had another poor outing with the bat. Rahim too did not last for long. Shakib once again was the only one who showed resistance. Das did hang around with him but perished just as the two started to get going. Shakib soon followed and once he fell, it seemed like Bangladesh had given up. Mahmudullah and Hossain played with no intent and when they decided to step on the gas, they could not find the boundaries and one by one, perished and were bowled out for a moderate total.
The Pakistan players walk off with a smile and a very nice gesture by them as they give Shoaib Malik a guard of honour. Well deserved that as he has served his country for a very long time and done so really well.
44.1 overs (0 Run) OUT! BOOM! Afridi finishes things off! 6-fer for him and he now holds the record for the best bowling figures in this World Cup. Another excellent yorker on middle, Rahman fails to jam it out and the stumps are shattered. PAKISTAN WIN BY 94 RUNS!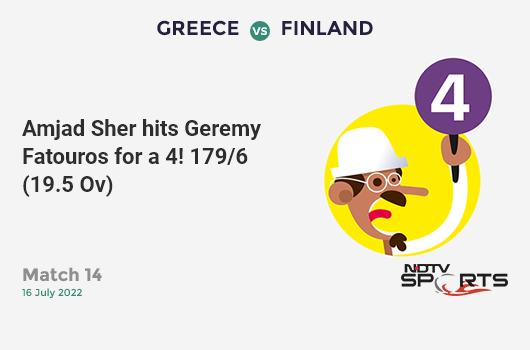 44.1 overs (1 Run) Shorter and down the leg side, Rahman awkwardly tries to pull but misses. Wided.
43.6 overs (1 Run) Floats it up on off, Rahman swings but it goes off the inner half through mid-wicket for one. Shaheen now has the chance to pick the last wicket in his last over.
43.5 overs (0 Run) On middle, this is worked to mid-wicket.
43.4 overs (0 Run) OUT! He is way short! STUMPED! No. 9 goes down! Clever bowling from Shadab. He sees Mashrafe come down the track and fires it outside off. Mashrafe swings but misses. Sarfaraz collects it and whips the bails off. The umpires take it upstairs to check. Replays show that the Mashrafe did try to slide his back foot in but could not make in time. End of the entertainment by Mashrafe.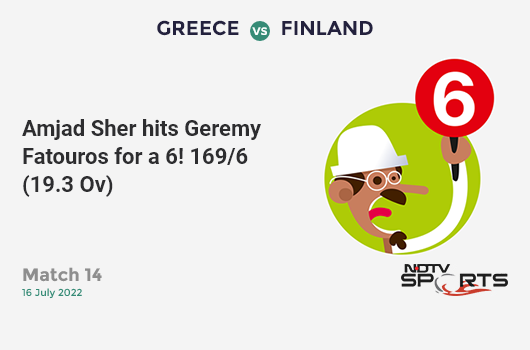 A stumping appeal has been taken upstairs. Mash is already walking.
43.3 overs (1 Run) A single! This is worked wide of long on and the batters take one.
43.2 overs (0 Run) Floats it up on off, this is kept out.
43.1 overs (4 Runs) FOUR! Deft! Flatter and outside off, Hasan goes back, plays it late and past the short third man fielder for a boundary.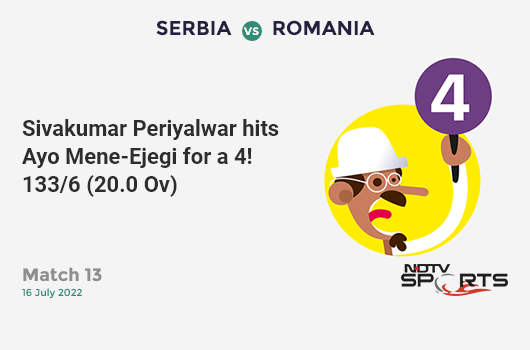 42.6 overs (0 Run) A slower yorker outside off, Mash looks to go big again but misses.
42.5 overs (0 Run) Outside off, Mortaza makes room and looks to swing but misses.
42.4 overs (1 Run) A full toss around off, this tails away. Hasan looks to drive but it goes off the outside edge down to third man for one.
42.3 overs (1 Run) Shorter and outside off, this is slapped through covers for one.
42.2 overs (0 Run) Goes shorter and on middle, MM guides it to point.
42.1 overs (6 Runs) SIX! High and handsome! Fuller and on middle, Mortaza clears his front leg, extends his arms and lofts it over the long on fence. He is dealing in maximums.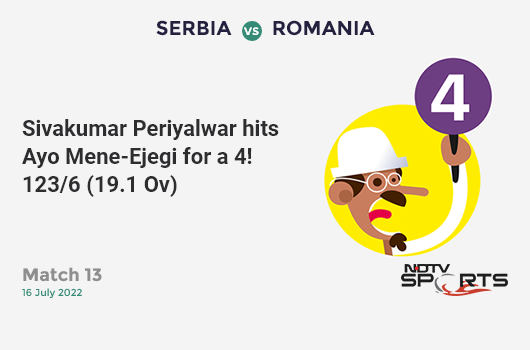 41.6 overs (1 Run) MM comes down the pitch but this time mistimes his whip. It goes towards deep mid-wicket for one.
41.5 overs (0 Run) Turn! This lands around off and turns away. Mortaza plays inside the line and gets beaten.
41.4 overs (6 Runs) SIX! TONKED! This is fuller and on middle, in the zone for Mashrafe. he lofts it over the long on stand for a biggie. 200 up for Bangladesh.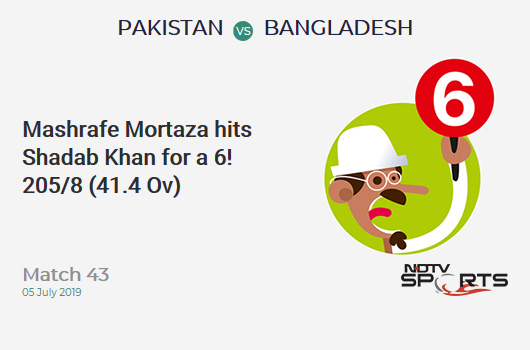 41.3 overs (0 Run) Missed stumping chance! Mash comes down the track and looks to go big. He gets an inside edge onto the pads. The ball rolls behind towards Sarfaraz who fails to collect it. Mortaza makes it in.
41.2 overs (0 Run) Played to the point region by the batsman.
41.1 overs (0 Run) On off, this is kept out.
40.6 overs (0 Run) Back of a length and on off, this is pushed to covers.
40.5 overs (1 Run) Fuller and outside off, Mash drives it towards point who fumbles and a run is taken.
40.4 overs (0 Run) Good length and on off, this is guided to point.
Mashrafe Mortaza walks out to bat for probably the last time in his career.
40.3 overs (0 Run) OUT! KABOOM! What a way to get a fifer! What a delivery! WOW! That is fast and right in the blockhole, nothing Mahmudullah could have done there. Shaheen steams in and bowls a corker of a yorker on middle. Mahmudullah fails to jam it out, the ball hits the boot and then the stumps. Maiden ODI fifer for Shaheen. He has been a different bowler since his performance against New Zealand.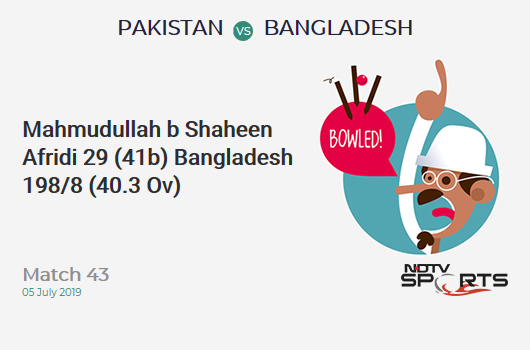 40.2 overs (1 Run) The batsman guides it to third man. One run added to the total.
Mehedi Hasan is the new man in.
40.1 overs (0 Run) OUT! CAUGHT! Shaheen gets his fourth. Half century for Saifuddin in the last game and a first-baller in this one. He looks to go after the bowler straightaway. He comes down the track and smashes this but straight to mid off. Amir takes an easy one. Once again Shaheen strikes on the first ball of his new spell. Pakistan are 3 wickets away.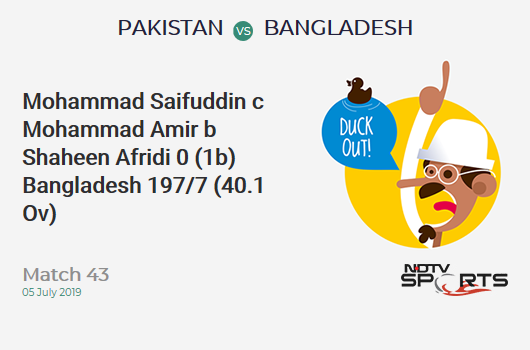 Match Reports
Topics mentioned in this article