Story Progress
Back to home
New Zealand vs Pakistan Live Score, Over 36 to 40 Latest Cricket Score, Updates
Live Updates of Today Match between New Zealand vs Pakistan from Edgbaston, Birmingham. Check commentary and full scoreboard of the match.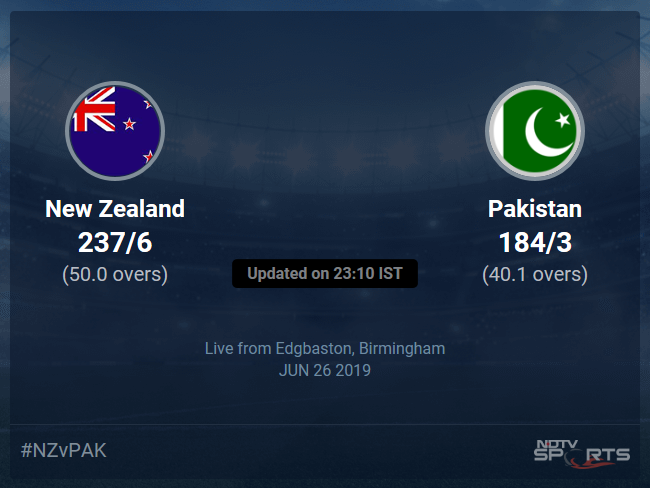 NZ vs PAK Latest Score
39.6 overs (0 Run) Quicker and shorter on off, Azam punches it from the crease and this time Guptill makes no mistake at covers.
39.5 overs (2 Runs) Floated one, landing full on middle, Babar drives it through the line. Guptill misfields at covers and it goes right through his legs to the deep. Two taken.
39.4 overs (1 Run) Allows the ball to spin back in and then punches it through cover-point for a run.
39.3 overs (0 Run) Vicious spin! Turning down the leg side after landing outside off, Sohail tries to flick but misses. Not given a wide.
39.2 overs (0 Run) Works it with the spin to the leg side but finds mid-wicket.
39.1 overs (1 Run) Tossed up ball outside off, knocked down through mid off for a run.
Mitchell Santner is back on. He has been very tidy, has beaten the edge of the bat quite a few times but has nothing to show in the wicket's column.
38.6 overs (4 Runs) FOUR! A good over till now gets spoiled. A flighted delivery on off, too full in length, Haris leans into the drive and thumps it through the gap at covers for a boundary. 34 in the last 4 overs!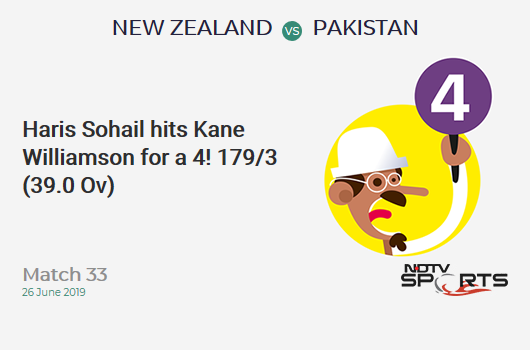 38.5 overs (0 Run) Full and floated on middle, Haris defends it back off his front foot.
38.4 overs (1 Run) Fullish and on off, it's tickled through square leg and Babar runs the first run hard. Wants the second but it's not on.
38.3 overs (1 Run) Flatter and shorter on middle, Haris gets back and helps it through mid-wicket for a single.
38.2 overs (1 Run) A half-tracker on middle, Babar jumps on the back foot and pulls it to deep backward square leg for a run.
38.1 overs (0 Run) Loopy and full on middle, swept across the line but straight to short fine leg.
37.6 overs (0 Run) A bouncer at 137 kph, Sohail sways away from the line.
37.5 overs (0 Run) Good length ball on off, angling in, Haris gets behind the line and blocks.
37.4 overs (6 Runs) SIX! Straight over the bowler's head, no respect whatsoever. Boult lands it on a fuller length outside off, Sohail stays leg side of this delivery and hammers it over Boult for a biggie.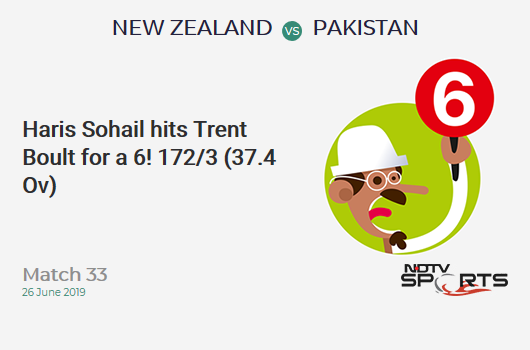 37.3 overs (0 Run) A back foot punch by Haris but he finds the cover fielder inside the ring.
37.2 overs (1 Run) Back of a length delivery on middle, angling in, Azam eases it behind square leg and crosses.
37.1 overs (1 Run) Slower delivery to begin with, on a length and angling into the batsman, Sohail works it on the leg side for a run.
Trent Boult is back on. Make or break time for New Zealand, this. He was exceptional in his first spell but now needs to pick wickets to bring his team back into the match.
36.6 overs (0 Run) Slower through the air, full and on off, Babar pushes it with gentle hands towards point and eyes a run. But the keeper quickly runs to it and Azam aborts. 10 from the over, 19 in the last two. This mostly will be Williamson's last over.
36.5 overs (1 Run) Flatter and shorter on off, it's punched down off the back foot to long off for a run.
36.4 overs (1 Run) The batsman has flicked the ball off his pads. One run added to the total.
36.3 overs (4 Runs) FOUR! Consecutive boundaries. Brilliant batting from Babar. Last shot prompted the bowler to go short. Azam picks it early, again uses his feet, this time to go deep inside the crease and then pulls it handsomely behind square leg. 50-run stand comes up as well and Pakistan are motoring in this run chase.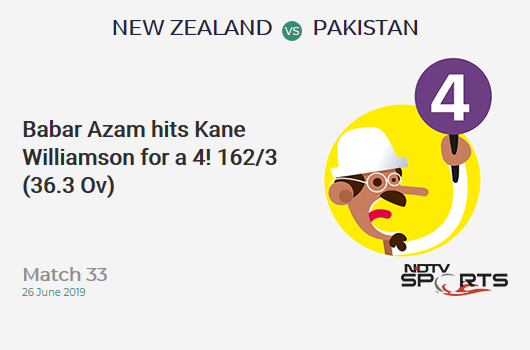 36.2 overs (4 Runs) FOUR! Wonderful shot by Babar. He takes the calculative risk of coming down the track and then lofts the fuller length ball over mid off. No one in the deep and it's a boundary.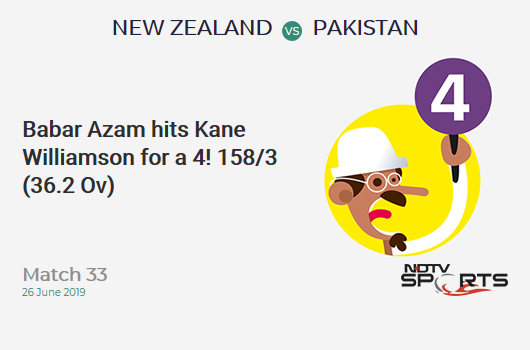 36.1 overs (0 Run) An off spinner on the shorter side, Babar pulls but finds Guptill at short mid-wicket.
35.6 overs (1 Run) Loopy and full outside off, Babar crunches his drive through covers and ends the over with a single. 9 from this one, a good one for Pakistan.
35.5 overs (0 Run) Fullish and on off, angling in, Azam is on the front foot as he drives it back to the bowler.
35.5 overs (1 Run) Wide! Munro tries to stay away from Babar's hitting zone but ends up bowling it too wide outside off.
35.4 overs (1 Run) Too full in length on middle, knocked down the ground to long on for a single.
35.3 overs (1 Run) Again there is width on offer outside off, Azam this time runs it down to third man and crosses.
35.2 overs (4 Runs) FOUR! Smashed away! Munro offers width outside off, it's full in length and Babar strides forward before drilling it through the gap between extra cover and mid off.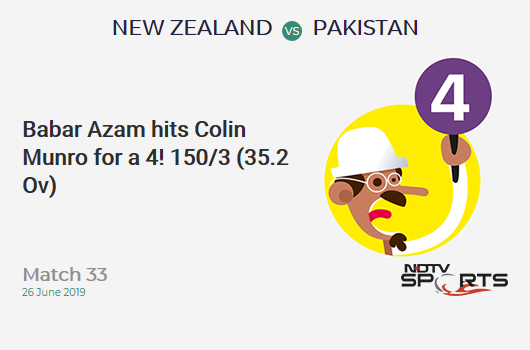 35.1 overs (1 Run) Starts with a good length delivery on the pads, Sohail works it through square leg for an easy run. That's all they need to do, no need to take any risk at this stage.
Topics mentioned in this article