Story Progress
Back to home
New Zealand vs England Live Score, Over 41 to 45 Latest Cricket Score, Updates
Live Updates of Today Match between England vs New Zealand from Riverside Ground, Chester-le-Street. Check commentary and full scoreboard of the match.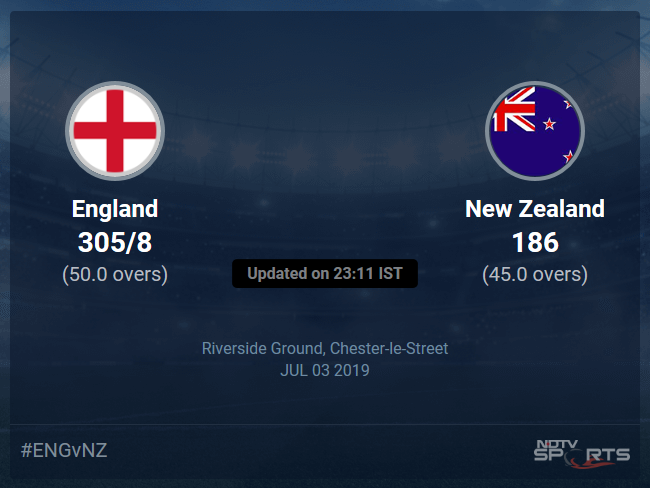 NZ vs ENG Latest Score
ENGLAND REACH AN ODI WORLD CUP SEMI-FINAL AFTER 27 YEARS! Do they believe they can win their first ever crown in this format? They have locked the third place for now and will be awaiting either Australia or India on Thursday, July 11, 2019 at 10.30 am local (0930 GMT). As far as this Thursday is concerned, that is July 4, it is a dead rubber. Afghanistan take on West Indies in Match 42 at Headingley. Join us at 10.30 am local (0930 GMT). ADIOS! TAKE CARE!
Victorious England captain, Eoin Morgan believes that England played unbelievably today. Is admiring the stand between Roy and Bairstow which enabled his side to be on top despite losing their way in the last 30 overs of the first innings. On England being forced to adapt to defending totals more than preferring to chase, Morgan bluntly says that he believes that his side can do both - defend or chase - depending on how good or bad the pitch gets in the second innings. On England's chances in their next knockout, Eoin is happy with the intent shown by his unit in the last two games, which is identical to the gameplan laid down for the future 4 years ago. On being asked who would they prefer in the semi-final as their opponent - Australia or India - Morgan is quick to say NO. He is happy enough to be playing in the semi-final in the first place and wants his side to play good cricket.
New Zealand skipper, Kane Williamson, admits that it is not easy to recover after three successive losses but wants his side to learn from those games and move forward. On being asked whether England got the best of the conditions, Williamson agrees but quickly says that the home side was much better in all departments than his own. Praises the English top order for being so dominant. On being asked whether he felt that New Zealand had a chance to win at the halfway stage, Kane says that definitely, they felt so but for that they needed partnerships which did not come. Wants his unit to play some smart cricket and apply itself, citing examples of a run out and a soft dismissal down the leg side as a non-ideal way to start the run chase. On what New Zealand can do till the next game, if they do play the semi-final, Williamson just stresses on individuals trying to improve themselves and adapt to different surfaces. But is also quick to point out that if they do reach the semis, it will be a different day and they are yet to play their best cricket. On Lockie Ferguson's injury, Kane says that he was rested as a precautionary measure.
JONNY BAIRSTOW HAS BEEN NAMED THE MAN OF THE MATCH. Bairstow says he is very pleased and they knew that the last two games are must-win ones and the performances they have put in a few games haven't been uppo the mark, but adds the last two matches have been very good. On how important the toss is, he says the toss of the coin can go either way, on a different day they could have been bowling first and you never know what could have happened but today they batted first and it all went well. States he and Roy have been batting together for a while and they understand each other, the communication between the two is good. On being reminded it his third consecutive ton against New Zealand, he says, he did not know it was his third, they needed to play well today against a quality side but he is happy they got over the line. Mentions the break is going to be important, they need to rest, get fresh and be ready. Further adds they will meet up a couple of days before and get ready to go. Ends by saying they are hoping for another good performance in the Semi Finals and he hopes they can continue the form they have showed in the last two games.
Earlier in the day, a Jonny Bairstow century and a 123-run opening stand floored New Zealand. Though, the latter did come back with some excellent bowling display but Bairstow and Roy had done enough damage. Bairstow also became the first English player to score back-to-back World Cup hundreds and here he is, talking to Michael Atherton.
England were excellent with the ball. Sorry. Balls (2 you see). I keep forgetting that due to so much of T20 cricket around. Woakes and Archer set the tone early with disciplined bowling while Plunkett and Wood ensured that there was no let up in pressure. Wood was the beneficiary of being the highest wicket-taker of the match with 3 scalps.
Chasing a big total, a good start is always needed and that is one thing which the Kiwis have never got in this tournament. Guptill's poor form is a big worry and it was not any great in this match either. In next to no time, the Black Caps slipped to 14/2. As usual, Williamson and Taylor needed to resurrect and they tried their best but could not do much. Once they fell, the innings just fell apart. Only Tom Latham managed to cross 50, in a list of just 5 batsmen who reached double figures. The Kiwis might still make it to the semis but after starting the tournament on a bright note, they seem to be tapering off, which needs to be arrested.
Not many would have expected England to lose today after they were 194/1 after 30 overs. But when they started to lose momentum after Joe Root's wicket, it did seem like they were going off track. They mustered 305, which seemed to be 70-80 runs shy but their bowling, which was supposed to be their weak link in this tournament, came good once again.
The crowd roars. A massive, massive win for England. Comprehensive is the word. By 119 runs. The team touted to play the final is indeed back on track. Fist pumps between the English players and now, time for the handshakes.
44.6 overs (0 Run) OUT! STUMPED! Boult is short! Rashid gets the last wicket. Boult again uses his feet and Rashid this time tosses it up. He gets it to land just behind the batsman's reach. Boult looks to defend but the ball turns away and beats the outside edge. Buttler collects the ball and whips the bails off. An appeal and the umpire takes it upstairs. Replays roll in and they show that Boult has not made it in. ENGLAND WIN BY 119 RUNS!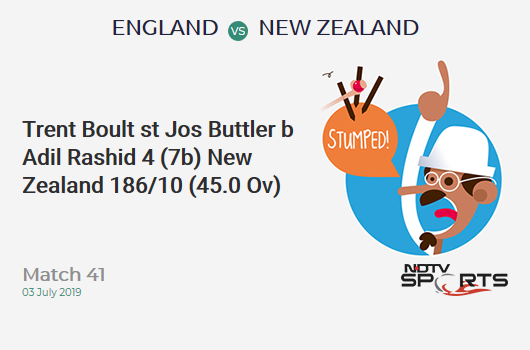 44.5 overs (0 Run) Boult comes down the track again but Rashid spots that. He bowls it short and Boult blocks it out.
44.4 overs (4 Runs) FOUR! Nice shot. He may have picked the googly, once again goes with the turn. Brings the slog sweep out and it goes over mid-wicket for a boundary.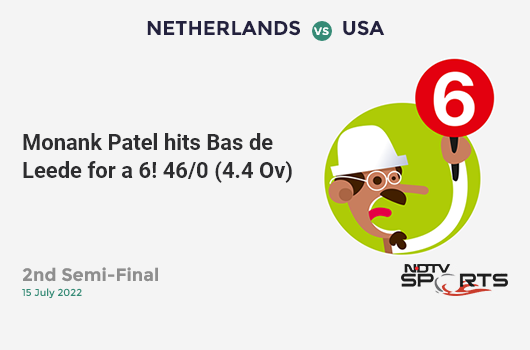 44.3 overs (0 Run) Uses his feet again and swings with the spin this time but gets hit on the pads.
44.2 overs (0 Run) Comes down the track but does not get to the pitch of it, Boult nicely defends it.
44.1 overs (1 Run) Floats it up on middle, Southee hits it down to long on for one.
43.6 overs (0 Run) Full and outside off, pushed back watchfully.
43.5 overs (0 Run) Around middle, in line of the stumps, punched straight to cover.
Trent Boult is the last man in.
43.4 overs (0 Run) OUT! TIMBER! You miss, I hit stuff! Wood bowls it fuller and on middle, Henry backs away and looks to hit it on the off side but misses. The stumps are disturbed.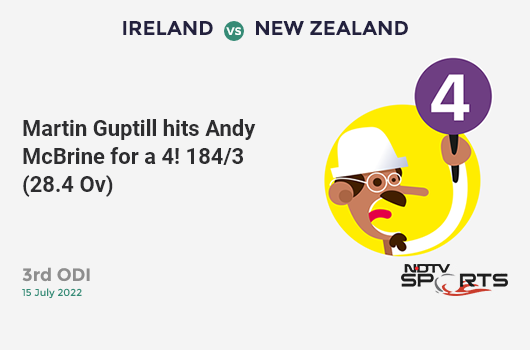 43.3 overs (1 Run) On off, this is hit through covers for one.
43.2 overs (0 Run) Good length and on off, Southee guides it to point.
43.1 overs (0 Run) On the pads, this is worked through mid-wicket for one.
42.6 overs (2 Runs) BEATEN! The googly outside off, it pitches and turns back in. Henry misses as he looks to drive. It goes over the leg stump. Buttler fails to collect it and it goes towards fine leg for two. Byes signaled.
42.5 overs (1 Run) Another tossed up ball on off, Southee looks to go big but it goes off the inner half through mid-wicket for one.
42.4 overs (0 Run) The googly on middle, it turns back in. Southee looks to flick but misses to get hit on the pads.
42.3 overs (0 Run) On the stumps, this is blocked.
42.2 overs (1 Run) Shorter and outside off, this is slapped through covers for one.
42.1 overs (0 Run) Floats it up on middle, the batter hits it to mid on.
41.6 overs (0 Run) Another short one and on the body, Southee looks to evade it but leaves his bat hanging out. It hits the handle and goes to point.
41.5 overs (0 Run) On the off pole, Southee guides it to point.
41.4 overs (0 Run) Fuller and on off, Southee hits it to mid off.
41.3 overs (0 Run) Another short one on middle, Southee evades it.
41.2 overs (1 Run) A good short one, follows the batter. Henry takes his eyes off and tries to fend at it. It goes off the gloves towards the leg side for one.
41.1 overs (0 Run) Shorter and outside off, Henry looks to upper cut but misses.
40.6 overs (1 Run) The batsman works it down the leg side. They pick up a single.
40.5 overs (0 Run) Slows it up on off, it pitches and then turns away. Henry prods forward to defend but gets beaten.
40.4 overs (0 Run) The slider on middle, Henry pushes it back to the bowler.
40.3 overs (1 Run) Another tossed up ball on off, Southee hits it down to long off again and takes one.
40.2 overs (1 Run) The googly, Henry seems to have picked it as he works it with the turn towards mid-wicket for one.
40.1 overs (1 Run) Floats it up on off, TS hits it to long off for one.
Match Reports
Topics mentioned in this article