Story Progress
Back to home
England vs Australia Live Score, Over 46 to 50 Latest Cricket Score, Updates
Live Updates of Today Match between England vs Australia from Lord's, London. Check commentary and full scoreboard of the match.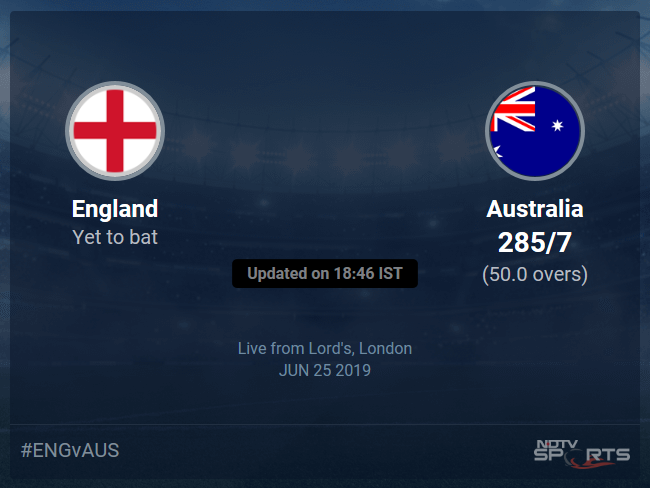 ENG vs AUS Latest Score
Aaron Finch says it would have been nice to carry on and he is disappointed to get out straight after getting a 100. Tells it was not an easy wicket to start on. States they got in a good position and could have scored more but he feels the score is a competitive one . Says on this wicket it is important to build pressure with dot balls and put their middle order to the test. Reckons the bowlers need to bowl the short balls sparingly and feels the length deliveries are the key on this wicket. He hopes they have enough on the board.
286 is the target! You would probably say that England are favorites but not to forget, they did not chase 233 in their last game. Also, the Aussie pacers would love to bowl on this wicket which is offering a lot to the pacers and the spinners. However, if the England batters bat well, they should chase this down. It promises to be a cracking second innings. Join us for it in a while, for now, Finch is down giving an interview.
The England bowling was brilliant to begin with! Woakes and Archer were brilliant with the new ball. One could argue though that they could have been a touch fuller but still, they were extremely good. However, after Powerplay 1, the bowlers who came in leaked runs. Wood had a forgetful first spell. Moeen Ali and Rashid also did not start that nicely. Moeen Ali's wicket though changed things. Once Warner was dismissed, the England bowlers got into their stride and kept pegging Australia back. Woakes was probably the best of the bowlers today, the rest bowled well in patches.
Australia on the other hand, will be very disappointed with the way things stand at the moment. They looked all set to get to a total above 300. Their openers weathered the storm early on, added a brilliant 123 run stand before Warner perished after scoring another half ton. Khawaja and Finch then added another handy stand but once the skipper fell after getting to his century, Australia lost the plot. They kept losing wickets at regular intervals. Their middle order once again did not come to the fore. Stoinis' run out too did not help. Had it not been for Carey's cameo, they would have probably finished with something around 250. Nevertheless, this is more than a fighting score they have got to.
An excellent comeback from England and they will surely be the happier side walking into the dressing room. Yes, 285 is a very good score but it could have been a lot more.
49.6 overs (4 Runs) FOUR! A boundary to end the innings! 11 from the last over! This is short and outside off, Carey stands tall and slaps it through coves. It is away from the sweeper and a handy boundary. AUSTRALIA END WITH 285!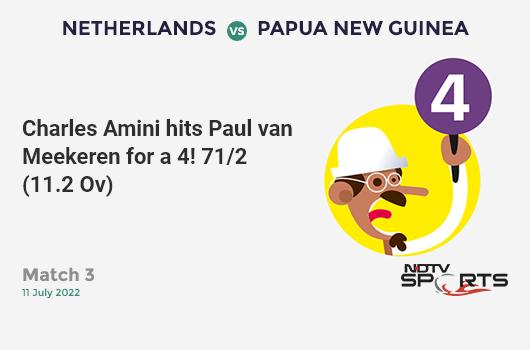 49.5 overs (2 Runs) A couple now! Fuller and on middle, Carey swings again but it goes off the inner half towards deep mid-wicket. They take two. A better throw to the keeper and Carey could have been in trouble.
49.4 overs (4 Runs) FOUR! Up and over! Poor ball with mid off up. Full and outside off, Carey lofts it over extra cover and bags a boundary. Two balls to go, Australia would love another two.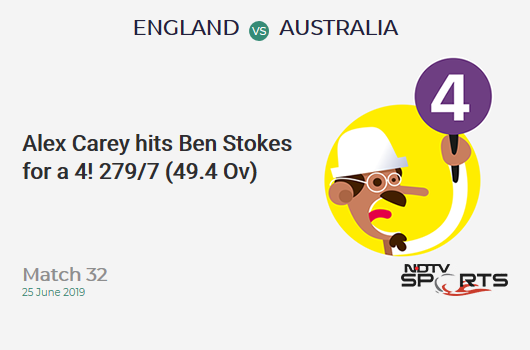 49.3 overs (0 Run) Well bowled! Carey dances down the track and Stokes bangs it short, it is the slower one. Carey is completely deceived by it. He looks to put bat on ball but misses.
49.2 overs (1 Run) Shorter and on off, this is guided through covers for one. Does the smart thing by giving the strike to Carey.
49.1 overs (0 Run) A little too straight. Starc looks to flick but misses. It goes off the pads back to the bowler. Carey is off but then has to make it back. Stokes picks the ball and mimes a shy at the non-striker's end. Carey dives to make it in. A dot to start the last over.
Ben Stokes is back into the attack to bowl the final over of this innings.
48.6 overs (4 Runs) FOUR! Clever, clever batting! A boundary to start the over and one to end it! 11 from it. Short and outside off, Carey upper cuts it fine on the off side and a boundary results.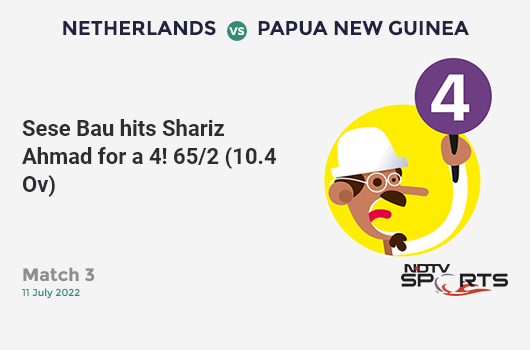 48.5 overs (1 Run) Add one more to the singles column. Another yorker outside off, Starc looks to put bat on ball but it goes off the inner half towards cover for one.
48.4 overs (1 Run) Brilliant! A yorker on middle, this is jammed out to mid off for one. Not a lot Carey could do with that ball.
48.3 overs (0 Run) Good surprise bouncer! Carey ducks under it. Two dots after the boundary.
48.2 overs (0 Run) A dot now! This is fuller and around middle, Carey swings but it goes off the inner half to mid on.
48.1 overs (4 Runs) FOUR! Glorious shot! A welcome boundary for Australia. It is the slower one outside off, Carey just lofts it over covers, beats the man in the deep and a boundary. 5 from the first two balls. Can Australia make this a huge over?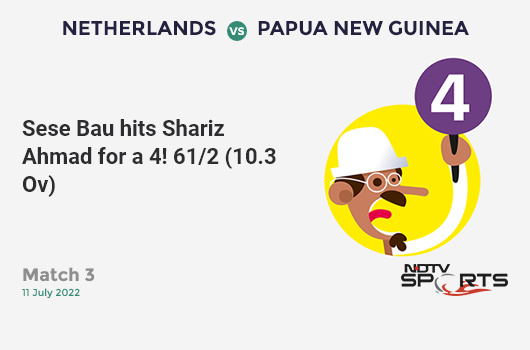 48.1 overs (1 Run) WIDE! Way too wide outside off, Carey lets it be.
Jofra Archer is back into the attack to bowl the penultimate over.
47.6 overs (1 Run) Just the single to end! Australia are finding it difficult to get the boundaries now! On the pads, this is worked through square leg for one. End of Woakes for today. He has been brilliant. His figures 10-0-46-2.
47.5 overs (1 Run) On the body again, this is worked through square leg for one.
47.4 overs (0 Run) Swing and a miss! Shorter and outside off, Starc goes for the heave but only connects with thin air.
47.3 overs (1 Run) Close! Carey makes room and Woakes follows him with a short one! Carey looks to pull but misses to get hit on the body. The ball rolls on the off side. The batters go for one. Woakes gets to the ball and has a shy at the keeper's end but misses. No signal from the umpire so there may be an inside edge.
47.2 overs (1 Run) A slower one on the shorter side, Starc guides it down to third man for one.
Mitchell Starc is the next batsman in. His job will be to give Alex Carey as much strike as possible.
47.1 overs (0 Run) OUT! Caught behind! Another one bites the dust! Australia have completely lost their way! This is on a length and around off, Cummins looks to push at it but does so inside the line. The ball goes off the outside edge and low towards Buttler who takes it with a dive across.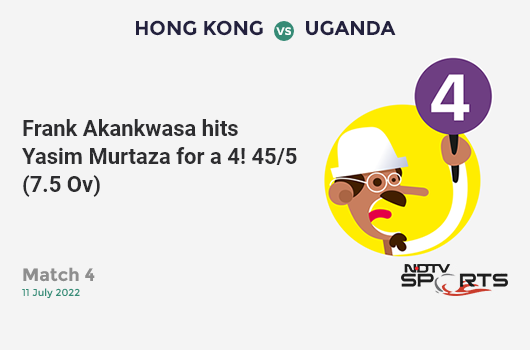 46.6 overs (1 Run) Now a single and Cummins will keep strike for the next over! Short and on the body, this is pulled down to fine leg for one. So despite the boundary, only 6 from the over.
46.5 overs (0 Run) BEATEN AGAIN! This is angled into the batter and then straightens after pitching. Cummins hangs his bat out and gets beaten.
46.4 overs (0 Run) A dot! That is why they would not mind a single! This is shorter and outside off, Cummins looks to upper cut it but misses.
46.3 overs (1 Run) A full toss but way outside off, Carey hits it through covers for one. England won't mind this single as Cummins is on strike now.
46.2 overs (0 Run) Carey misses out there! Shorter and outside off, Carey slashes at it but finds point.
46.1 overs (4 Runs) FOUR! Lovely shot! The key there was that he played that late! Full and outside off, Carey waits for it and guides it through point for a boundary. Ideal start to the over, they need to make it count.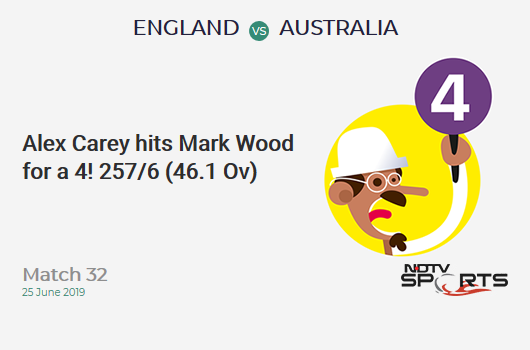 45.6 overs (1 Run) On the body, Carey pulls it towards fine leg for one. Another good over for England. Just the five runs and a wicket from it.
45.5 overs (2 Runs) Full and outside off, Carey strokes it through backward point for two.
Pat Cummins walks out to bat next.
45.4 overs (0 Run) OUT! Smith holes out! He whacks the bat down onto the ground as he walks off. It seems like he wanted to hit it a lot squarer than he did. A slower one by Woakes on middle. Smith looks to loft it over mid-wicket but ends up hitting it too straight. It goes towards long on where Archer takes a good catch falling forward. England are into the bowling all-rounders now. 300 looks difficult.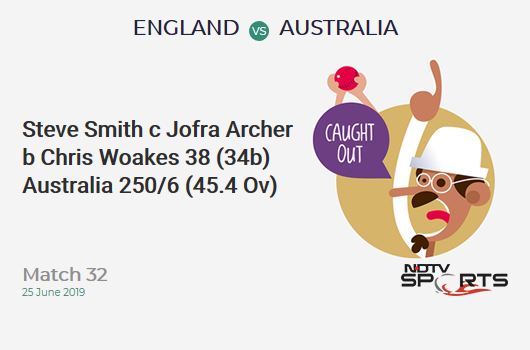 45.3 overs (1 Run) Another slower one on the stumps, Carey pushes it through covers for one.
45.2 overs (1 Run) Slower one around off, Smith shuffles across and looks to flick but misses. The ball hits the pads and rolls on the leg side. A leg bye taken.
45.1 overs (0 Run) Back of a length on off, Smith guides it to point.
Topics mentioned in this article