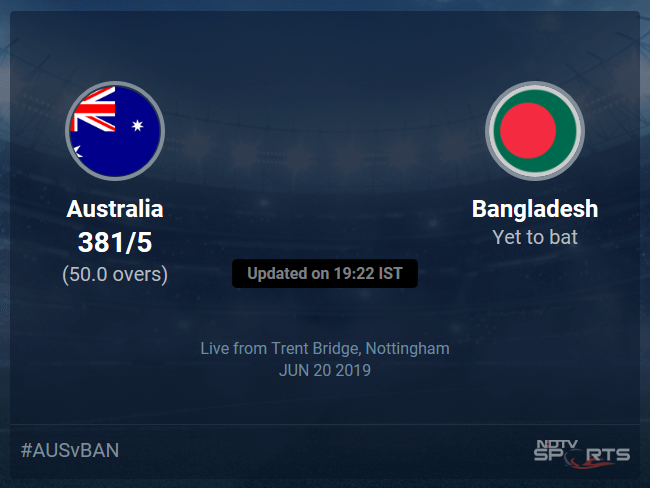 382 to get in 300 legal balls. Bangladesh showed their batting talent in the last match against West Indies where they overhauled a 300-plus total with 51 balls to spare. Can they repeat it again against the likes of Starc, Cummins and Coulter-Nile? We will find that out shortly.
Harsha Bhogle catches up with the man of the moment, David Warner, for a little chat. The Aussie opener starts by admitting that he felt a bit bogged down at the start but managed to hang in there and build good partnerships with Finch and Khawaja. On whether 200 was in his mind, Warner replies that when you are deep in your innings you are fatigued. On his new approach, Warner smiles and says that he is looking to make up for the one year he lost. On the pitch, Warner informs the wicket is on the slower side and feels that Rubel hit some good lengths. He is happy that they capitalized at the back end. States they have to bowl well and try to get as many wickets as possible early on in the Powerplay and build pressure.
Bangladesh were abysmal in the field! Their bowling wasn't up to the mark and the fielding was in the mood to do some charity. Such was the state of their bowling that the part-timer, Soumya Sarkar, was the best bowler for them with a 3-wicket haul. The Asian team conceded runs at a haemorrhaging rate in the last 10 overs (131/4) and are now left with an improbable task of chasing a gigantic total. They did make a tiny comeback towards the end when a flurry of wickets fell but that didn't have much say in the final score.
David Warner was in his zone today and had the lady luck as well. He started slowly, got dropped on 10, then survived a run out chance also and after that, he just took the attack to the bowlers - smashing 166 off 147 balls, the best individual score in this World Cup. Usman Khawaja also showed his hitting talent in his knock and was unlucky to miss out on his century by 11 runs.
316, 307, 334 and now 381! Australia have peaked well with the bat as the tournament has progressed. Scintillating batting by the Kangaroos today as they feasted on the bowling of the Bangla Tigers. Everything went according to the plan right from the toss. Their openers made a cautious start and then pressed on the accelerator. After the century opening stand was broken with the departure of Aaron Finch, David Warner constructed an even better partnership with Usman Khawaja worth 192. The platform was set for them after that for a big finish and unlike other games, their batsmen didn't disappoint. Glenn Maxwell launched into the Bangla bowlers from the word go and scored a whirlwind 10-ball 32 to power the Australian total beyond the 350-run mark.
49.6 overs (2 Runs) Very full in length on off, Stoinis throws all his power behind his shot and drills it down to long off. The fielder in the deep moves across to his right to stop the ball and the batsmen take a brace. 13 in the last over, Australia end on a massive 381/5!
49.5 overs (4 Runs) FOUR! Streaky! You can't do much with that as a bowler. Back of a length ball on middle, Stoinis swings his bat across the line and it flies off the top edge to the third man fence.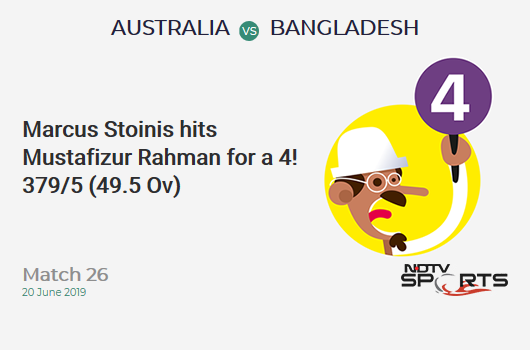 49.4 overs (4 Runs) FOUR! That's hit dead straight! Mustafizur misses his yorker mark and it falls very full on middle, Stoinis removes his front leg again and bludgeons it back past the bowler.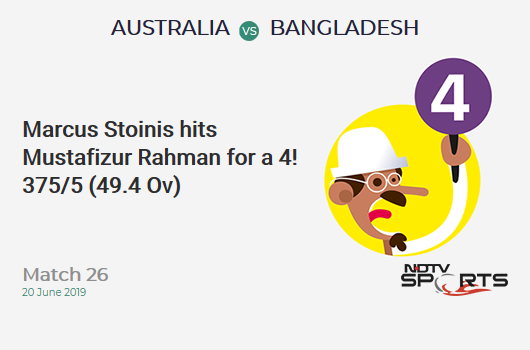 49.3 overs (1 Run) Nice yorker on off by Rahman. Carey digs it out to wide mid off and scampers across for a run.
49.2 overs (1 Run) Lands it full and on middle, Stoinis clears his front leg and forces it down to long on for another run.
49.1 overs (1 Run) A low full toss outside off, Carey slashes it down to deep cover for a run.
The players have returned on the field for the final over. Mustafizur to continue from this end. Carey on strike...
Update 1426 local (1326 GMT) - Good news. The rain has stopped and the covers are coming off. Play to resume in another 9 minutes. Stay tuned...
Update 1409 local (1309 GMT) - GOING OFF! Dear me, the rain has picked its intensity and the umpires have no other option but to call for covers. Still 6 balls left in this innings as the players leave the field. Let's hope it's just a passing shower.
48.6 overs (1 Run) Shortish and on off, Carey gets back and slaps it down to covers for one.
NO, NO, PLEASE NO! It has started raining here. It is coming down with quite some force. Please rain god not today. Not now. Let us have a full game.
48.5 overs (4 Runs) FOUR! Shot! Sarkar serves a low full toss outside off, Carey reaches out for it and caresses his drive past extra cover for a boundary.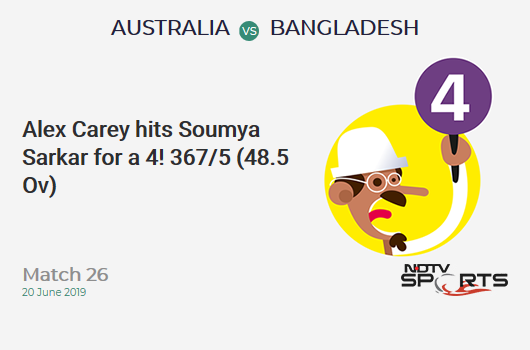 48.4 overs (1 Run) Too full and outside off, Stoinis shapes up for the paddle scoop but seeing the line, he opens the face and pushes it to short third man for a run.
48.3 overs (0 Run) Superb delivery. A near yorker outside off, Stoinis goes hard at it and only manages to dig it out off the bottom edge.
48.2 overs (2 Runs) A low full toss outside off, Marcus drills it to the left of long off and rushes back for the second run.
48.1 overs (1 Run) Slower short ball on middle, Alex gets on top of the bounce and pulls it through square leg for a run.
47.6 overs (1 Run) A low full toss around leg, Carey works it out towards long on for one. Excellent over by The Fizz, 5 runs and wicket from it.
47.5 overs (1 Run) Driven towards the mid off region. The batsmen have run through for a single.
47.4 overs (1 Run) A high full toss on leg, Carey doesn't go with the full swing of his bat and just pushes it down to long on for a run. Last 9 balls have gone for just 5 runs and it has accounted for three wickets. A bit of a comeback from the Bangla Tigers.
47.3 overs (1 Run) Lands it on a length and down the leg side, Stoinis nudges it to fine leg for a run.
47.2 overs (1 Run) Fullish and on off, Carey drives it to the cover fielder standing at the edge of the circle and collects a single to open his account.
Alex Carey is the new batsman in.
47.1 overs (0 Run) OUT! No inside edge. Smith is dead in front! Rahman fails to execute his yorker but still strikes. A low full toss in the line of the stumps, Steve shuffles across a bit to work it on the leg side but misses. He is thudded on the pads, they appeal and the finger goes up. Smith takes the referral, maybe just because it's left and the Ball Tracker shows three reds. Finally, someone other than Sarkar has taken a wicket.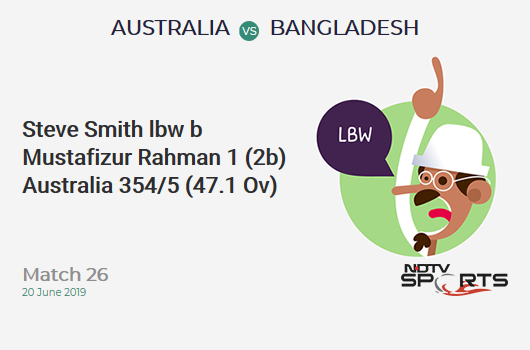 Rahman has trapped Smith right in front with a full toss. The umpire has raised his finger and only an inside edge can save Smith. He has taken the DRS. Let's see...
46.6 overs (1 Run) Sarkar is showing his full range. Hits the yorker mark on middle, Smith does well to keep it out on the leg side and gets off the mark with a single.
Steve Smith walks out to bat next. He is also quite handy with his unorthodox style of playing big shots.
46.5 overs (0 Run) OUT! Khawaja is gone! 3-fer for Sarkar! Yet again he gets a wicket with a short delivery. Not much pace there as he lands it around off. Khawaja shapes up for the pull shot but ends up bottom edging it behind. Rahim does well to snap a good low catch inches above the surface. Soumya Sarkar is having a ball, literally.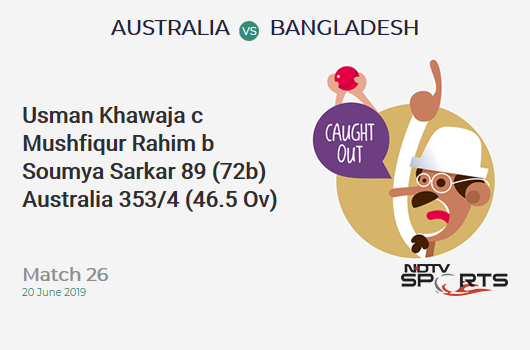 46.4 overs (1 Run) Driven towards the mid off region. They pick up a single.
46.3 overs (0 Run) Back of a length delivery outside off, Stoinis stays back to steer it through the line but finds short third man. A rare dot.
Maxwell gone, who will walk out to bat now? Will they go for a power-hitter in Stoinis or Carey? Yes they will. It is going to be Marcus Stoinis who will join Khawaja out in the middle. He has the ability to go big from ball one but has been cautious in his approach of late at the start.
46.2 overs (0 Run) OUT! Maxwell is run out! There was a single on offer but for some reason Khawaja stuttered after taking off. A full ball on middle and leg, Glenn tickles it off his pads to short fine leg and sets off for a run. Usman responds but then seeing the fielder attack the ball, he stops. Maxwell is left high and dry in the middle of the pitch and to his bad luck, Rubel Hossain comes up with a direct hit at the striker's end. End of an entertaining cameo from the Big Show!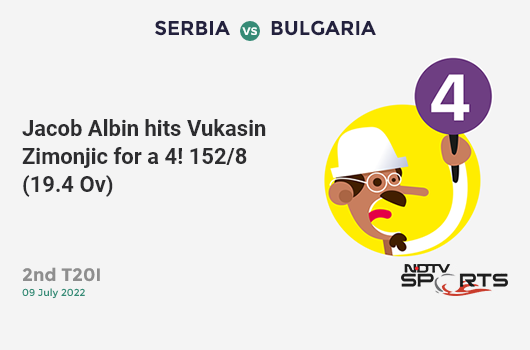 46.1 overs (6 Runs) SIX! Sarkar is given yet another over here. Hmm... He bowls a short ball at his pace, Maxwell picks it in a trice and hammers his pull shot over mid-wicket. 350 up for Australia!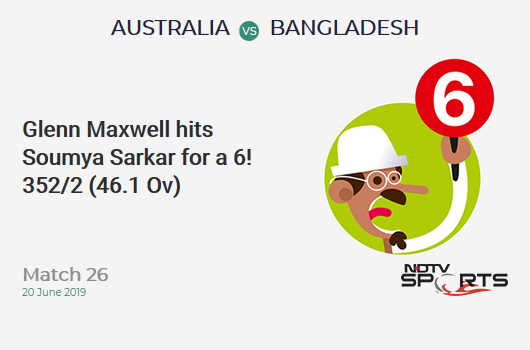 45.6 overs (4 Runs) FOUR! It's becoming too easy! 25 runs in the over! Full and around middle, Khawaja hops back to make room and plays a delightful drive in front of square on the off side for a boundary. England's 397 in danger here!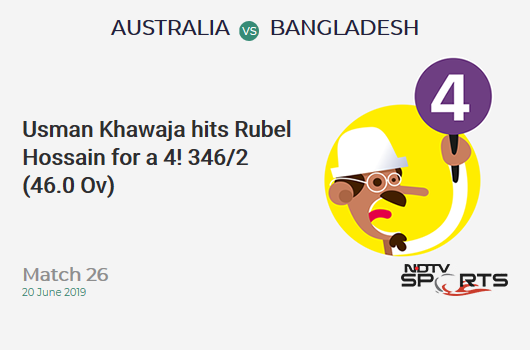 45.5 overs (3 Runs) Whips a length ball down to wide long on where Tamim makes a stop near the fence. The third umpire finds it clean and three runs have been added to the total.
45.4 overs (0 Run) Yorker on off, Maxwell digs it out to covers.
45.3 overs (6 Runs) SIX! 102 runs have come in the last 40 balls. Scintillating stuff. Shortish ball on middle, on the slower side, Maxwell with a clean strike dismisses it over square leg. The Big Show is on fire, delivering the KO punch to Bangladesh!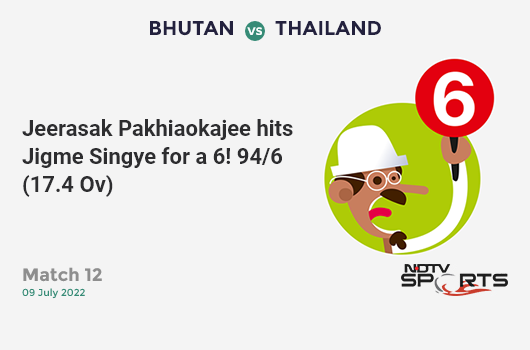 45.2 overs (4 Runs) FOUR! BOOM! A length ball around off, Maxwell hangs on the back foot and smacks it over covers for a boundary.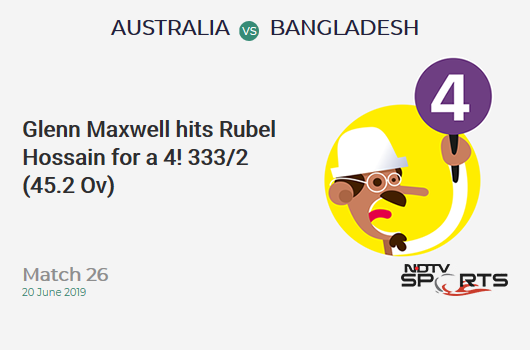 45.1 overs (6 Runs) SIX! Full and wide with mid off in the circle is always a danger. Maxwell latches onto it outside off and transfers all his weight on the right leg and thwacks it over extra cover. It falls flush on the rope and is given as a biggie after consulting the third umpire.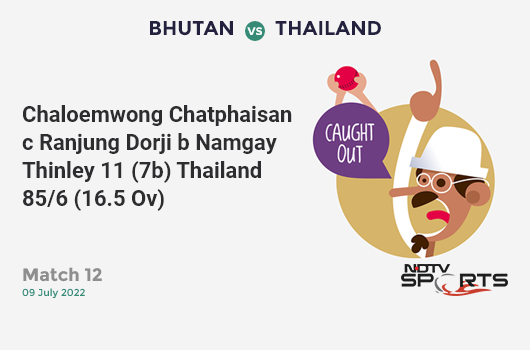 Free Hit loading... Maxwell on strike!!!
45.1 overs (2 Runs) A low full toss on middle, Usman flicks it to deep mid-wicket for a run. Hang on, Rubel has overstepped...
Topics mentioned in this article
Australia Cricket Team
Bangladesh Cricket Team
Trent Bridge, Nottingham
World Cup 2019
Australia vs Bangladesh, Match 26