Story Progress
Back to home
Australia vs Bangladesh Live Score, Over 6 to 10 Latest Cricket Score, Updates
Live Updates of Today Match between Australia vs Bangladesh from Trent Bridge, Nottingham. Check commentary and full scoreboard of the match.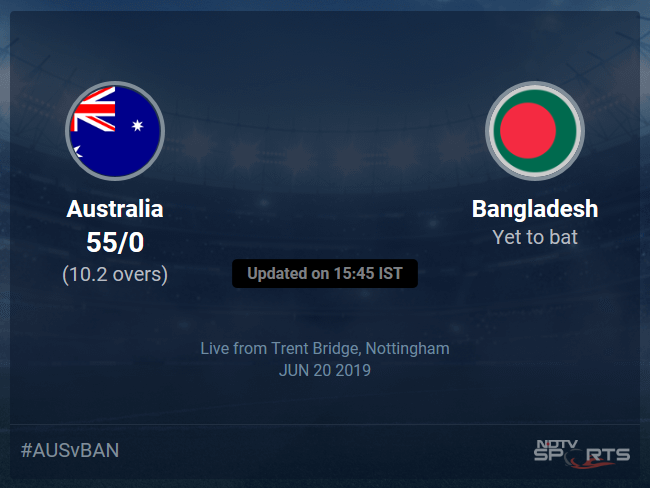 AUS vs BAN Latest Score
9.6 overs (0 Run) Fuller and flatter on middle, Finch keeps it out to mid on. 6 from Shakib's first over!
9.5 overs (1 Run) Pushed to the cover region by the batsman. They pick up a single.
9.4 overs (1 Run) Goes on the back foot and punches it towards extra cover for a run. Warner looks for another but then decides against it.
9.3 overs (4 Runs) FOUR! Cracking shot! Shakib lands a full delivery right in the slot for the batsman. Finch goes deep inside the crease and drills it down the ground for a boundary at long on. 50 comes up for Australia!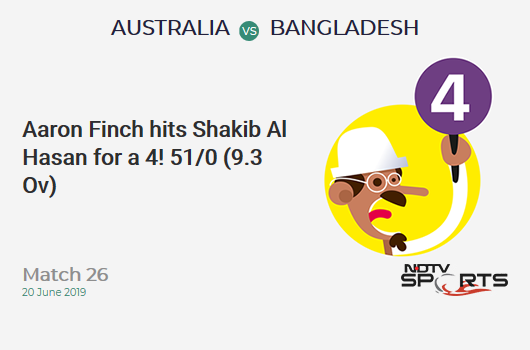 9.2 overs (0 Run) Finch has played that off the front foot and into the ground.
9.1 overs (0 Run) Starts with a friendly short delivery outside off, Finch cuts it off his back foot but finds point.
First bowling change of the game. Spinner finally introduced into the attack. It will be the No.1 all-rounder and Bangla superstar Shakib Al Hasan who will end the first Powerplay. He has been their go-to man, can he break this opening stand.
8.6 overs (1 Run) Fullish and on off, Finch drives it straight back and Mashrafe fails to stop it cleanly in his followthrough. He though takes the pace off the ball and it takes time in reaching mid off. The batsmen scamper across for a run in the meantime.
8.5 overs (0 Run) Slower one, an off cutter landing on a length outside off, once again Aaron finds the cover fielder after playing it from the crease.
8.4 overs (0 Run) Lands it on a length and just outside off, Finch this time stays on the back foot and hits it straight to the cover fielder.
8.3 overs (0 Run) Presses forward to a length ball and defends it to the off side.
8.2 overs (0 Run) Good length ball on off, worked on the leg side but straight to mid-wicket this time.
8.1 overs (2 Runs) Mistimed shot and a misfield after that! Full and wide outside off, Finch tries to play a booming cover drive but it takes the inside edge and hurries towards mid-wicket. The fielder there dives to his right but fails to make a clean stop. Two runs taken.
7.6 overs (0 Run) Change of angle for The Fizz. He switches to 'round the wicket and bangs in a short ball around leg. Warner picks it and evades. 8 from the over!
7.5 overs (0 Run) Too full in length and on off, Warner gets behind the line of the delivery and digs it out to mid off.
Some issue with the ball. Maybe it has lost its shape after getting a harsh treatment from Warner's bat. The umpires have called for the replacement.
7.4 overs (6 Runs) SIX! Warner gets his first biggie! He picks the short ball early, swivels on the back foot and fetches it from outside off. He then plays a controlled pull shot after that and sends it packing behind square leg for a maximum.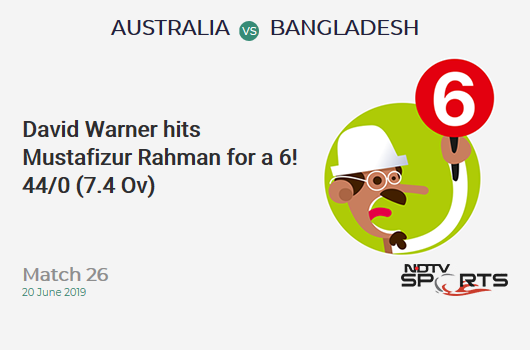 7.3 overs (1 Run) Finch has driven it to mid-off. One run added to the total.
7.2 overs (0 Run) Back of a length delivery outside off, Aaron is on the back foot as he punches it towards covers. Finds the fielder.
7.1 overs (1 Run) Eases it down towards mid on where the fielder dives to his right to make the stop. Cannot prevent the single though.
6.6 overs (1 Run) Slower short ball on off, Warner turns it behind square leg and takes a single. A decent going for Australia, so far.
6.5 overs (0 Run) Shortish and on off, punched from the back foot to covers.
6.4 overs (4 Runs) FOUR! Shot! Excellent timing again from Warner. He doesn't try to hit it hard and just places his back foot punch through the gap at extra cover.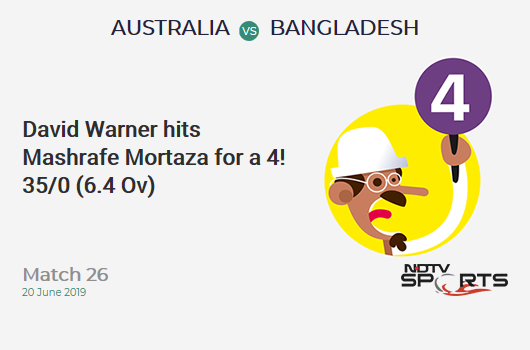 6.3 overs (0 Run) Another off-pace delivery, it's a bit short and on off, Warner tries to play the horizontal bat shot but it takes the bottom half of his bat and hits him on the body.
6.2 overs (0 Run) A length ball on off, Warner pushes it out towards mid-wicket.
6.1 overs (0 Run) A cutter from Mashrafe. Fuller and on off, Warner pushes at it after getting half-forward and it goes off the inner edge to short fine leg.
5.6 overs (0 Run) Play and a miss! Plenty of room on offer outside off, Aaron is tempted into the shot, he throws his bat at it but fails to connect.
5.5 overs (1 Run) A leg stump half-volley is the follow-up delivery to the shorter one, Warner nudges it fine down the leg side for one.
5.4 overs (0 Run) Rahman bends his back on this occasion and digs in a short ball close to off stump. Warner watches the line closely and sways away at the last moment.
5.3 overs (1 Run) Hangs on the back foot to a full delivery and pushes it to covers for a run.
5.2 overs (1 Run) Sliding down the leg side, Warner fails to flick and is hit on the pads. It rolls in the gap on the leg side and they cross for a leg bye.
5.1 overs (1 Run) Angling away from the batsman, Finch runs it down to third man and takes a run.
Topics mentioned in this article