Story Progress
Back to home
Virender Sehwag Best Man To Replace Anil Kumble: Ajit Wadekar
Anil Kumble on Tuesday stepped down from the post of the head coach of the Indian cricket team.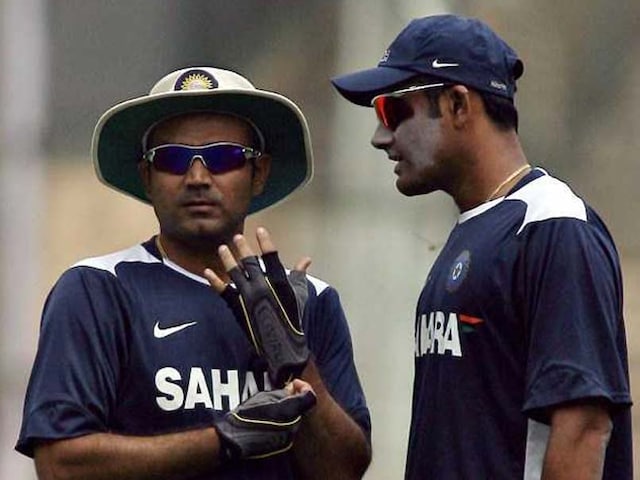 Ajit Wadekar feels Virender Sehwag is the best man to replace Anil Kumble as Team India coach.
© AFP
Highlights
Wadekar feels Sehwag is the best man to replace Kumble

Kumble stepped down as India coach on Tuesday

Indian team is currently in West Indies for the ODI, T20 series
The hunt for Indian cricket team's head coach has resumed and the Indian cricket board's Cricket Advisory Committee (CAC) is geared up to go through the list of applicants to find Anil Kumble's successor. With many candidates in the race, former India captain Ajit Wadekar backs Virender Sehwag for the top job. "If not Anil Kumble, then Virender Sehwag is the best option India can have. He has an attacking style approach towards the game and it will be good for India," Ajit Wadekar told NDTV.com in an exclusive interview.
Legendary leg-spinner Anil Kumble on Tuesday stepped down from the post of the head coach of the Indian cricket team. The Board of Control for cricket in India (BCCI) had advertised for applications for the post before the ICC Champions Trophy and it was clear then that Kumble's tenure would not be extended automatically.
Kumble was a direct entry into the coach selection process while the others who applied for the post included Virender Sehwag, Tom Moody, Richard Pybus and Lalchand Rajput among others.
"I will still prefer Anil for this job. Let's have a look at India's performances in the past one year. The statistics itself give the answers. India's domination in the past one year is commendable in Kumble's reign. So, we must respect that," Wadekar said.
"But, if you ask me as a Kumble's successor, it should be Sehwag," Wadekar said.
Kumble, whose tenure was scheduled to end at the end of the ICC Champions Trophy 2017, stayed back in England instead of travelling with the team for their next assignment -- the West Indies tour, where India are scheduled to play five ODIs and one T20I.
Wadekar, who is the first captain to lead India to overseas wins (West Indies and England in 1971), played 37 Tests for India, scoring 2,113 runs at an average of 31.07. The 76-year-old former captain also coached Team India between 1992 and 1996.
"When I was the coach of the Indian team, Anil Kumble was there. He was one of the nicest persons in the team. He was well educated, sincere and mad about his game. The only thing he focussed on - victory. I am amazed after his resignation," Wadekar said.
"I have seen Kumble sweating it out on a particular delivery during the net sessions. He wanted perfection in everything. Jumbo is a real gem," he said.
"I really don't understand why a captain like Virat Kohli has gone to such extent. Kumble is the best man to handle Team India right now," Wadekar said.
"Greatness and modesty should go along. And, in Virat's case it is almost opposite. He should be feeling blessed to have Anil as a coach. If you are disciplined that doesn't mean that you are not a good coach. I am sure Virat will realise soon what mistake he has made," the former India captain said.
"I want to ask Kohli, how could he change his opinion in just one year? India were performing and giving positive results. Then why did he do this?" Wadekar asked. "It's a complete sign of immaturity.
"He has been leading the Indian side for a while now, such behaviour wasn't expected from him.
"If you talk about India team, they should consider themselves losers. They have lost a gem like Kumble," Wadekar signed off.
Topics mentioned in this article