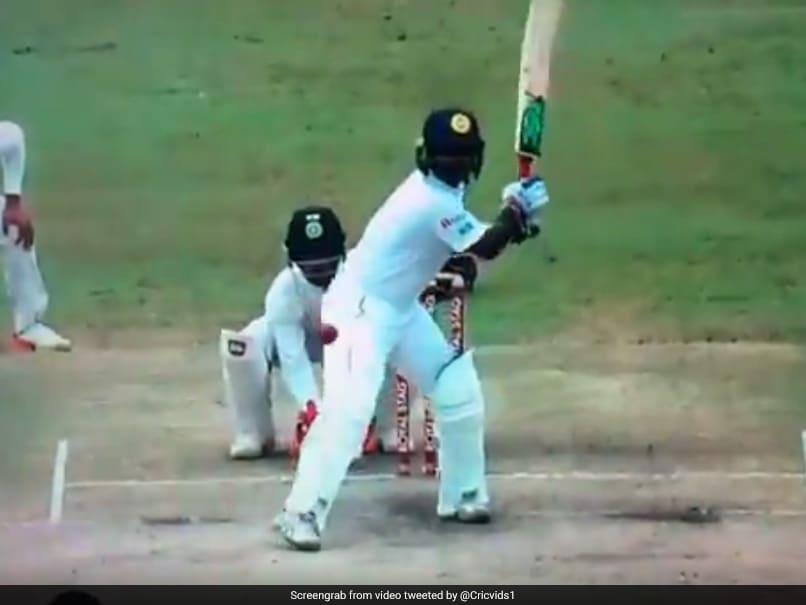 Malinda Pushpakumara threw away his wicket by playing a bizarre shot.
© Twitter
The Sri Lanka cricket team was trounced by innings and 53 runs in the 2nd Test by Virat Kohli-led India on Sunday. In doing so, the visitors sealed the three-match Test series with a day to spare. After being bowled out for just 183 in the first innings, the Sri Lankan top order put up a spirited display in the second.
Dilmuth Karunaratne and nightwatchman Malinda Pushpakumara came out to bat on Day 4 with the hosts at 209/2. Unfortunately for the home team, Pushpakumara experienced a 'brain fade' of sorts as he played an audacious reverse sweep to throw away his wicket early on. With the team fighting hard to save to Test and series, greater application was expected from Pushpakumara.
August 6, 2017
Not just Sri Lanka fans, but Sunil Gavaskar too criticized Pushpakumara for his choice of shot.
Do you think that @imVkohli while standing close in to Malinda Pushpakumara offered him an IPL contract? #SLvIND @ajarrodkimber

— Ram Narayan (@R4MN4R4Y4N) August 6, 2017
Pushpakumara being a lower order batsman is not an excuse. That was an exceptionally poor shot. #SLvIND

— Estelle Vasudevan (@Estelle_Vasude1) August 6, 2017
Pushpakumara played his role pretty well. But in the end he seemed to forget his role & tried to pull off Glenn Maxwell! #SLvIND

— Shantanu Smart (@smartshantanu) August 6, 2017
No wonder Malinda Pushpakumara was never given a chance to play for SL. The guy doesn't have brains at all. #SLvIND

— Sandeep (@Bottlemani27) August 6, 2017
Pushpakumara just played the most wonderful shot in test cricket to get out. ????

— Amitesh Singh (@amiteshSingh_3) August 6, 2017
What was Pushpakumara thinking with that reverse sweep attempt?#INDvSL

— AVINASH JAISWAL (@ajcruiser7) August 6, 2017
A guy who plays a shot like #Pushpakumara did, doesn't deserve to play international cricket in 2017. #SLvIND

— Cham J (@Uppercut07) August 6, 2017
#INDvSL we just witnessed "brain fade" at the SSC....by Malinda Pushpakumara..

— Rajesh Gopal (@Rajesh108) August 6, 2017
Now that I've seen Pushpakumara's dismissal. I have, in fact, seen everything. #INDvSL

— Damith Samarakoon (@theflyslip) August 6, 2017
Pushpakumara's dismissal should be enough to see him dropped. Showed he has no committment #lka #INDvSL

— Dinouk Colombage (@Dinouk_C) August 6, 2017
Pushpakumara's shot is his own useless interpretation of the helicopter shot. The Pushpakavimana

— Nitin Sundar (@knittins) August 6, 2017
The #KP in Malinda Pushpakumara surfaced for that teeny-weeny second.#SLvIND

— Suneer (@suneerchowdhary) August 6, 2017
foolish of Pushpakumara to even try that pathetic shot. Looks even more ugly in the replay #SLvIND

— Gagan Thakur (@gagan_gt) August 6, 2017
After Ravichandran Ashwin dismissed Pushpakumara, Ravindra Jadeja ran through the Lankan batting. He took key wickets on Day 4 which led to India's comprehensive win.
Twin tons from Karunaratne (141) and Kusal Mendis (110) helped the hosts show some fight but an all-round bowling performance by the Indians saw the islanders all-out for 386 in the second innings. Jadeja ended with figures of 5/152 in 39 overs.