Story Progress
Back to home
India vs Sri Lanka: We've Created A Habit Of Winning, Says Virat Kohli
Team India has developed a habit of winning, irrespective of geographical boundaries, and it is hungry to extend the consistent run, said skipper Virat Kohli after sealing the Test series against Sri Lanka.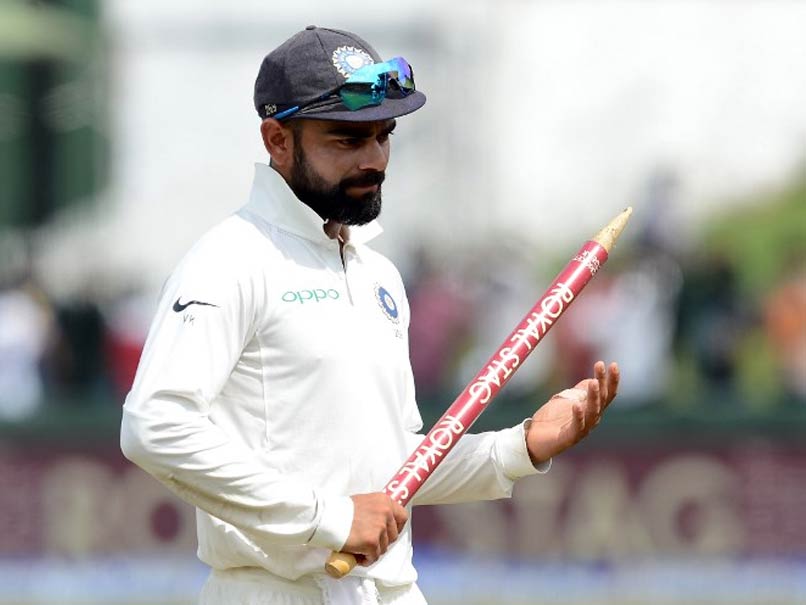 Virat Kohli said his side didn't lose patience and stuck to their discipline bowling
© AFP
Highlights
India beat Sri Lanka by an innings and 53 runs

Ravindra Jadeja was the pick of the bowlers for India

Ravichandran Ashwin picked up a five-wicket haul in the first innings
Ravindra Jadeja's five-wicket haul led India to a series victory over Sri Lanka in the three-match Test series. Jadeja took key wickets on Day 4 which led to India's comprehensive innings and 53-run victory over the hosts at Colombo on Sunday. This victory also ensured India's eighth consecutive Test series win. Team India has developed a habit of winning, irrespective of geographical boundaries, and it is hungry to extend the consistent run, said skipper Virat Kohliafter sealing the Test series against Sri Lanka. It means India have already retained the series that they won here 2-1 in 2015, and now have a chance to complete an overseas whitewash when the third Test starts in Pallekele on August 12.
"Well, it's obviously nice to win this series again. We won this last time also, in 2015. Yes, we do have that chance, but honestly speaking, we are not looking at Test matches or Test cricket now as home and away anymore. We are just looking at Test matches as Test matches and we want to win anywhere that we play," Kohli said.
"If we can believe enough in our abilities then we are not really bothered about where we are playing. That kind of energy I can sense in the team, and the team believes that as well. We are creating a habit of winning that I think can be carried on in future as well."
Kohli said his team plays with a lot of passion and savours each others success and understand the importance of consistency.
"For us, this is priority. Test cricket is the most important thing for us. And everyone plays with a lot of passion. If you see, last nine Test matches, six times we've got 600 runs. That shows the hunger of the batsmen, they are waiting for an opportunity, there are lower order contributions as well," he said.
"In the dressing room we feel really proud of each others' efforts, that we're really putting in those consistent, convincing performances, and winning Test matches more often than getting the other results. We really feel good as a team that we're able to win consistently right now, but we realise that it's very important to keep carrying on the same way as well," he added.
Kohli said his side didn't lose patience and stuck to their discipline bowling despite enduring a frustrating day 3.
"You expect teams playing Test cricket to come out and play like that. Because of the way we got wickets in the first innings sometimes frustration can creep in when we don't get wickets in a session. But you have to realize that those eight wickets we would have probably liked to get them throughout the day if you spread it into three sessions," Kohli said.
"So it was all about keeping things realistic, keep working hard, keep hitting the areas, keep doing the skills you know best and just wait for something to happen with our discipline and then we can put some more pressure again. So it was just about keeping things honest and not going too far ahead of ourselves."
Kohli said they opted for the second new ball early to create more chances as the wicket was getting slower.
"The pitch was getting slower and that's why we took the new ball straight away as well. We thought with the harder new ball one might keep straight as well because the older ball was soft and all balls were turning so it was very difficult to get edges and create chances," he said.
"As soon as the new ball was taken then we thought the batsmen are going to look to score now. The ball might come better on to the bat and then they might play more shots. The bowlers are in the game as well when there is more pace because of the harder ball."
Ravichandran Ashwin (5/69) and Ravindra Jadeja (5/152) took five wickets in the 1st and 2nd innings respectively and Kohli heaped praise on the bowlers for pulling things back.
"The bowlers did an outstanding job today of pulling things back and keeping it simple. And that's what happens in test cricket, sessions go away from you and you have to pull it back to win a test match," Kohli said.
"I think it was very good for us from a team's point of view. We were up against a challenge in the last four sessions that we played yesterday and today. We managed to turn things around," he added.
Dimuth Karunaratne (141) and Kusal Mendis (110) had put on 191 runs for the second wicket to thwart India after Sri Lanka were bowled out for 183 runs in their first innings.
The hosts then put up a sweepathon which India had to wait out before they could march towards victory.
"People play in different ways and I don't think they drove even a single ball. There was no driving on that pitch. My approach or Ajinkya's or Pujara's might be very different, so it's all about finding way to score runs," Kohli said.
"It happens in cricket sometimes that you play a particular shot and suddenly it becomes a productive shot in that particular innings for you. I think it was a high quality innings; not even one sweep was mistimed or in the air. So, we have to give credit to the batsmen there."
India had scored 622/9d runs in their first innings, and enforced the follow-on after taking a 400-plus run lead. It was only the third time in eight such instances that Kohli enforced the follow-on.
"If you see our batting in the second innings in the last six months or so, it has become more positive, we are taking on more chances and we are giving those extra 20-25 overs to the bowlers to get wickets," Kohli explained.
"See 183 all out and lead of 440 prompted us, looking at the wicket the way it was spinning, not to bat again. And we had only bowled 40 or 48 overs in the 1st innings. So bowlers were fresh and we got lunch break in between as well.
"We ended up enforcing the follow on because we felt we have enough on the board not to bat again. If this was like 200 or something, we could have still batted and score 200 or 250 runs and put them again," said the skipper.
(With PTI Inputs)
Topics mentioned in this article