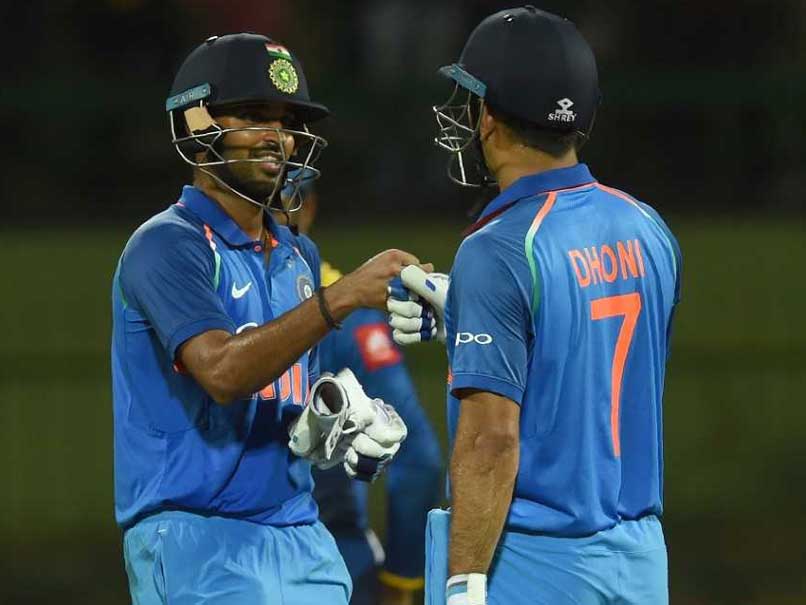 Bhuvneshwar Singh and MS Dhoni rescued India in the 2nd ODI.
© AFP
Bhuvneshwar Kumar, who is not in the Indian team for his batting skills but more for his bowling, played a brilliant knock against Sri Lanka in the second ODI and bailed the visitors out of trouble in a match that could have gone either way with Akila Dananjaya spinning his web around the Indian batters. Bhuvneshwar scored 53 not out and raised a 100-run stand with Dhoni for the eighth wicket to guide India to a three-wicket win over the hosts on Thursday night. In a video interview with his senior Rohit Sharma, Bhuvneshwar opened up on how he managed to pull off a coup, picking Dananjaya when the rest failed and how his bowling is coming through in the recent times.
"Bhuvi, obviously it was not an easy situation when you went to bat in but we all have seen you bat and score runs whenever the team has required. So what was going on there? Did you have a special chat with MS (Dhoni)?" Rohit asked Bhuvneshwar in a video interview on bcci.tv.
In reply, Bhuvneshwar said: "No. Not really. When I went in he (Dhoni) just told me, just play what your game is. That was the ideal situation for me as I am not the kind of batsman who can hit sixes but you know I can go through the innings and score a few runs. I know that if I can play 15-20 overs, it was a good chance for us to win the match."
Rohit, kind of agreed with what Bhuvneshwar said before asking him the next question.
"What did you make of the wicket? Did you think when you were bowling the wicket changed quite a bit and when you were batting was there any change or dew effect?" asked Rohit.
"When I went in for the batting, there was a bit of turn, I wasn't picking his (Dananjaya) googly or whatever but later on it was coming nicely on to the bat, may be, because I was set and I was seeing the ball really nice. For me, it was easy to bat in this wicket than bowl because it wasn't easy to bowl in the first innings. It was coming nicely on to the bat," Bhuvneshwar replied.
Praising Bhuvneshwar, Rohit said that the team always believed that Dhoni and the young-fast bowler can do it and went on ask whether he was confident in picking Dananjaya when the rest of the players failed to do so.
"Yes, when I went in, I wanted to play him as a googly bowler. I wanted to play his googly because whatever was going away from me I was getting beaten. So, I just wanted to play him as a googly bowler. That actually worked for me. MS (Dhoni) also said the same thing, to play for the incoming ball, so that if it gets away, you won't get out. I was really worried about Malinga, especially slower ball because every time I played him in the IPL, I never picked his slower ball."
Talking about his bowling, Bhuvneshwar said, "I am trying to exploit the conditions. I couldn't get the wickets in the last two matches but I am pretty happy with the way I am bowling. The plans, whatever I am executing it, is perfectly happening. So, I am really happy with my bowling."