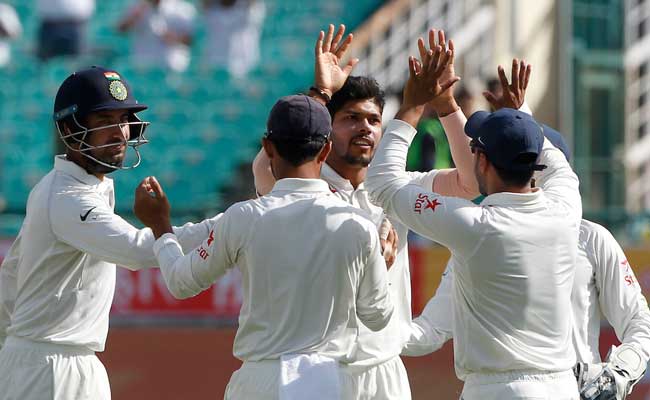 Mohammed Shami took two wickets for India vs Sri Lanka on Day 2.
© AFP
India continued their dominance in the first Test as Sri Lanka finished at 154/5 at the end of Day 2 and trail by 446 runs. After losing Dimuth Karunaratne (2) early, Danushka Gunathilaka (16) and Upul Tharanga (64) stitched up a 61-run partnership to steady the Lankan ship. However, Mohammed Shami put India on top as he dismissed Gunathilaka and Kusal Mendis (0) in the same over. India faced some resistance from Upul Tharanga and Angelo Mathews (54 not out) who scored half-centuries. Shami finished with the figures of 2/30 in his nine over. (SCORECARD)
Catch all the highlights of India vs Sri Lanka, 1st Test, Day 2 straight from Galle:
17:19 IST: Sri Lanka 154/5 at stumps, Day 2. Mathews and Dilruwan Perera stay not out.
17:18 IST: Dilruwan Perera punches Jadeja off the backfoot to collect three runs.
17:07 IST: Sri Lanka need 254 to avoid follow-on, trail by 453 runs.
17:05 IST: Fifty! Mathews hits Jadeja for a boundary on the off-side, scores his 27th Test half-century.
17:03 IST: Right-handed Dilruwan Perera joins Angelo Mathews in the middle.
17:00 IST: OUT!! Ashwin strikes, gets his first. Niroshan Dickwella leans forward to defend, ball spuns, takes the outside edge and Abhinav Mukund takes a blinder at silly point. Sri Lanka 143/5 in 39.2 overs.
16:58 IST: Four! Back-to-back boundaries from Mathews off Ashwin.
16:56 IST: TV umpire rules Dickwella not out as he drags his bat inside in time and is safe.
16:55 IST: Appeal! Mathews chips the ball. Silly point reacts fast to throw the ball at non-strikers ends, players appeal for run-out, umpire goes upstairs.
16:53 IST: Four! Jadeja straying on the pads, Dickwella kneels and sweeps.
16:50 IST: Eight overs of play left today. Sri Lanka are trailing by 470 runs.
16:44 IST: Left-handed batsman Niroshan Dickwella comes to the crease.
16:42 IST: OUT! Chip down towards silly point by Tharanga and Abhinav Mukund is quick to react. On-field umpire goes upstairs and third umpire gives that out. Unlucky Tharanga departs for 64 as Sri Lanka lose 4.
16:38 IST:  FOUR! Touch short and Mathews is quick onto his back foot to hit another boundary. 53 partnership between these two. They are on a rebuilding stage.
16:30 IST: 30 overs have been bowled, Sri Lanka 115 for three. Tharanga and Mathews steady the Lankan ship after early jolts.
16:24 IST: The third umpire rules Mathews not out. TV umpire says: "Fair delivery. I'm happy that clearly missed the bat. Two reds and wickets- umpire's call. Just clipping the top of off. Bruce, you can stay with your decision. Not out."
16:22 IST: Ravichandran Ashwin traps Mathew in front of the wicket, big shout from the bowler and wicket-keeper. Umpire turns down the appeal. India take review.
16:21 IST: Jadeja starts off brilliantly, concedes just two runs from his first over.
16:18 IST: Ravindra Jadeja is introduced into the bowling attack.
16:15 IST: Drinks break. After 26th over, Sri Lanka 111/3. Tharanga (59) and Mathews (31) are in the middle.
16:12 IST: Six!! Short delivery from Yadav, Mathews top edges the ball for a maximum at fine-leg boundary.
16:11 IST: Four! Full from Yadav, Mathews drives it beautifully for a boundary.
16:02 IST: Four! Short and wide from Yadav, Mathew slams the ball for a boundary on the off-side.
15:58 IST: Four! Mathews punches off the backfoot, Umesh Yadav lets the ball through his legs at mid-off.
15:56 IST: 21 overs gone, Sri Lanka trail by 516 runs. 14 overs bowled in the evening session, Sri Lanka have lost 2 wickets and scored 46 runs.
15:54 IST: Four! Short delivery by Shami, Mathews pulls it handsomely for a boundary.
15:45 IST: At the end of the 18th over, Sri Lanka are 74 for three.
15:36 IST: Fifty! Tharanga drives Ashwin through the covers to bring up his 8th Test half-century.
15:34 IST: Angelo Mathews is the new batsman in. Joins Upul Tharanga in the middle.
15:33 IST: At the end of the 15th over, Sri Lanka are 68 for three.
15:32 IST: Out!! Mohammed Shami strikes yet again, dismisses Kusal Mendis for a duck.
15:30 IST: Kusal Mendis is the new man in.
15:27 IST: Out!! Wide delivery from Shami, Dhanuska Gunathilaka trying to slash, edges the ball to Shikhar Dhawan at first slip. Mohammed Shami gets his first wicket.
15:24 IST: Four! Tharanga cuts Ashwin with authority for a boundary towards the third man region.
15:20 IST: Four! Consecutive boundaries for Tharanga. This time the left-handed batsman drives through the covers.
15:19 IST: Four! Tharanaga trying to cut, edges the ball right in between the wicket-keeper and a wide first-slip. Lucky Tharanga.
15:13 IST: 50 comes up for Sri Lanka in 10.2 overs. Tharanga and Gunathilaka are out in the middle.
15:12 IST: Brilliant piece of yorker from Umesh Yadav. Gunathilaka squeezes the ball out in time for one run towards fine leg.
15:10 IST: Four!! A little bit of width from Ashwin outside the off-stump, Tharanga cuts it for a boundary.
15:03 IST: Good first over for Ashwin, concedes just three runs.
15:01 IST: Ravichandran Ashwin introduced into the bowling attack.
15:00 IST: And we are back for the post tea session.
14:41 IST: It's TEA! Sri Lanka are 38/1 after 7 overs. Tharanga 24*, Gunathilaka 12*
14:40 IST: FOUR! Very wavered delivery by Mohammed Shami and gets the right treatment. Sri Lanka scoring at a great pace. Sri Lanka 38/1 after 7 overs 
14:37 IST: FOUR! Quality batting by Sri Lanka. Third boundary of the over for Tharanga. 
14:35 IST: Tharanga leans forward this time for a sublime boundary. No holding back
14:34 IST: FOUR! Width on offer by Umesh Yadav and now Tharanga hits it over point area for a boundary
14:31 IST: FOUR! Gunathilaka punches it again, this time much-squarer
14:27 IST: FOUR! Lovely shot by Gunathilaka who punches it off the backfoot for a boundary. Sri Lanka 14/1  
14:25 IST: Danushka Gunathilaka is the new man in  for Sri Lanka. 
14:17 IST: OUT! Third umpire stands by the decision and Sri Lanka lose their first wicket. Sri Lanka are 7/1
14:15 IST: Rapped on the pads of Karunaratne and a loud shout by Umesh Yadav. The umpire raises his finger. And, it seems they are going for a review. 
600 on the board in the first essay, up to the bowlers to back it up. SL 1st innings underway #TeamIndia #SLvIND pic.twitter.com/jPZ0yFL76G

— BCCI (@BCCI) July 27, 2017
14:11 IST: Sri Lanka openers Upul Tharanga and Dimuth Karunaratne are at the crease. Mohammed Shami to start the proceedings for India
14:10 IST: Sri Lanka players have a huge task on their shoulders and it will not be easy for them to match India. 
13:55 IST: OUT! Pandya goes for the big one again, but gets caught by the fielder.  India finish the first innings on 600
13:54 IST: India go past 600 now
13:52 IST: FOUR! Straight as an arrow! Umesh Yadav hits that again for a boundary. Nice straight bat from the No.11
13:50 IST: Fifty! Half-century for Hardik Pandya on his debut off just 48 balls. 
13:50 IST: SIX! Umesh Yadav now takes the mantle to hit the ball. He gets that right from the middle of the bat. 
13:50 IST: FOUR! Hardik Pandya absolutely clobbered that ball for a boundary. He moves on to 48 
13:45 IST: FOUR! Players just came inside the circle in the last ball to save the single but Pandya had other plans. He spanked it over them for a boundary.
13:40 IST: Good hand by Shami as he departs for 30. India 579/9
13:37 IST: OUT! Mohammed Shami pulls the ball high but mistimes it and gets caught at the mid-wicket. India lose their 9th wicket.
13:32 IST: SIX! Shami steps out and hits right over the bowler's head for a maximum.  The session run-rate is 6.25
13:30 IST:  Pandya and Shami also complete their 50-run partnership. India 572/8
13:28 IST: SIX! What a shot by Pandya. He flicks it towards deep mid-wicket for a maximum. He has quickly moved on to 40 off just 38 balls.
13:20 IST: India 558/8 after 126 overs. Hardik Pandya 29*, Mohammed Shami 21*
India's highest in Sri Lanka?
707 in 225.2 overs at ColomboSSC in July 2010 after SL made 642/4d#SLvInd

— Mohandas Menon (@mohanstatsman) July 27, 2017
13:16 IST: Partnership is worth 38 runs off 23 balls for the ninth wicket. 
13:13 IST: SIX! Mohammed Shami tonks the ball again and gets the maximum. They are enjoying themselves at Galle.
13:11 IST: India record the highest first innings total vs Sri Lanka at their home
13:08 IST: SIX! Pulled away again and the result is the same. He is dealing in sixes now
13:06 IST: SIX! In the air and out of the park off Hardik Pandya's bat. Another maximum and the intentions look very clear here. 
13:05 IST: SIX! Mohammed Shami joins the party now. Using the long handle to good effect. First maximum of the match.
13:04 IST: Pulled away for a four towards deep mid-wicket. India 524/8 after 122 overs.
13:02 IST: Best figures by the Sri Lankan fast bowler at Galle.
13:00 IST: Relentless bowling! What a spell from Nuwan Pradeep. His career best figures in the First Class cricket. 
12:58 IST: OUT! He has bowled him! What a delivery by Nuwan Pradeep to clear Ravindra Jadeja up. Follows up with a yorker after a rip snotter. Jadeja departs for 15 off 24 balls. 
12:51 IST: FOUR! Hardik Pandya tries to pulls the ball and gets the thick edge of the bat. More luck for Pandya 
12:48 IST: Edged and dropped at slips. Could have been the 8th wicket for Sri Lanka. Thick edge from Pandya's bat but Karunaratne couldn't hold on to the regulation catch
12:43 IST: FOUR! And Jadeja straightaway gets into the business. 
12:40 IST: And we are back after Lunch! Sri Lanka certainly fought back in the first session of Day 2 after conceding 399 runs on the first day. They will now quickly look to take last three wickets and get India all-out under 550.
Lunch on Day 2, India on 503/7 (117 overs) Jadeja 8*, Pandya 4*, Nuwan Pradeep claims his first five -wicket haul in Tests. #SLvIND pic.twitter.com/YBHzU2ERQK

— Sri Lanka Cricket (@OfficialSLC) July 27, 2017
12:05 IST: India scored 104 runs in 27 overs in this session and lost 4 wickets 
12:03 IST: That's LUNCH! India 503/7 after 117 overs. Ravindra Jadeja 8*, Hardik Pandya 4*
12:00 IST: FOUR! 500-up for India with a backfoot punch by Ravindra Jadeja. He gets off the mark too with a boundary.
11:57 IST: Ravindra Jadeja is the No.9 batsman for India. He joins Hardik Pandya at the crease 
11:53 IST: OUT! Ashwin tries to go for the pull shot but gets the knick. He departs for 47 as India lose their 7th wicket
11:51 IST: FOUR! Pandya smashes his 3rd ball of the match to get off the mark. 
11:50 IST: Debutant Hardik Pandya comes to the crease now. 
11:49 IST: Saha looks unhappy there. Had a great opportunity to score. Rangana Herath, the Sri Lankan captain, gets his first wicket of the match. 
11:47 IST: Wicket! Wriddhiman Saha steps out and goes for the big heave but gets caught at mid-on. He goes for 16. 
11:43 IST: Ashwin flicks, but straight to the short leg fielder. Oh! He would have been run-out there. Kusal Mendis was very quick to react and replays show that Ashwin was atleast 5 inches away from the crease. 
11:41 IST: FOUR! Saha sweeps and sweeps it hard for a boundary. India 488/5 after 113 overs. Ashwin 45*, Saha 16*
11:35 IST: Flatter and doesn't turn much, Ashwin defends with an angled bat to backward point. Fifty partnership between Saha and Ashwin
11:26 IST: Bouncer! What a delivery by Kumara to fox Wriddhiman Saha. He was lucky to have not edged it to the fielder. 
11:23 IST: FOUR! Ashwin plays it through covers again and no fielder to cut that off. So much time Ashwin has and also wonderful hand-eye coordination
11:15 IST: FOUR! Just a little bit of room from Dilruwan and Ashwin cuts it past the point fielder. He is displaying all his batting skills. Impressive!
11:15 IST: Herath is off and Dilruwan is back into the attack
11:13 IST: Ashwin plays it towards the on-side this time to get a couple. He is looking fluent
11:11 IST: FOUR! Long stride by Ashwin and find the gap again on the off-side. Ashwin has already hit five boundaries in his innings. 
11:02 IST: FOUR! Ashwin drives it again to sweeper cover. He has quickly moved on to 20 off 24 deliveries. India 451/5 after 105 overs. Wriddhiman Saha 4*, R Ashwin 20*
11:01 IST: FOUR! What timing by Ashwin. Tad overpitched by Herath and he drives it beautifully through the off-side. 
10:58 IST: FOUR! Pitched up and the wicket keeper batsman played it to perfection off Lahiru Kumara. Saha gets off the mark
10:54 IST: FOUR! Ashwin steps out and nicely flicks it away on the on side towards deep wicket for a boundary. He is looking positive after initial hiccups
Nuwan Pradeep claims his fouth Wicket, Pujara caught behind for 153. IND 423/4 (97.4 Ovs) #SLvIND pic.twitter.com/asNWrMltjO

— Sri Lanka Cricket (@OfficialSLC) July 27, 2017
10:50 IST: India have scored 33 runs off 12 overs in the session and lost two wickets. Goold comeback by Sri Lanka. 
10:48 IST: OUT! He gets the wicket on his first ball today. What a comeback by Sri Lanka. Ajinkya Rahane couldn't comprehend the swing and edged the ball to the second slip. He falls for 57
10:46 IST: Bowling change. Lahiru Kumara comes in to replace Pradeep.
10:40 IST: FOUR! What a shot that is by Ashwin. He plays it on the up and a superb timing to place it through the covers for a boundary
10:36 IST: Edges the ball straightaway and just short of the man at gully. Pradeep has been the go to man for Herath today and bowled well so far
10:34 IST: Ravichandran Ashwin is the new man in. He comes ahead of Wriddhiman Saha 
10:31 IST: OUT! Edged and taken. Pujara is out caught behind on 153 off Nuwan Pradeep. Terrific delivery to get rid of the well-set Pujara. 
10:26 IST: FOUR! Rahane dances down the track and smashes it past mid on. 12th fifty for him 
10:22 IST: FOUR! Pujara glances it down towards the fine-leg to bring up his 6th 150 in Tests. Fantastic achievement by him
10:16 IST: FOUR! Looking for an out-swing Nuwan Pradeep but ends up bowling an easy half-volley and Rahane nicely plays it on the up for a boundary.
10:12 IST: Back-to-back maiden from Sri Lanka. Good and tight bowling from them so far unlike yesterday. India are 404/3
10:11 IST: Turned down by the third umpire. Nopes it didn't hit Pujara's bat. Sri Lanka have wasted it
10:10 IST: oooh! That ball really spun. First signs of turn in the Test. O dear! they are going for the review for caught behind
10:07 IST: Outside off by Nuwan Pradeep and Rahane gets a little greedy. Swings his bat and misses it
10:03 IST: India 404/3. Cheteshwar Pujara 147*, Ajinkya Rahane 41*
10:01 IST: India start off well, get runs on the first delivery itself. And India also reach 400-run mark
10:00 IST: So, players are out in the middle. Ajinkya Rahane to face the first ball. 
Nice and straight! @ajinkyarahane88 preps for Day#TeamIndia #SLvIND pic.twitter.com/xrP6SuZaJc

— BCCI (@BCCI) July 27, 2017
09:34 IST: Pujara's composure has ensured Sri Lanka cannot win and will be a delight for the Indian spinners to bowl on a third and fourth day pitch. 
09:33 IST: Cheteshwar Pujara has been solid as ever, and very close to 150. He is not-out on 144.
09:32 IST: Shikhar Dhawan stole all the limelight yesterday after making a spectacular comeback in the Test side. He was so close to making his double ton by played a rash shot and fell just 10 runs short. 
09:30 IST: Hello and welcome to the live blog
Dhawan, drafted into the Indian squad at the last moment, said it was a blow to get out so close to a maiden double hundred. Dhawan was out in the last over before tea when he handed a simple catch off paceman Nuwan Pradeep to Angelo Mathews at mid-off. Kohli was dismissed for three when he tried to pull a chest-high delivery from Pradeep, who took three for 64, but nicked behind instead to Niroshan Dickwella. Pradeep's appeal was initially turned down but the decision was overturned by the TV umpire when replays showed the ball had grazed Kohli's bat.
Dhawan got a standing ovation from teammates in the dressing room upon completing his fifth Test century. The innings was especially sweet for Dhawan, who was made to sit out of India's last 11 Tests following a dip in form. Dhawan's last Test century was at the same venue, during India's 2015 tour of the island nation. India lost the Galle match but went on to win the remaining two games to pocket the series 2-1.