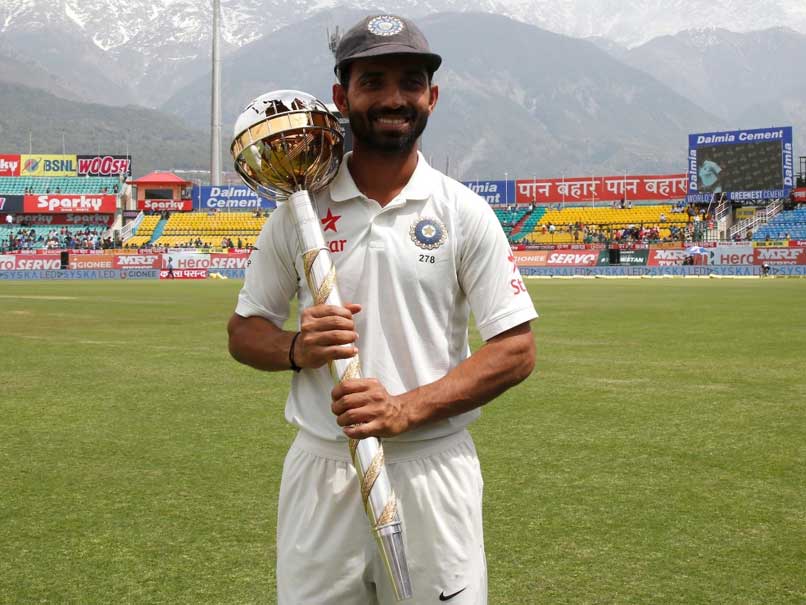 Ajinkya Rahane has said that winning the first match will be crucial for India.
© BCCI
India leave for the South Africa on Wednesday. The series will comprise of three Tests, six One-Day Internationals and 3 Twenty20 Internationals. Since South Africa's re-admission in 1991, both countries have played each other 33 times over 12 series being played equally in South Africa and India. This perhaps is the team's best chance of winning a series against the Proteas and one of India's key batsman in the campaign will be Ajinkya Rahane, the vice-captain of the team. Ahead of the team's departure, Rica Roy caught up with the right-hander for a freewheeling chat.
Rica: You have been on a tour of South Africa before and you have scored runs in tons. This time around how different is your preparation? Last time you remember you came very close to scoring a century at the Kingsmead stadium?
Ajinkya: Preparations this time around is not completely different. When we went last time, I had 3-4 days of preparation before going to South Africa and I had such a good experience playing there. I played 2 Test matches there and it was my first Test tour. I learnt a lot from that series but again this will be a different challenge. When we went there last time the team was completely new, but this time all the boys are experienced and we have been there, we know the conditions. Yes, the conditions will be different this time. I am just trying to add new things so that I will be much better while handling the bowlers.
Rica: Before every tournament you prepare with Praveen Amre. Are you doing the same this time around and how is it coming along?
Ajinkya: He is helping me a lot and we have been practising for a long time. We know each other for a long time and he has helped me immensely. We are together in good and bad times, and that is a very good thing. His support is always there with me, and his inputs are very valuable because when we went there last time, we practised together.
Rica: Everyone says that you are India's best batsman during an overseas tour. You are also the vice-captain of the side. Does that does mean added pressure on you?
Ajinkya: I love taking responsibility, whether I am batting or fielding and it is a great opportunity for me to do well for my country, contribute to my country. I am actually working hard to get better and better. I love the challenge of vice-captaincy. I want to be a match winner for my country, be it Test cricket, ODI cricket or T20s.
Rica: Ajinkya do you think this is India's best chance of winning the Test series in South Africa?
Ajinkya: Yes, and we will do our best to win the series there. Above all, we are just looking to play good cricket. Test cricket is all about giving your best throughout 5 days -- each and every session matter in Test cricket because the game just changes in one session, so we don't want to take any session lightly. South Africa is a very good team they have a very good attack, where they know their conditions really well. So we don't want to take them lightly, but at the same time, we want to give our best. I think the first match will be very crucial, whoever does well in the first match will be better off in the series.
Rica: India is going to South Africa about 10 days ahead of this series and BCCI has cancelled your practice matches. You are taking a group of net bowlers with you. Would that be ideal preparation?
Ajinkya: The good thing about this is we got good quality of bowlers. Since they have done well in domestic cricket, it's better to face them. Sometimes what happens in overseas practice games is that we get flat wickets and ordinary bowlers. That does not help in preparations. It's a good decision the management has taken. We are going to have some good net sessions and that will be quality practice. If you prepare well that actually matters in the Test cricket.
Rica: Ajinkya switching tracks to one-day cricket, your batting average is over 48 in last one year, yet you don't find a place in the playing 11. That's because the team management feels that you are best suited for the opener's slot even though you have batted at different positions for Team India. Does that hurt?
Ajinkya: I have the experience of playing on every number. However lately whatever ODIs have been played, I have opened the innings and team management has decided that I am going to be an opener. So it's all about giving my best in that position. I am confident of doing well in any position whenever I get an opportunity.
Rica: Ajinkya, India will be playing a few top Test sides in next one and a half years. What are the chances for the team to retain the number 1 Test ranking?
Ajinkya: As a team, we are confident but it's all about giving your best in that particular match. We are going to play against South Africa, England, New Zealand and Australia in the next few months. But it's about staying in the present and giving your best. Right now, we are just focusing on South Africa. We know the kind of challenges we face. I am confident, if we stick to our basics and express ourselves, get used to the conditions, will do very well.
Rica: Your captain Virat Kohli leads from the front, he has a very positive mindset. How much does his mindset impact the team?
Ajinkya: He has been very good we all know that, he has been so consistent in all the formats. He leads from the front, gives confidence to each and every player. He is completely a positive player and likes to give his best on the field. He backs his teammates and encourages each one to give their best for the team.
Rica: You have followed Virat for a fairly long time. You have seen his transition from a junior cricketer to Team India, to a captain. He has evolved very well and now transitioned from a bachelor to a husband. Would you like to share some tips from your husband handbook to Virat Kohli?
Ajinkya: I will personally have a chat with him when I see him. As a player, it's so fantastic to see him get better each day and be amazingly consistent. Everyone is learning from him and his level of consistency. Perhaps the best is his passion for the game.