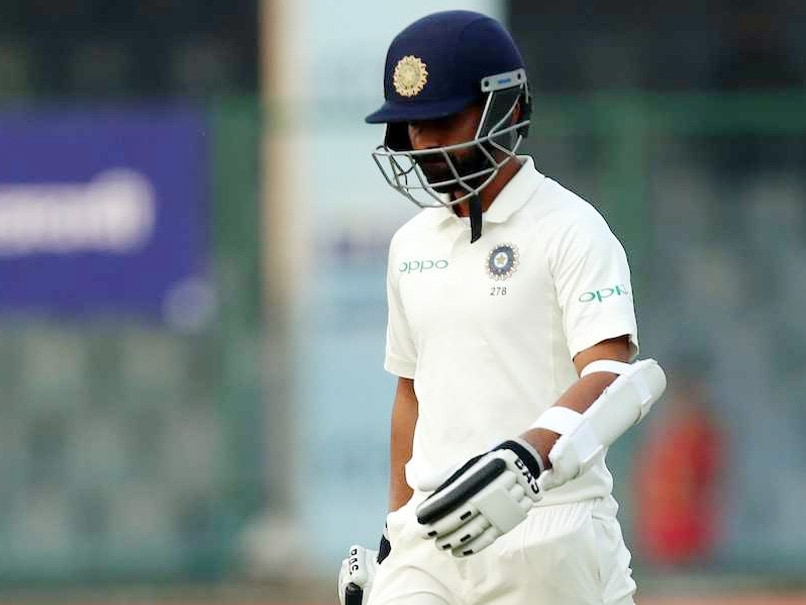 Ajinkya Rahane has only managed to score 17 runs in five innings against Sri Lanka
© BCCI
Former India captain Sourav Ganguly feels that Ajinkya Rahane's poor run with the bat would not be much of a concern for the Indian team in the upcoming series against South Africa. Rahane has not been in great form recently and has only managed to score 17 runs in five innings against Sri Lanka at home but his record outside the sub continent is as good as any player in that Indian line-up and that makes him a vital cog in the wheel.
" No, I don't think Ajinkya Rahane's form is a concern as he is a quality player. Virat Kohli, Rahane, Cheteshwar Pujara and Murali Vijay have all been to South Africa. The best thing is that they are going back to South Africa as better players," Ganguly told PTI during an interaction on the sidelines of Ranji Trophy semi-final between Bengal and Delhi.
The former captain is impressed with current bowling attack but wants to wait till he watches them in action.
"We will find out if this is the best bowling attack or not. They have got pace for sure. Umesh has pace, Bhuvneshwar is in good form, so let's wait," he said.
While conditions will determine the playing XI in Cape Town on January 5, Ganguly is not averse to trying out Hardik Pandya at No 6, something a lot of experts are sceptical considering his technique in bouncy conditions is not well documented.
"You will not realise till you give Hardik a chance. Depends on how you want to go about it," said one of India's shrewdest captain.
"Rohit Sharma did well in the two chances that he got. If it's a flat track, may be we should have that extra fast bowler in the XI but if it's a green top, we should definitely have an extra batsman," he opined.
Ganguly, who is the president of the Cricket Association of Bengal (CAB), picked Shikhar Dhawan as his choice as opening partner of Murali Vijay.
"Shikhar Dhawan has been in such great form and Murali Vijay has also played well against Sri Lanka," he said. While India have talent to do well, winning a series will be easier said than done.
"India are a good team but it won't be easy that much I can tell you. If the batsmen put up runs on the board, this attack can get wickets," he concluded.
(With  PTI Inputs)