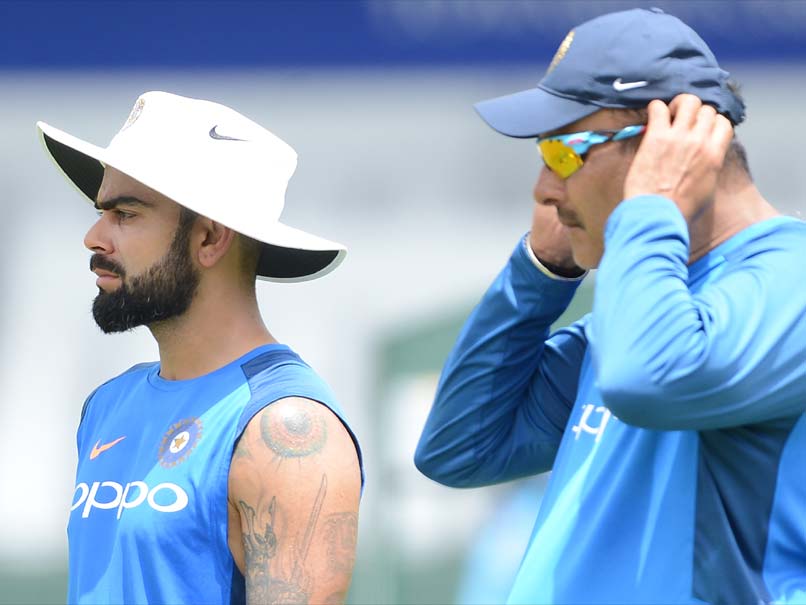 Captain Virat Kohli became the first India captain to win a bilateral series in South Africa.
© AFP
Virat Kohli became the first India captain to win a bilateral series in South Africa. After losing the Test series 1-2, Kohli's team crushed South Africa to win the One-day International series 5-1 and then clinched the Twenty20 International series 2-1 to end the tour on a high with the final scoreline 8-4. No Indian side, since its first tour in South Africa back in 1992, has ever won a series across any format. The team under Kohli achieved something that Mohammed Azharuddin, Sachin Tendulkar, Sourav Ganguly, Rahul Dravid or Mahendra Singh Dhoni could not accomplish -- win a series on the South African soil.
Ravi Shastri also became the first India coach to guide the team to a series win in South Africa.
Hailing the team and Kohli's efforts, Shastri said Kohli's captaincy spreads like a disease.
"When you have a captain like Virat (Kohli) who leads from the front, it spreads within the team like a disease," Shastri told Mid-Day in an interview on Wednesday.
"We are all students of the game and they know that they would have learnt a lot from those two defeats and the tour. I said before going to South Africa that the next 18 months would define the Indian cricket team. I know for sure it will be a better team 15 months down the line. Win, lose, whatever... it will be a better team and I stick to that. This team has belief," Shastri said.
Shastri also launched a sensational attack on the critics of the Indian cricket team and said that people in India are happy when the team loses.
"We always believed we could win. Very few people saw it, but we could have won both those games. Sometimes you feel in your country, people are happy when you lose. We pulled out a calculation where we looked at sessions and we were just two sessions behind and those cost us two Test matches. I said, take the positives out of that and go into the next Test match to win - not to draw - to win! Not many teams would have batted first on that (Johannesburg) track. It was a nasty one," Shastri said.