Story Progress
Back to home
Virat Kohli's Emotions Were "Little Over The Top" In South Africa, Says Steve Waugh
Steve Waugh said Virat Kohli needs to strike a balance given that not all players in his team are as expressive as he is.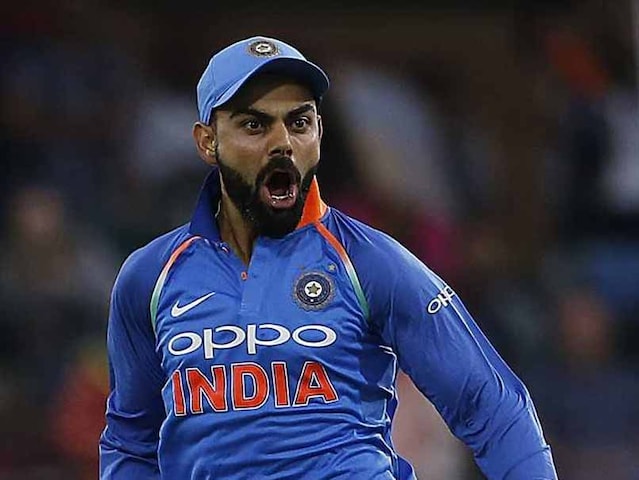 Virat Kohli needs some time to rope in his excitement and emotions, said Steve Waugh.
© AFP
Highlights
Waugh feels Kohli need to rein in some of his emotions

Waugh praised Kohli's charisma

Kohli led India to ODI and T20I series triumph in South Africa
Virat Kohli had a stellar outing as India clinched their maiden ODI series on South African soil and then also went on to beat the hosts in the Twenty20 International series. Steve Waugh praised the 29-year-old Kohli for his charisma and hunger to take India to the top, but the former Australian captain felt that Kohli's emotions were a little over the top. "I have seen him in South Africa and I feel that he was little over the top. But that's a learning thing for a captain," Waugh told PTI in an interview on the sidelines of the Laureus World Sports Awards.
After losing the the Test series 1-2, India won the ODI and Twenty20 series 5-1 and 2-1, respectively with Kohli leading from the front.
The Indian run-machine ended the ODI series with a mammoth 558 runs in six matches, becoming the first batsman to score 500 runs or more in a bilateral ODI series.
The record was previously held by his team-mate Rohit Sharma, who scored 491 runs in the six-match series against Australia.
The Australian legend believes that as a captain Kohli needs to strike a balance and rein in some of his excitement on the field.
"As a captain, he (Kohli) is still developing and needs some time to pull in his excitement factor and emotions but that's the way he plays," he said.
"I think he just needs to get a bit aware that everyone in the side can't play in that fashion. Someone like (Ajinkya) Rahane and (Cheteshwar) Pujara are very calm and quiet guys so he needs to just understand that some players are different," Waugh added.
"At times he probably needs to tone his aggression down and at times he needs to lift it, so he needs to work it out what's right."
The Australian great, however, insisted that he has immense respect for Kohli the player.
"He (Kohli) is leading very well right now. He has that charisma and that X-factor and so he wants all the rest of the team to follow him. He wants the team to play positively all the time and win as quickly as he can," observed Waugh, who is here as a Laureus Academy member.
"They have got a very good win record in the last couple of years in all forms of the game. Virat has high aspirations from his team. He wants to be no.1 across all formats which is difficult to do these days."
Kohli and India have now set their sights on conquering England and Australia, India's upcoming two big Test challenges later this year.
India will play a five-Test series in England in August and September and are due to tour Australia for four Tests in the summer of 2018-19.
But Waugh feels it would be easier said than done and Kohli would be key to India's success in Australia.
"Australia will be favourites in Australia because we have got such a great record, just like India in India. Virat (Kohli) would obviously be the key in Australia. He played amazing in Australia last time," he said.
"India are a very confident young side and they are playing with great confidence and passion that their captain believes in. They believe they can win in Australia no doubt."
He, however, said India will have decent chance as the pitches in Australia will be more familiar to them this time around.
"To be fair, the pitches will suit India more than the past because the pitches are very benign at the moment," Waugh said.
"So they will definitely suit the Indian batsmen and the spinners will come into action more. So I think it would be a very competitive series."
Despite the Test series loss in South Africa, India have managed to retain the ICC Test Championship mace for the second consecutive year but Waugh feels there isn't much difference between the top three sides -- India, South Africa and Australia.
"They are a very competitive side, they cover all positions well. So, I think India, South Africa and Australia are right now three sides who are very similar in quality and they will fight it out for the No.1 position in the next couple of years," he said.
(With PTI inputs)
Topics mentioned in this article