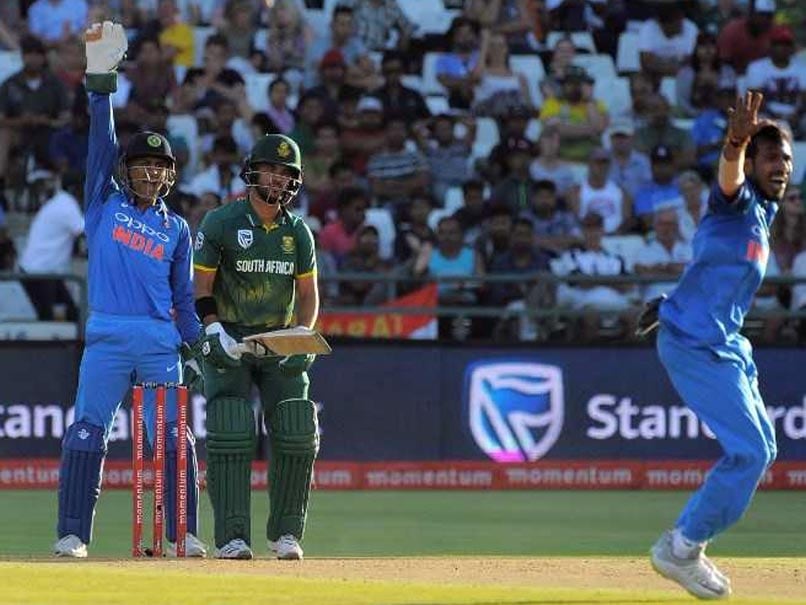 South African batsmen failed miserably in the ODI series as India's two wrist spinners caused havoc.
© AFP
South Africa's stand-in T20 skipper JP Duminy made an honest assesment of the loss to India in the ODI series, saying that the defeat was a "great reality check for us". Duminy said that it was a dismal ODI series for the hosts and that they had been completely outplayed by India. The left-hander, though, hoped that fresh faces and an aggressive mindset in the Twenty20 series would help his team counter the Indians much better. After winning the ODI series 5-1, India would look to carry forward that dominance into the T20 series that kicks off on Sunday in Johannesburg.
"Yes, it has been a dismal one-day series for us where India have outplayed us. That's something that we will have to take on the chin and realize that we are far from a finished article going into the World Cup a year from now.
"I think it is a great reality check for us. It is about each and every player seeing themselves in the mirror and how they can improve, to try and stake a claim for that 15-man squad in a year s time," said Duminy.
South Africa have rung in the changes for the T20s with as many as six new faces in the 14-member squad.
"I think the new faces will help. It is something that we spoke about this morning that we will feed off the freshness of new faces around. The format is different. It is a quicker and more aggressive format. And it will naturally bring out the best in us," said Duminy.
"I am excited to be able to lead. I think leadership naturally brings out the best in me and I enjoy the experience of leading people. I am quite excited by it, he added.
Duminy cited the example of the rain-shortened 'Pink ODI' and said that the change in format will help South Africa counter India better.
"If I look at Pink Day shortened game, the platform was set for almost T20 style of play. I think that type of mindset brought out the best in us. So I am quite excited to see how we go about it in terms of this format now," said Duminy.
"Irrespective of who we come up against, I still believe that with new faces around plus guys who have been in the ODI series, it is a squad that can definitely win the series. So the aim is to always compete and win the series, no matter who we come up against.
Duminy said that taking wickets early would be crucial to his team's cause if they are to stop the famed Indian batting line-up, especially Virat Kohli.
"The plan is not only to contain them but to try and get them out especially in this format. Your aim is always going to be to try and take wickets. Wickets will reduce the runs on board and with that mindset, we have good plans in place and hopefully it works out for us."
(With PTI Inputs)