Story Progress
Back to home
India vs South Africa, Highlights, 3rd T20: India Beat South Africa By 7 Runs, Win T20I Series 2-1
Highlights, India vs South Africa, 3rd T20: India win the third T20I by seven runs to clinch the 3-match T20I series 2-1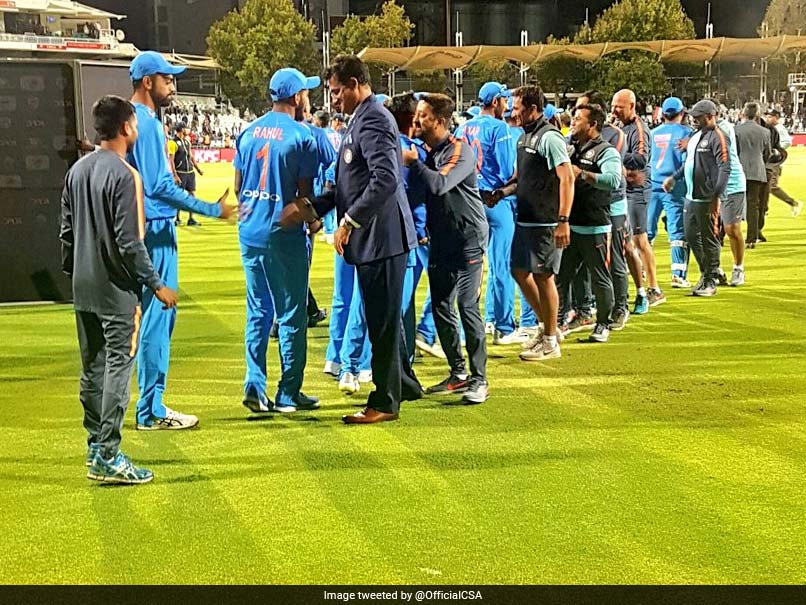 India win the 3rd T20I by seven runs, clinch T20I series 2-1
© AFP
India beat South Africa by 7 runs in the third and final T20Iat Newlands, Cape Town to clinch the three-match series 2-1. Bhuvneshwar Kumar kept his nerve as he gave away only 11 off the last over when South Africa needed 19 to win. Christiaan Jonker played a brilliant cameo at the end to keep South Africa in the hunt after the Proteas failed to keep up with the asking rate throughout the innings. The South African skipper JP Duminy played a lone hand of 55 before getting dismissed that many thought was the final nail in the coffin for the Proteas before Jonker took matters in his own hands and gave South Africa a glimmer of hope in the later stages of the match. At the end South Africa could only manage 165 for 6. (Scorecard)
Catch all the highlights of India vs South Africa, 3rd T20I, straight from Cape Town
01:15 IST: Thank you for joining us for the live blog.
01:08 IST:Bhuvneshwar Kumar has been adjudged as the man of the series.
01:05 IST:Suresh Raina has been adjudged as the man of the match.
00:51 IST:What a finish from Bhuvneshwar!India win by seven runs, clinch series 2-1!
#TeamIndia win the final T20I by 7 runs. Win the series 2-1#SAvIND pic.twitter.com/pofH2zLA4b

— BCCI (@BCCI) February 24, 2018
00:50 IST:Bhuvneshwar has held his nerve, single this time. South Africa need 8 runs from 1 ball.
00:49 IST:Brilliant yorker from Bhuvneshwar, the hosts need 10 off 2 balls.
00:48 IST: WIDE!South Africa need 12 runs in 3 balls. Can Jonker hold onto his nerves?
00:47 IST:Single down the ground, South Africa need 13 runs from 3 balls. Nail-biting finish this is!
00:46 IST: Four! Behardien cuts Bhuvneshwar for a boundary over short-third man. South Africa need 14 in 4 runs.
00:44 IST: Single off the first run, South Africa need 18 in 5 balls.
00:43 IST: South Africa need 19 in the last over. Can the hosts upset the visitors?
00:41 IST: SIX!Slower ball from Bumrah and Jonker, the debutant, smokes the length delivery for a maximum.
00:40 IST: FOUR! Behardien starts the 19th over with a boundary. Bumrah strays on the leg-side and Behardien flicks it with power.
00:39 IST: FOUR! Jonker finishes the over with two boundaries. South Africa need 35 in 12 balls. Can they pull off an unlikely win?!
00:36 IST: FOUR and a SIX! Jonker is taking Shardul to the cleaners. Is this the big over the South Africans needed?
00:32 IST: OUT! Morris looking to clobber Bumrah for a six, fails to connect the ball, misses and the stumps are all over the ground. Duminy, in the dug-out, is not impressed. South Africa 114/5 in 16.3 overs, need 59 runs in 21 balls.
00:29 IST: FOUR!Chris Morris, the new man in, edges Bumrah for a boundary in the third-man region.
00:27 IST: OUT! Full and wide from Thakur, Duminy going for the big one, hits the ball straight up in the air and Rohit takes a good catch.
00:25 IST: FOUR! Full and wide from Thakur, Duminy guides the ball through covers for a boundary to bring-up his 11th T20I fifty.
00:21 IST: 100 comes up for South Africa in the 15th over.
00:18 IST: SIX! Length ball from Bumrah and Duminy deposits the ball back in the stands. He moves onto 46*.
00:16 IST: FOUR! Jonker gets back-to-back boundaries off Raina.
00:15 IST: FOUR! Raina strays down the leg-side and Jonker tickles the ball down the leg-side for a boundary.
00:11 IST:Christiaan Jonker is the new man in.
00:10 IST: OUT! Pandya gets his first wicket of the night as Klaasen flat bats the ball to Bhuvneshwar Kumar. South Africa, 79/3, are staring at defeat.
00:04 IST: SIX! Duminy smokes Axar for back-to-back maximums on the leg-side. The second six was mammoth!
00:03 IST: DROPPED! Shardul Thakur at long-on drops Klaasen on 3. Will this drop prove costly?
23:58 IST: South Africa 52/2 after 10 overs.
Proteas are now 52/2 at the end of 10 overs in their run chase. With 121 runs needed with 8 wickets remaining in hand. #KFCT20 #SAvIND #ProteaFire pic.twitter.com/qAIFIjCvGe

— Cricket South Africa (@OfficialCSA) February 24, 2018
23:57 IST:Heinrich Klaasen is the new man in.
23:56 IST: Four! Short delivery from Raina and Duminy pulls it with authority for a boundary.
23:55 IST: OUT! Short delivery from Raina, Miller gets crunched for space as he pulls the ball only for the fielder at deep mid-wicket to gobble up the ball. South Africa 45/2 in 9.1 overs.
23:51 IST: SIX! Short delivery from Pandya, Miller, getting into position early, pulls the ball with brute force.
23:47 IST: FOUR! Short delivery from Raina and Miller clobbers it through covers for a boundary. Dhoni, behind the stumps, says "Nahi, nahi Raina chhota nahi (No, not short deliveries)".
23:45 IST:South Africa are not being allowed to get in the groove, such amazing is India's bowling at the moment. Miller and Duminy, in the middle, have no answer to India's attack.
India have been a terrific on this tour, played wonderful cricket and have won over a lot of South Africans with the way they have played the game as well. Kudos to @imVkohli and his team #SAvsIND

— Graeme Smith (@GraemeSmith49) February 24, 2018
23:40 IST:Boundaries have dried up for the home team as the Indians are bowling really well.
23:35 IST: South Africa 22/1 (Miller 11*, Duminy 3*) in 5 overs
Update | SA 22/1 after 5 overs
Miller 3
Duminy 11
151 needed from 90 #KFCT20 #SAvIND #ProteaFire pic.twitter.com/ompk9QaPlc

— Cricket South Africa (@OfficialCSA) February 24, 2018
23:30 IST: FOUR! Full and wide from Shardul Thakur and Miller lifts him over covers for a one-bounce boundary.
23:27 IST: OUT! Bhuvneshwar gets the first breakthrough, Hendricks looking to go big, mistimes his shot and Dhawan completes a catch.
2.4. WICKET | Reeza falls for 7 caught by Dhawan off Kumar. Next In, JP Duminy. SA 10/1#KFCT20 #SAvIND #ProteaFire pic.twitter.com/mNgqzB51NO

— Cricket South Africa (@OfficialCSA) February 24, 2018
23:24 IST:What a start from Bumrah, concedes three runs in his first over.
SA 8/0 after 2 overs
Chasing 173.#KFCT20 #SAvIND #ProteaFire pic.twitter.com/LYHwmkrdG7

— Cricket South Africa (@OfficialCSA) February 24, 2018
23:20 IST:Jasprit Bumrah introduced into the attack.
23:17 IST: Four! Back of a length delivery from Bhuvneshwar and Hendricks punches it off the back-foot for a boundary.
23:16 IST:Bhuvneshwar Kumar is opening the bowling the India.
23:15 IST: Welcome back to South Africa's chase. David Miller and Reeza Hendricks are opening the batting for South Africa.
23:02 IST:India score 47 runs in the last five overs and finish at 172/7 in 20 overs.
Innings Break! #TeamIndia 172/7 in 20 overs (Dhawan 47; Dala 3/35)

Updates - https://t.co/Ah75Apj8Kg #SAvIND pic.twitter.com/lDkd3fAcUB

— BCCI (@BCCI) February 24, 2018
23:01 IST:Rapped on the pads and the umpire raises his finger. Karthik immediately opts for a review. Given out by the third umpire and Karthik departs for 13
23:00 IST:Morris bowls it down the leg side and Karthik plays it nicely for a boundary. India 168/6
22:59 IST: Wicket! Hardik Pandya Falls For 21. India 163/6 in 19.2 overs
22:58 IST:Karthik tries to play a reverse sweep but fails miserably/ He will get a single
22:57 IST:15 runs off the over. India 162/5 in 19 overs
22:56 IST: FOUR!Oh what a shot. Back to back boundaries for Dinesh Karthik
22:55 IST:What a shot first up by Dinesh Karthik. He gets a boundary
22:53 IST:MS Dhoni goes for the big one but mistimes it completely. He is caught at the boundary for 12. India lose their fifth wicket
22:50 IST:Perfect length delivery by Junior Dala but the inside edge of the bat gives Dhoni a boundary. India go past 150
22:49 IST:Single to end the over. India 147/4 after 18 overs
22:47 IST:Full toss by Morris and Pandya clobbers it for a maximum over long-on boundary. First six for Pandya
22:45 IST:Only 32 runs have been scored in the last 28 balls with the loss of two wickets
22:41 IST:Anything less than 180 will hurt India. With Pandya and Dhoni at the crease, we can expect some fireworks from these two
22:40 IST: MS Dhoni is the new man in at No.6. India 130/4 in 16 overs
22:38 IST: OUT!A direct hit from Junior Dala from the square leg boundary runs Shikhar Dhawan out for 46. Big wicket for South Africa. India 126/4
22:33 IST: Eight runs off the over. India 125/3 in 15 overs
22:32 IST:India must be targeting 180-190 here in 20 overs. A lot will depend on Pandya though
22:31 IST: Average first innings score in the D/N encounters at Newlands, Cape Town is 156
22:25 IST: OUT! Manish Pandey looking to go big, miscues and David Miller at long-on takes a comfortable catch. Junior Dala gets his second. India 117/3 in 14 overs
22:23 IST: FOUR!Dhawan, dropped again on 34 by Shamsi, dances down the wicket and punches Phangsio straight down the ground for a boundary.
22:20 IST: FOUR!Short delivery yet again by Shamsi and Dhawan pulls it with authority for his second boundary of the over. 100 comes for India in the 13th over.
22:19 IST: FOUR! Short from Shamsi and Dhawan, down on one knee, sweeps the ball powerfully to register his first boundary of the match. Unbelievable !
22:18 IST: SIX!Right in the slot for Manish Pandey from Shamsi and the Indian with full power clobbers the ball for a maximum.
22:17 IST:Brilliant start from the left-arm bowler, concedes just four runs in his first over.
22:15 IST:Aaron Phangiso comes into the attack.
22:13 IST: OUT!Raina goes for the slog but holed out at the long-on boundary. A good innings of 43 comes to an end. India 79/2
22:10 IST:Reverse sweep by Shikhar Dhawan and he has connected it well. Will get a couple
22:08 IST: FOUR!Misfield by Farhaan Behardien and the ball goes to the boundary.
22:07 IST:Spinners from both ends and they have managed to slow down the scoring rate.
22:05 IST: India 65/1 after 8 overs
22:00 IST:Dropped! In the air but put down by Tabraiz Shamsi at short-third man. It was a sitter
21:55 IST: FOUR!Raina makes room again to free his arms and then stretches away to play it towards point for a boundary. He has quickly reached 30 off just 15 balls
21:52 IST: FOUR!Back to back boundaries for Suresh Raina. He is on fire. India 47/1 after 5 overs.
21:50 IST:Phehlukwayo is the new bowler who replaces Chris Morris.
21:49 IST: FOUR! Short delivery by the bowler and Raina punched it away towards the extra cover for a boundary
21:47 IST: SIX! Oh, what a superb start by the left-hander. Junior Dala pitched it on the leg side and Raina heaved it away for a maximum
21:45 IST:Suresh Raina is the new man in who comes in at No.3
21:40 IST: Wicket! Rapped on the pads of Rohit Sharma and the umpire raises his finger.Well he ponders the review, goes against it, and then Shikhar calls him back to think some more. They are not taking it. So, India lose their first wicket in the second over itself
21:35 IST: FOUR!Poor delivery by Chris Morris down the leg side and Rohit hits it for a boundary again. So, a good start by India.
21:32 IST: FOUR!Juicy half-volley and Rohit Sharma hits it straight down the ground for a boundary
21:30 IST:Rohit Sharma and Shikhar Dhawan come to the crease and Chris Morris to start the proceedings for South Africa
21:16 IST:South Africa (Playing XI): Reeza Hendricks, David Miller, Jean-Paul Duminy(c), Heinrich Klaasen(w), Farhaan Behardien, Christiaan Jonker, Andile Phehlukwayo, Aaron Phangiso, Chris Morris, Junior Dala, Tabraiz Shamsi
India (Playing XI): Rohit Sharma(c), Shikhar Dhawan, Suresh Raina, Dinesh Karthik, Manish Pandey, MS Dhoni(w), Hardik Pandya, Axar Patel, Bhuvneshwar Kumar, Shardul Thakur, Jasprit Bumrah
21:15 IST: Rohit Sharma: Virat has a stiff back and he needs some rest. It has been a long season for him and unfortunately he misses out but gives someone else a chance to step up. A few changes - Dinesh in place of Virat, Axar in place of Chahal and Bumrah comes in place of Unadkat.
21:11 IST: Three changes in India playing XI.Jasprit Bumrah, Dinesh Karthik, Axar Patel in for Jaydev Unadkat, Virat Kohli and Yuzvendra Chahal
No KOHLI Evens the playing field for the decider #SAvsIND

— Aakash Chopra (@cricketaakash) February 24, 2018
#TeamIndia Playing XI for the decider game. Virat Kohli misses out due to a stiff back. Dinesh Karthik, Axar Patel and Jasprit Bumrah are three changes for #TeamIndia #SAvIND pic.twitter.com/n2X7mSOHLd

— BCCI (@BCCI) February 24, 2018
21:00 IST: Toss time!South Africa captain JP Duminy wins toss, elects to bowl. Virat Kohli has a stiff back and not playing today's game.
20:54 IST:Will India change the playing XI today. The talks are that Axar Patel might get to play for Chahal.
20:50 IST:Heinrich Klaasen and JP Duminy took the game away from India in the last game to level series 1-1 and the star wrist spinners Yuzvendra Chahal was taken to the cleaners in the last game.
20:45 IST:Hello and welcome to the live blog of the series decider between India and South Africa.
While India have never played any T20Is at Newlands, they will take heart from the fact that South Africa have a not so impressive record there. The Proteas have played eight T20Is and lost five at Newlands with two of those wins coming in the World Twenty20 2007, meaning that they have won just one bilateral game in Cape Town (against England in 2016).
Victory in the previous game will be a reason for buoyancy in the Proteas' dressing room. Stand-in skipper JP Duminy was adamant that they had well-set plans for Indian batsmen and bowlers since the start of this series but just needed proper execution as was showcased at SuperSport Park in Centurion.
Duminy had named an unchanged eleven in the previous game, and it remains to be seen if they will tinker with a winning combination for the series-decider.
Jon-Jon Smuts hasn't come good yet despite his big-hitting prowess, while David Miller's poor form has spilled over from the ODIs. He was persisted with throughout that series, so there is no reason to doubt that he will not be in the team come Saturday.
Jasprit Bumrah's abdominal strain had forced India to make a change, but they will consider a couple spots for this finale. Bumrah's fitness still remains a question mark.
Will the team management risk playing him given the shortened time-frame of this match? The fact that there is a two-week gap before the tri-series begins in Sri Lanka might coerce them into this gamble.
The bowling combination is the other concern. India have shown a propensity to field a left-arm pacer in this format, but Jaydev Unadkat has proven expensive so far.
He has picked up two wickets for 75 runs at an economy of 9.78. Yuzvendra Chahal has also been hammered (one wicket for 103 runs in 8 overs at economy 12.87).
Given the scenario, Virat Kohli might just be inspired to change the look and shape of his bowling attack.
If Bumrah does play, Unadkat is likely to make way for him. Shardul Thakuar used clever change of pace at Centurion and picked 1/31 in his four-over spell.
The Newlands pitch had played slow during the ODI series, and citing the example of SuperSport Park, there is every reason to expect another wicket on the slower side, if not dual-paced altogether.
Arguably, Chahal bowls a more consistent line than Kuldeep Yadav and this explains latter's omission from the first two games.
However, with Chahal's confidence a bit down, Kuldeep could find himself in the reckoning for this all-important game. Further, given South Africa's frailty against change of pace, India might even be tempted to consider Axar Patel, thus increasing the onus on Hardik Pandya as the third-choice pacer.
India's tour had gained momentum with victory in the Wanderers Test and then they carried it through the ODI series, romping home with a 5-1 margin.
The team management usually clubs all formats together and is celebrating ascendancy over South Africa since the last week of January. As such, they will be keen to fly out with an additional trophy to show for this run of form.
Squads:
India: Virat Kohli (captain), Shikhar Dhawan, Rohit Sharma, Suresh Raina, Manish Pandey, Dinesh Karthik, MS Dhoni (wk), Hardik Pandya, Yuzvendra Chahal, Kuldeep Yadav, Axar Patel, Bhuvneshwar Kumar, Jasprit Bumrah, Jaydev Unadkat, Shardul Thakur.
South Africa: JP Duminy (captain), Farhaan Behardien, Junior Dala, Reeza Hendricks, Christiaan Jonker, Heinrich Klaasen (wk), David Miller, Chris Morris, Dane Paterson, Aaron Phangiso, Andile Phehlukwayo, Tabraiz Shamsi, Jon-Jon Smuts.
Promoted
Topics mentioned in this article