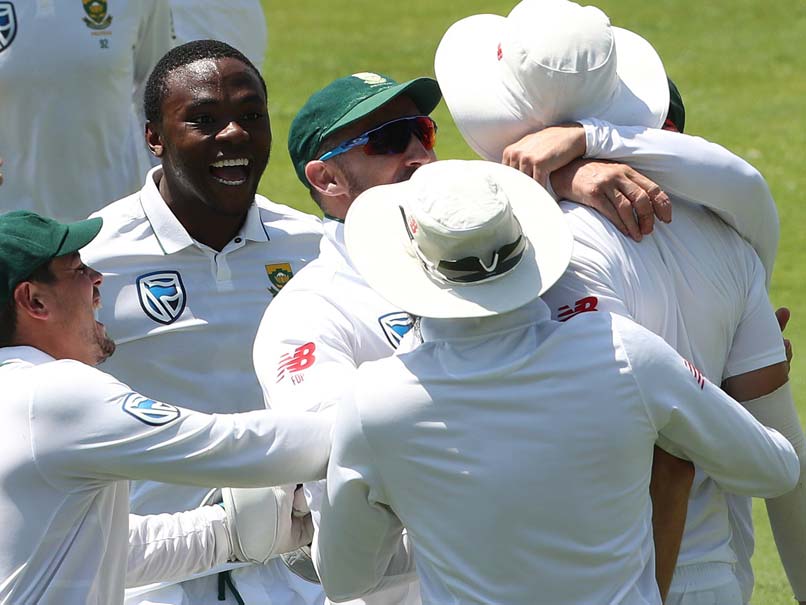 South Africa beat India in the second Test to win the series.
© AFP
Faf du Plessis-led South Africa beat India by 135 runs in the second Test to seal the three-match Test series 2-0 at Centurion on Wednesday. South African bowlers yet again ran through the Indian batting order as debutant Lungi Ngidi finished with the figures of six for 39. Earlier, India resumed their innings on 35 for three with Cheteshwar Pujara and Parthiv Patel on strike. But, the Indian batsmen couldn't face the heat of African bowlers as the visitors fell like nine pins. South African bowlers were right on the mark and kept testing the Indian batters. Rohit (47) and Shami (28) stitched together a 53-run partnership before Rohit was dismissed by Rabada. Chasing 287 for a win, India were bundled out for 151 in the second innings. (Scorecard)
Catch the highlights of India vs South Africa, 2nd Test, Day 5 straight from Centurion
15:55 IST: Thank you for joining us for the live blog. Do tune back in on January 24 for the third and final Test match.
15:46 IST: And its all over! Ngidi gets his sixth wicket as South Africa win the second Test by 135 runs. India 151-all out.
15:44 IST: Four! Full delivery outside off from Rabada, Ishant slices through point and collects a boundary.
15:38 IST: Jasprit Bumrah is the new man in.
15:36 IST: OUT! Debutant Ngidi gets a five-wicket haul as Shami miscues one to mid-on. India 145/9, need 142 runs to win.
15:32 IST: Ishant Sharma is the new man in.
15:30 IST: OUT! Short delivery from Rabada, Rohit pulls, and de Villiers at long-leg dives forward and takes a brilliant catch just inches above the ground. India 141/8, need 146 runs to win.
15:22 IST: Dropped! Short from Rabada, Rohit pulls and Amla at square leg drops him at 43. Difficult chance as the ball was flying over his head.
15:21 IST: 50-run partnership comes up between Rohit and Shami.
15:20 IST: Four! Back-to-back boundaries for Rohit off Rabada, Rohit nears his half-century. India counter-attacking.
15:12 IST: Four! Bit of width outside off, Shami slams Rabada over backward point for a boundary. He moves on to 24 off 18 balls.
15:08 IST: Good start from Morkel, concedes just one run. The Indian batsmen are being careful with the shots that they are playing.
15:05 IST: Change of bowling, Morne Morkel comes in the attack.
15:01 IST: Four! Full delivery from Ngidi, Shami looking to drive, gets the edge flying over the gully. It looks like Rohit and Shami have taken to attack to the opposition.
14:55 IST: Four! Four! Full delivery from Maharaj and Shami slogs it away for a boundary.
14:51 IST: SIX! Rohit shimmies down the wicket, gets to the pitch of the ball and lofts it over mid-on for a maximum.
14:50 IST: Four! Maharaj bowls full, Rohit kneels down and middles the sweep in front of square.
14:48 IST: Four! Ngidi bowls short and outside off, Shami hits the ball over backward point.
14:46 IST: Mohammad Shami is the new man in.
14:44 IST: OUT! Full delivery outside off, Ashwin looking to drive, edges the ball back to the keeper. Ngidi gets his fourth wicket. India 87/7, will they survive till lunch?
14:37 IST: South Africa appeal for a caught-behind, umpire turns down the appeal and they go for the DRS. Replay shows that the ball nicked the helmet and not the bat or the gloves.
14:35 IST: Ravichandran Ashwin is the new man in.
14:34 IST: OUT! India are staring at series defeat now. Short delivery outside off, Pandya looking to play the upper-cut, edges it back to the keeper. India 83/6, need 204 runs to win.
14:23 IST: Maharaj starts off with a maiden over. India 75/5.
14:19 IST: Keshav Maharaj is introduced in the bowling attack.
14:16 IST: Four! Length delivery outside off, Rohit guides the ball through gully towards the third man for a boundary. This is Rohit's second boundary at the third-man.
14:10 IST: Four! Philander bowls full and on the pads, Rohit gets in the position early and lifts him over mid-wicket for a boundary.
14:09 IST: Hardik Pandya is the new batsman in.
14:07 IST: OUT! Rabada gets rid of Parthiv. Short delivery from Rabada, Parthiv looking to pull, miscues his hit and Morkel at fine-leg takes a fine catch. India reeling at 65/5
WICKET!! Rabada strikes for SA, but this wicket is all about Morne Morkel. What a catch the big man takes on the fence, making up ground and putting in a dive to make the grab at fine leg. End of Patel for 19. India 65/5 #ProteaFire #SAvIND pic.twitter.com/UfrOBO8KJT

— Cricket South Africa (@OfficialCSA) January 17, 2018
14:03 IST: Four! Parthiv opens the full face of the bat and slams Rabada for a boundary straight down the ground.
14:00 IST: Four! Length delivery from Philander, Rohit looking to defend, edges the ball wide of de Villiers and the ball rolls away the to the boundary ropes.
13:57 IST: Four! Length delivery outside off, Parthiv gets forward and hits the ball on the up through the covers.
13:55 IST: Trivia: The last player to be dismissed run out in each innings of a Test was Stephen Fleming against Zimbabwe in Wellington in 2000.
13:51 IST: Rohit Sharma is the new batsman in.
13:49 IST: OUT! What a start to the day for the hosts. Pujara is run out again. Parthiv nudges the ball towards third man, Ngidi chases the ball and pulls it back, de Villiers collects the ball and throws the ball on the half-volley to de Kock, who takes off the bails in a flash. Ravi Shastri is not impressed, not a good start for India.
26.1: WICKET! C Pujara (19) is out, run out (Lungi Ngidi/AB de Villiers), 49/4

— BCCI (@BCCI) January 17, 2018
13:36 IST: Four! Short and outside off, Pujara uses the width, frees his arm and guides the ball through gully towards the third man boundary.
13:34 IST: Good start from Kagiso Rabada, concedes just three runs.
13:28 IST: Alright! It is game time. Cheteshwar Pujara and Parthiv Patel are on strike.
13:15 IST: India will be looking to level the three-match Test series while South Africa will be going for the kill.
13:10 IST: Hello and welcome to the live blog of final day of the second Test between India and South Africa.
Debutant Lungi Ngidi grabbed the wickets of Kohli and Rahul while Kagiso Rabada dismissed Vijay to rock the Indian second innings and place South Africa in a commanding position of clinching the three-match series with one Test to go in Johannesburg from January 24.
Cheteshwar Pujara and Parthiv Patel were batting on 11 and 5 respectively at the close of the day's play after an extended final session. The visitors now need 252 more runs on the final day on Wednesday to win the Test with seven second innings wickets in hand. It will be a tall task, if not an impossible one, for India as 249 is the highest total chased down successfully by any side at the Centurion, a feat achieved by England in 2000.
South Africa were 1-0 up in the three-match Test series after their 72-run victory in Cape Town. A series defeat would also snap India's nine-series winning streak.