Story Progress
Back to home
Highlights, India vs SA, 2nd T20I: South Africa Beat India By 6 Wickets To Level Series 1-1
Highlights, India vs SA, 2nd T20I: South Africa beat India by 6 wickets to level 3-match series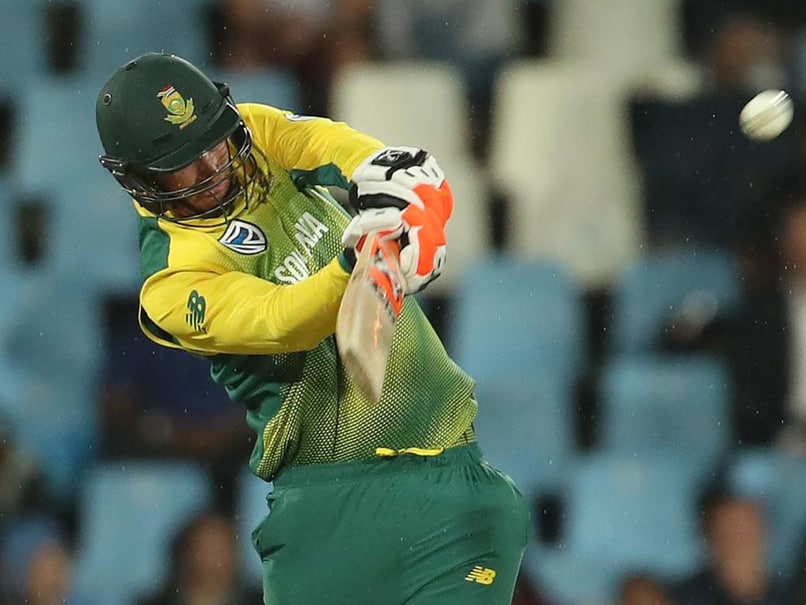 Highlights, India vs SA, 2nd T20I: South Africa beat India by 6 wickets to level 3-match series
© AFP
JP Duminy played a captain's knock (64*) enabling South Africa beat India by 6 wickets to level the three-match T20I series on Wednesday at the SuperSport Park in Centurion. Aided by Heinrich Klaasen's brilliant 69 runs, Duminy ensured the hosts crossed the finishing line against India. Indian bowlers were expensive throughout especially Yuzvendra Chahal who had a forgettable night. He ended with figures of 0/64 in 4 overs. Bhuvneshwar Kumar, who bowled three overs without taking a wicket, was the only economical bowler in the Indian team. (Scorecard)
Earlier, Manish Pandey and MS Dhoni hit fifties to power India to 188/4 in their 20 overs in the second T20I against South Africa at the SuperSport Park. India hit 103 runs in the last 10 overs to help then visitors set a competitive total.Pandey (79*) played a powerful knock to help India recover from an early jolt when they lost three quick wickets in the first 6 overs. Rohit Sharma was dismissed LBW by Junior Dala in the first delivery. Shikhar Dhawan followed next after a quickfire 24 runs. India skipper Virat Kohli could not continue his fine form and was dismissed for a single run. Suresh Raina chipped in with 30 runs to stabilise the Indian innings in the middle overs before getting dismissed off Andile Phehlukwayo's delivery in the 11th over.
It was after that Dhoni and Pandey wreaked havoc with boundaries and sixes. Pandey hit six fours and three sixes while Dhoni hammered 4 fours and three sixes. Junior Dala was the only economical bowler for the hosts as he finished his four overs with figures of 2/28. Chris Morris, Dane Paterson and Tabraiz Shamsi went for runs as they were at the receiving end of Dhoni and Pandey's deadly hitting.
Live updates between India and South Africa 2nd T20I, straight from the SuperSport Park, Centurion
00:58 IST:Thank you for staying with us. We will return with the live match action of the series decider on Saturday at the Newlands in Cape Town.
00:53 IST: South Africa beat India by 6 wickets to level the 3-match T20I series
00:52 IST: What a way to reach the target. Six runs by the skipper to level the series by South Africa.
00:51 IST: SIX! Full toss.Maximum. Dispatched to the shorter boundary by Duminy.South Africa 183/4
00:48 IST:Jaydev Unadkat bowls the penultimate over. South Africa need 12 runs to win from 10 balls
00:45 IST:Shardul Thakur bowled a good over until the last ball were he got hit for a boundary. Fifty up for Duminy. A captain's knock by the left-hander. South Africa 173/4 in 18 overs
00:39 IST: South Africa need 27 runs from 19 balls to win this match
00:35 IST: DROPPED!A simple catch put down. Nothing going his way tonight. He finishes his four overs with 4/64
00:34 IST: SIX!Farhaan Behardien hits a maximum. Goes for the slog sweep and succeeds.
00:32 IST: FOUR!Chahal getting hammered again. Duminy punishes a bad delivery.
00:30 IST: OUT! South Africa lose their 4th wicket as David Miller departs for 5 runs. A superb over by Pandya. Only 6 runs off it. South Africa 141/4 in 15 overs
00:28 IST:A good over by Pandya given the circumstances. Five runs off the first four deliveries.
00:27 IST: South Africa need 51 runs off 34 balls to win
00:20 IST: OUT!A crucial breakthrough for India as Klaasen departs after a brilliant 69 runs. South Africa 132/3
Classy Klaasen's innings has come to an end on 69 off 30, but he's put South Africa in a great position, on 131/3 after 13.1 overs. 58 needed. Can India grasp momentum back?#SAvIND LIVEhttps://t.co/rO49ZW3Gf5 pic.twitter.com/c5Cjiwjnjf

— ICC (@ICC) February 21, 2018
00:18 IST: SIX! Chahal gets hammered in this over. 23 runs off the over. The match is slipping out of India's hands
00:17 IST: FOUR!Three back-to-back boundaries. Reverse sweep by Klaasen.South Africa 124/2
00:16 IST: SIX!Once again Klaasen sends Chahal's ball to the boundary for a maximum
00:15 IST: SIX!Chahal is tossing the ball up and inviting pressure. Klaasen is hammering him now and India need his wicket real soon
00:10 IST: FOUR! First T20I fifty for Klaasen.What an innings by the Protea keeper. It took him 22 balls to reach his maiden T20I fifty. South Africa 105/2
A thrilling first half century for @Heini22 as SA cross 100. They are giving this a good go with @jpduminy21 25*. It's 108/2 (12 overs). Target 189 #ProteaFire #SAvIND #KFCT20 pic.twitter.com/SkSnOMTEes

— Cricket South Africa (@OfficialCSA) February 21, 2018
00:09 IST: 100 up for South Africa in 11 overs
00:08 IST: SIX!What a reverse sweep by Klaasen. He is looking unstoppable now. Second six off Chala's over. South Africa 99/2
00:06 IST: SIX!A superb shot by Klaasen. Hitting it with the turn on the leg side.53-run partnership off 33 balls between these two. South Africa 91/2
00:05 IST: DLS par score after 10 overs is 83 runsand SA are 84/2 after the same number of overs
The game is in the balance!
At 10 overs...

India: 85/3
South Africa: 84/2

Follow #SAvIND LIVEhttps://t.co/rO49ZW3Gf5 pic.twitter.com/0qZQAJN0pj

— ICC (@ICC) February 21, 2018
23:59 IST: FOUR!Klaasen is keeping the run rate ticking with his boundaries. South Africa 80/2
23:52 IST: SIX!What a shot. This is Klaasen's third maximum. South Africa 66/2
23:45 IST: FOUR!A good shot by Duminy. Outside off stump by Hardik Pandya and hammered to the boundary. South Africa 54/2
23:42 IST: SIX! What a shot.Second six in the over. Exactly the same shot. He clears that mid wicket boundary again. Klaasen is on fire. 50 up for the hosts.
23:40 IST: SIX!A clean strike by Heinrich Klaasen. A good hot by the Protea wicketkeeper. South Africa 44/2
23:36 IST: FOUR!Lucky shot. He tried to drag it towards the corner, gets a thick outside edge. South Africa 37/1
23:33 IST: FOUR!Duminy hits a boundary in the first ball itself. South Africa 28/1
23:33 IST: OUT! South Africa lose their 1st wicket as JJ Smuts departs for 2.A simple catch for Raina.
23:29 IST: FOUR!Two in a row for the hosts. What composure by Hendricks. A good-looking shot, he knows where the gap is.
23:28 IST: FOUR!Hendricks is upping the ante now. He is jumping on anything full. Opens the face of the bat and places it to the boundary.
23:28 IST: Jaydev Unadkat takes the ball for the visitors.
23:25 IST: FOUR!Hendricks knows the third man is up. Hits it over him for a boundary. South Africa 15/0
23:23 IST: FOUR!Hendricks hits Bhuvi for a boundary. A thick outside edge beats the third man. South Africa 8/0
23:23 IST:A good start by the Indian bowlers. Thakur bowled couple of slower balls this over. Only 3 runs off it. South Africa 4/0
It seems that I missed some vintage Dhoni stuff...happiness is to see the Indian middle-order clicking.#SAvIND

— Aakash Chopra (@cricketaakash) February 21, 2018
23:20 IST:Shardul Thakur bowls the second over.
23:18 IST:A good over by Bhuvi. Only one run off it. South Africa 1/0
23:17 IST:Bhuvneshwar Kumar begins the proceedings for India. J Smuts and Reeza Hendricks are the openers for South Africa.
South Africa innings begins
23:05 IST: South Africa need 189 runs to win from 20 overs
23:04 IST:A single to end the Indian innings. 103 runs off the last 10 overs for India.India finish with 188/4 runs in 20 overs
23:02 IST: FIFTY up for Dhoni. What an innings. Superb batting by the former India captain. 51 runs off only 27 balls.
FIFTY! @msdhoni brings up his 50 off 27 balls #SAvIND pic.twitter.com/Vh4KOnNgCx

— BCCI (@BCCI) February 21, 2018
23:01 IST: FOUR!What an over for India. Nothing going the hosts' way. Dhoni is now on 49.
23:01 IST: FOUR!Dhoni is taking on the bowler now. He is now raced to 45 runs. India 181/4
23:01 IST: SIX!What a shot. A flat six. Dhoni hammered it on the mid-off boundary.India 177/4
23:00 IST: SIX! Through the hands of the fielder.Dhoni smashes it off the park. 13 runs off Morris' over. India 170/4 in 19 overs
10:55 IST FOUR!Dhoni is living to his finisher's role. This partnership is now at 72 runs. India 162/4
10:51 IST: FOUR!Hits it over the field for a boundary. Pandey is now on 75 runs. India 156/4
10:50 IST: FOUR!Sliced away to the boundary. What a shot. Brings up India's 150 runs.India 152/4
10:49 IST:Last four overs have produced 40 runs for India.
10:46 IST: FOUR!An edge gives Dhoni gets India the runs they need to reach a competitive total. India 143/4
10:45 IST: OVERTHROW! Four runs. No one to back the ball but Morris' throw goes directly to the boundary.
10:41 IST: SIX!What a way to start the over. A superb shot by the right-hander. India 130/4
22:40 IST: 50 up for Manish Pandey. His 2nd T20I fifty.A good innings given the fact that India had lost 3 wickets in the first six overs.India 124/4 in 15 overs
22:32 IST: SIX! What a shot by Dhoni. A powerful shot over the bowler for a maximum. India 114/4
22:28 IST: FOUR!Waits for the ball and hits it towards the leg side boundary. Pandey is now on 46. India 106/4 in 13 overs
22:20 IST: OUT!Raina departs as India lose their 4th wicket. He is dismissed LBW for by Andile Phehlukwayo for 30 runs. India 90/4 in 10.4 overs
WICKET!!! Andile P is into the attack for the first time and his introduction brings the breakthrough as Raina falls LBW for 31. It's now 90/4 (10.4 overs) #ProteaFire #SAvIND #KFCT20 pic.twitter.com/sQrXa3LWoi

— Cricket South Africa (@OfficialCSA) February 21, 2018
22:16 IST: SIX!Back-to-back sixes. Pandey on fire. A little flatter this time. It was in the slog and Pandey hits it for the maximum. 19 runs off the over. India 85/3
22:16 IST: SIX!The ball turning into Pandey and he picks it from outside the off stump for a maximum. India 78/3
22:14 IST: FOUR!Manish Pandey is beginning to play the big shots now. No chance at deep mid wicket for the fielder. Tabraiz Shamsi gets pulled for a bad delivery. India 70/3
22:12 IST: FOUR!A much needed boundary for India. A good shot by Pandey.India 66/3 in 9 overs
22:11 IST: The run-rate has dipped for India after Kohli and Dhawan's departure.
22:07 IST: Pandey guides Shamsi towards deep square leg for a couple.
22:06 IST: Left-arm chinaman bowler Shamsi comes into the attack.
22:00 IST: BIG WICKET!What a delivery from Junior Dala. Virat Kohli departs for 1. This is his first single digit score for Kohli in coloured clothing on this tour. India 45/3 in 6 overs.
21:53 IST: WICKET! Dhawan departs after a quickfire 24 runs.Farhaan Behardien takes a simple catch. India 45/2.
21:51 IST: FOUR! Jean-Paul Duminy is the new bowler. And he gets welcomed with a boundary. Dhawan looks unstoppable.
21:50 IST: FOUR!Raina is taking over from Dhawan it seems. A beautiful shot by Raina. 12 runs off the over. India 40/1 in 4 overs
21:47 IST: FOUR!A good-looking shot by Raina. Brilliantly squared between the wicket. India 32/1
21:46 IST: Dane Paterson is the new bowler for the hosts.
21:45 IST: SIX!Change of pace doesn't work for Dhawan. He is hammering Morris now. Fourth boundary of the over already. 20 runs off the third over. India 28/1
21:43 IST: FOUR!Back-to-back boundaries for Dhawan. Short and back off the length, Dhawan punches it towards the offside boundary. India 22/1
21:42 IST: SIX!Terrific strike by Morris. Dhawan relieves the pressure off India after two good overs by the hosts.
21:42 IST: FOUR!First drag down by Morris. Driven towards the boundary by the left-hander.India 12/1
21:37 IST: WICKET! Junior Dala bowls a fantastic delivery. Rohit Sharma departs for a duck in the first ball itself. Rohit didn't expect the delivery to hit right on the pads and he is dismissed by Dala. India 0/1
21:35 IST: Maiden! Morris bowls a terrific first over. No room for Dhawan to play any shot. Wonderful start by Morris, consistent movement through the air. Edgy start for Dhawan. India 0/0 in 1 over
21:31 IST:What a delivery by Morris. Umpire gives out but decision overturned. Dhawan survives. LBW decision reversed. India 0/0
21:30 IST:Rohit Sharma and Shikhar Dhawan are the two Indian openers. Chris Morris begins the proceedings for the hosts.
21:25 IST:The national anthems of both the nations being played.
21:18 IST:There is little bit of grass cover on the pitch. It is a good T20 wicket.
21:07 IST: India XI: Rohit Sharma, Shikhar Dhawan, Suresh Raina, Virat Kohli (C), Manish Pandey, MS Dhoni, Hardik Pandya, Bhuvneshwar Kumar, Jaydev Unadkat, Shardul Thakur, Yuzvendra Chahal
21:07 IST: South Africa XI: JJ Smuts, Reeza Hendricks, Jean-Paul Duminy (C), David Miller, Farhaan Behardien, Heinrich Klaasen(w), Andile Phehlukwayo, Chris Morris, Dane Paterson, Junior Dala, Tabraiz Shamsi
21:03 IST: TOSS! South Africa skipper JP Duminy wins toss, decides to bowls first against India. No team changes for the hosts.
21:04 IST: India skipper Virat Kohli says he also would have liked to bowl first too. Jasprit Bumrah rested and Shardul Thakur replaces him.
20:35 IST:The pitch looks decent and a little delay in the start of the match is expected
It has stopped raining. It has become much brighter and play is expected to start on time here at Centurion for the 2nd T20I #SAvIND pic.twitter.com/oFpA8XHqX5

— BCCI (@BCCI) February 21, 2018
20:34 IST:The first match between India Women and South Africa women at the same venue had been called off due to rains. Hope we get a full match for the men in blue.
20:32 IST: Hello and welcome to the live updates of the second T20I match between India and South Africa straight from the SuperSport Park, Centurion
19:24 IST: The match between India Women and South Africa Women has been officially called off.
4th T20I: Match washed out.
India lead series 2-1 with one match remaining #SAvIND

— BCCI Women (@BCCIWomen) February 21, 2018
19:21 IST: It seems the women's match has been called off. India cannot lose the series from now on, a win for the hosts match will only tie the series 2-2.
18:57 IST: It has started raining again in Centurion.
18:52 IST: Good news folks!India were set a target of 148 runs in 15 overs.
18:40 IST:Latest reports say the rains have stopped and the groundsmen are starting to clear the surface. Hopefully the India women and South Africa match resumes soon
18:35 IST:India men's team are also scheduled to play at this ground today. Will that be a curtailed game too? Well, time will tell
18:30 IST:The weather forecast predicts rains till late evening. In that case, the women's game is surely abandoned. Advantage India if it's a shortened game, but surely not easy
Promoted
18:08 IST:Before the men's team take on South Africa, the 4th T20I between India women and South Africa women has been interrupted due to rain. South Africa women were 130/3 in 15.3 overs when rain stopped play
However, the Proteas, led by Jean-Pau Duminy, in the absence of Faf du Plessis, will look to hit back at India in the second game, especially after a 1-5 thrashing in the One-Day Internationals (ODIs). Reeza Hendricks was the only one who defied the Indian bowling in the first innings. But middle-order batsman David Miller and Chris Morris, who failed to click in the first match, have to pull up their socks this time to support the lower order which failed drastically. Expectations will be high on Heinrich Klaasen and Farhaan Behardien. The bowling department, featuring Andile Phehlukwayo, Dane Paterson, Morris along with chinaman Tabraiz Shamsi will have to come up with something special in order to get rid of the flamboyant Indian batsmen.
Topics mentioned in this article