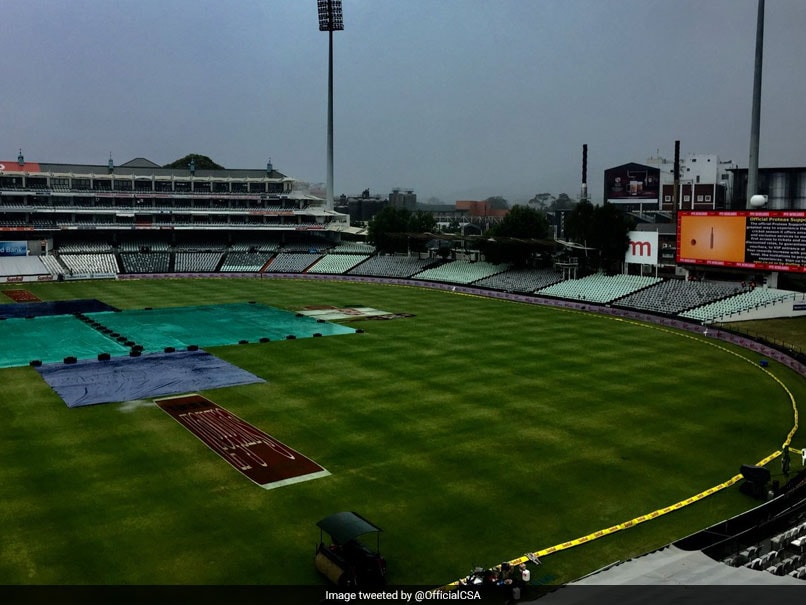 Highlights, India vs South Africa: Play called off due to rain on Day 3.
© Twitter
The Day 3 of the opening Test between India-South Africa was called off due to persistent rain on Sunday. Earlier, the first two sessions were washed out due to rain without a single ball being bowled. Heavy showers had been forecast for Sunday and they duly arrived early in the morning and stayed throughout. It didn't stop raining at all, instead picked up as the scheduled start time of play approached. At the time of writing there were huge puddles of water all across the Newlands' outfield. The weather forecast says that conditions are expected to improve in the evening, and there might be chance of play in an extended final session.
Meanwhile, India would look to bowl out South Africa cheaply in the second innings so as to give themselves a chance of winning the Test match. South Africa, on the other hand would look to bat India out of the Test match and go for the kill as the game progresses. Earlier, India all-rounder Hardik Pandya stood tall amid ruins with his all-round prowess but could not prevent South Africa from finishing on top on Day 2 of the first Test at Newlands Cricket Ground in Cape Town on Saturday. Pandya scored a swashbuckling 93 and then took two wickets, but South Africa built on a first innings lead of 77 runs and were 65 for two at the end of day's play with an overall lead of 142. At stumps dependable Hashim Amla (4 not out) was in company of night watchman Kagiso Rabada (2 not out). (Scorecard)
Catch highlights of Day 3 of the first Test between India and South Africa straight from Cape Town
19:10 IST: Thank you for joining us for the live blog. Let us hope that we get a clear weather on Monday.
19:05 IST: Play on Day 3 has been called off due to intermittent rain.
18:54 IST: The rain is still falling. The Super Sopper is doing its bit and hopefully we get to see some action in the final session today
18:40 IST: Rain washes out first two sessions on Day 3. South Africa (286, 65/2) lead India (209) by 142 runs at tea
18:18 IST: The rain had stopped for few minutes but it's back, 25 minutes before the scheduled tea interval.
18:00 IST: The rain refuses to relent and it has got a little heavier now. 
17:30 IST: Bad news! The rain has started again and the covers have come back on
16:50 IST: The rain seems to have stopped now. The covers are being moved as the mop-up operations continue at Newlands
16:22 IST: The super sopper has begun its operation.
16:00 IST: It's still raining which means that the first session of the third day's play has been wiped out 
15:35 IST: The Indian team was seen in the stadium a while back. They seemed to have gone now. It is still raining in Cape Town.
15:00 IST: Still some rain around. I don't think we'll get any play before lunch.
14:05 IST: Latest Update: It's raining heavily now at Newlands, Cape Town
13:50 IST: There is prediction for the drizzle to continue on and off at least until 3 pm
13:35 IST: News coming in that it is raining heavily in Cape Town at the moment. It is almost certain that we will have a delayed start to the proceedings.
13:32 IST: India would look to pick up early wickets and dismiss South Africa cheaply in the second innings.
13:30 IST: Hello and welcome to the third day's play of the first Test match between India and South Africa.
Steyn, in his first Test match since suffering a fractured shoulder in Australia in November 2014, had taken two for 51 when he pulled up with a bruised heel and left the field three balls into his 18th over.
After treatment in the dressing room he was sent for a scan.
Steyn would have hoped to end Pandya's innings -- and hasten the demise of the Indian batting effort -- long before he was called upon to bowl a fourth spell in what was his longest and most intensive bowling effort since his shoulder injury.