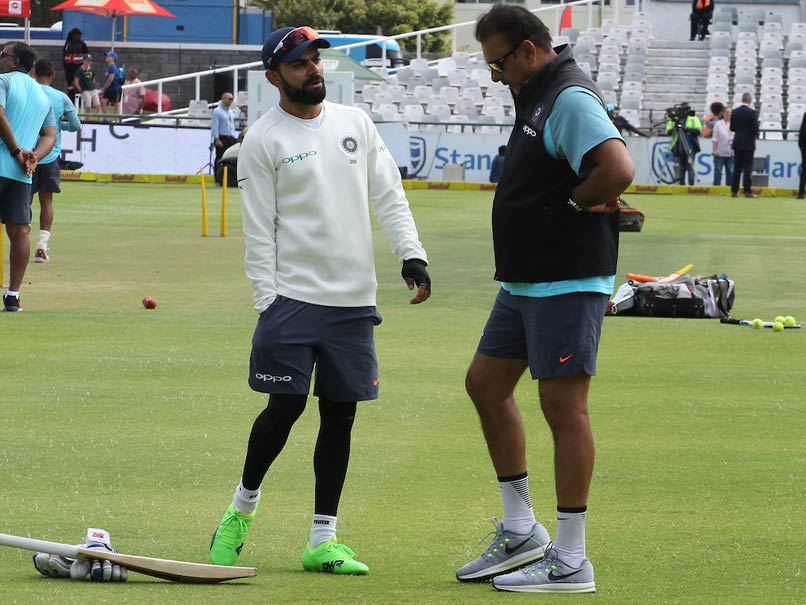 Ravi Shastri also defended the team's management decision to pick Rohit over Rahane.
© BCCI
Head coach of India, Ravi Shastri, on Tuesday said his team would have benefited from ten more day of practice in South Africa ahead of the ongoing Test series. According to Shastri, additional tome to acclimatise to the conditions would have made a difference to his team's fortunes in the series. "In hindsight I would say another 10 days of practice here would have made a difference. But that's no excuse. The pitch we play on, it's the same for both sides, and I would rather focus on the 20 wickets we have taken. That has given us a chance in both Test matches to win games. If our top order can fire, it will be a good Test match," Shastri told reporters on the eve of the final Test at the Wanderers.
India will seek to avoid a series whitewash when they play South Africa in the third and final Test at the Wanderers Stadium, starting on Wednesday.
India, though, will be buoyed by their record at the ground. They have yet to be beaten in Tests there, with a win and three draws going back to 1992/93.
The Wanderers could live up to its reputation as a haven for fast bowlers, especially after South African captain Faf du Plessis expressed his disappointment with the slowness of the Centurion pitch where South Africa clinched the series last week.
Shastri said the team had a chance to win in both the Tests.
"We have had chances in both Test matches but we didn't make the most of it. So when you believe you have a chance to win, then you look forward to a Test match. When you don't believe you can win, you don't look forward to a Test match, as simple as that," he added.
Shastri also defended the team management's decision to exclude Ajinkya Rahane for the first Two Tests in Cape Town and Centurion respectively, saying Rohit Sharma was the best option going by form.
"If Ajinkya (Rahane) had played the first Test and not done well, you would have asked me the same question about why Rohit hasn't played. Rohit played, he didn't do well, so you are asking me why Ajinkya didn't play," a defiant Shastri told reporters when queried about the selection policy.
(With inputs from PTI)