Story Progress
Back to home
Kolkata Knight Riders vs Lucknow Super Giants: IPL 2022 Live Cricket Score, Live Score Of Today's Match on NDTV Sports
Live Updates of Today Match between Kolkata Knight Riders vs Lucknow Super Giants from Dr. DY Patil Sports Academy, Navi Mumbai. Check commentary and full scoreboard of the match.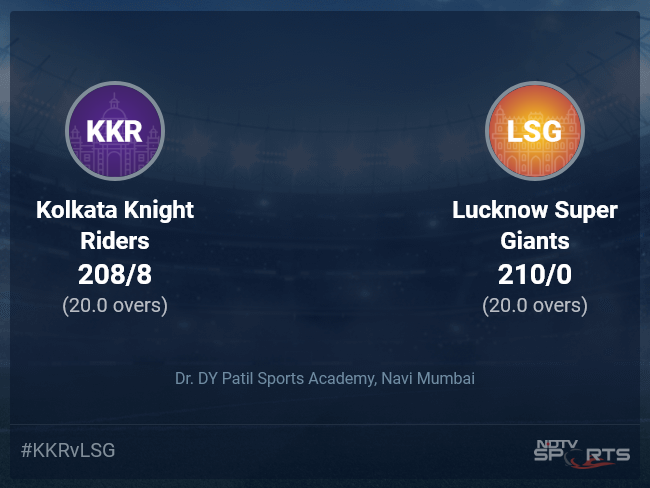 KKR vs LSG Latest Score
A dedicated team of experts bring you live score, live cricket score, live match update on Sports.NDTV.com. After 20.0 overs, Kolkata Knight Riders, chasing a target of 211, are 208/8. The live updates of Kolkata Knight Riders vs Lucknow Super Giants scorecard is also available. It is the perfect platform to follow your favourite teams in Indian Premier League 2022. Keep a track on your favourite batsmen and bowlers through Indian Premier League 2022 today match, ball by ball commentary, Kolkata Knight Riders vs Lucknow Super Giants, Kolkata Knight Riders vs Lucknow Super Giants live score, Kolkata Knight Riders vs Lucknow Super Giants scorecard. Follow the excitement of the Indian Premier League 2022 on Sports.NDTV.com as you can follow live match updates and live cricket score through our platform.
Right then, that is all we have from this thriller. The race for the playoffs only gets more heated from here on. On Thursday, the 19th of May, Bangalore take on Gujarat at the Wankhede Stadium in Mumbai as Faf and his men look to bolster their chances of a playoffs berth. That match will begin at 7.30 pm IST (2 pm GMT) but our build-up will begin much sooner. Do join us then, goodbye and take care!
Quinton de Kock is the PLAYER OF THE MATCH for his sensational knock of 140* off just 70 balls. De Kock is first asked about the catch he took early in the chase and says that he just tried to get back on the field and get on with his job and the catch just stuck. Mentions that it was just a bit of frustration that came out tonight and the last few games didn't go his way, he tried to keep it in but he let go in the end. Adds that he thought Kolkata would struggle to get near the target but they came out and played great cricket and got very close. About the last over, he says that it got nervy after the first few deliveries. Shares that he was losing hope but then came the catch from Evin Lewis and catches win matches.
KL Rahul, the winning captain of Lucknow, says that they have missed games like these this season and he is happy to be on the other side. Adds that they could have been so easily on the other side of the result. Tells that it's a good way to finish their last league game. Credits both the teams for making such a brilliant game of cricket. Mentions that those last two balls, Stoinis executed the plan and that was brilliant. Feels that they played really well and is delighted with the batting effort. Further says that they knew Kolkata will come hard and he credits them for hitting the big shots. Calls it good learning for them and feels that this win will bring the team together. Opines that such close games remind you that the game is not over till the last ball. Smiles and says that he was a spectator today in the last 3 overs while batting, as Quinton de Kock took charge and it was an incredible knock. Adds that de Kock has been batting so well this season. Feels that this was lacking in their game as the guys who are in good touch were not winning them the games. Praises Mohsin Khan and calls him exceptional, who has got great skills and uses his variations very cleverly. Tells that he has no doubt that Mohsin Khan will be donning the India jersey soon.
Marcus Stoinis comes up for a chat. The Aussie talks about his feeling to bowl the last over and chuckles that he should have bowled through the middle. On his plans in the last over, Stoinis replies that at the start of the over, you play a bit to the conditions and a bit to what the batter wants to do. Mentions that when things don't go to the plan, you want to bowl your best delivery. Calls it learning for himself. Shares that he feels more comfortable going for the straighter yorker as he just has to eye the feet of the batters and while bowling wide yorkers you sometimes lose sight of the tramline. On that catch by Evin Lewis, Stoinis smiles and says that it just stuck and he can't believe it. Laughs and says that they will give him the Man of the Match for that catch. Lastly, he adds that you got to bowl what you believe is your best ball.
Shreyas Iyer, the captain of Kolkata, says that he is not feeling sad at all as it was one of the best games he has played. Adds that the way they showed their character in this game was amazing. Praises Rinku Singh for his knock and he is very happy for him. Further says that he would have loved him to finish the game and Rinku was very sad after the loss. Tells that the wicket was dry and he didn't think it will play this way. Mentions that he felt there will be something for the spinners and calls the target par on this surface. States that they wanted to go all-out and put Lucknow under pressure despite losing two early wickets. Feels that it was a volatile season for them and thinks that they did too much chopping and changing, due to the niggles. Adds that there is a lot of learning and counts Rinku as a find for them. Shares that the vibe was positive in the dressing room and he calls up and down as a part and parcel of the game. Also shares that he built a good relationship with Brendon McCullum, who is calm and composed even when there is pressure. Iyer talks about McCullum's aura and says that he treats every player equally.
Stay tuned for a few interviews...
Earlier in the game, we witnessed one of the finest individual displays with the bat from Quinton de Kock as he smacked 140 runs off just 70 balls. He was well-supported by the skipper KL Rahul and both of them remained unbeaten to get Lucknow to a mammoth total of 210. Sunil Narine and Umesh Yadav did keep the scoring rate in check but every other bowler was just ripped apart. With a daunting task ahead of them, Kolkata's middle order stepped up and its their best but Mohsin Khan and Marcus Stoinis helped Lucknow get the win and they become the second team to qualify for the playoffs.
Well, Lucknow will be a much-relieved side after that humdinger. They had the runs on the board and the early wickets as well but Avesh Khan and Jason Holder just had an outing to forget. Especially Avesh, who went for 60 runs and neither of them picked up wickets. It was once again Mohsin Khan who was not just economical but got key wickets as well. Ravi Bishnoi got an important wicket too but what about Marcus Stoinis! He's hardly had a chance to bat up the order and was handed the ball in a pressure situation and three deliveries into the final over, everyone must have thought he's done but he just kept his head down and got the job done for his side.
With 211 runs needed to win to stay alive in the competition, it looked like an impossible task for Kolkata. It got even more difficult when both openers went cheaply. After that though, Shreyas Iyer and Nitish Rana launched a counter-attack to get their side back into the game. Sam Billings too came in and got into the groove straightaway. Kolkata even had the required rate well under 12 at one point but those three overs in the middle where they could conjure up just 9 runs and lost wickets as well ended up being the difference. A round of applause should go to Rinku Singh who gave it his all and even Sunil Narine who played an important cameo but unfortunately for them, it just wasn't enough.
ARE YOU NOT ENTERTAINED? One of the most epic finishes to a game of cricket and on one side there's absolute elation while on the other side there's heartbreak! Marcus Stoinis has held his nerve in the end and Kolkata, after a stunning display of heart, have fallen just short. They are now knocked out. Lucknow though cement their place in the top four and almost make a strong claim for a top-two spot as well.
19.6 overs (0 Run) OUT! OFF STUMP OBLITERATED! Absolute scenes out there. Even someone as silent as Gambhir is all pumped up! He is screaming in joy. The Lucknow dugout is ecstatic. Agony in the camp of Kolkata, their season is over. Phew, what a match! Marcus Stoinis nails his yorker when it mattered the most. It's too good for Umesh Yadav who swings his bat at it but misses. The off stump is floored. LUCKNOW WIN BY 2 RUNS!
With 3 runs needed off the final ball and the possibility of a Super Over on the cards, Umesh Yadav walks out to face the final delivery. Can he get his side over the line?
19.5 overs (0 Run) OUT! STUNNER BY EVIN LEWIS! That's unbelievable. One for the highlight reels. Wow, under pressure, full speed and Lewis has grabbed a ripper. We have seen everything tonight. Fullish and outside off, pace off, Rinku Singh lofts it over extra cover. Not much power or timing behind it. Evin Lewis rushes forward from the deep, puts in a bit of slide and sticks his left hand out. Voila! It sticks and the Lucknow dugout goes bonkers. 3 needed off 1 ball. Super Over?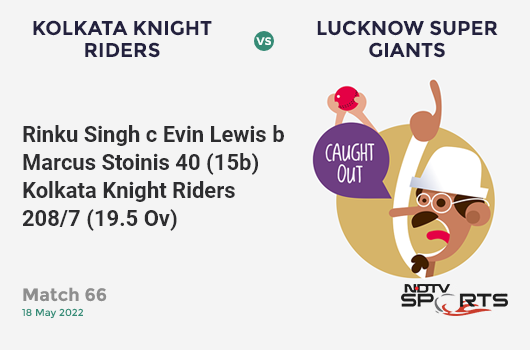 Drama, more drama. With the game turned on its head, the umpires now check for a short run. The replay shows that Rinku Singh lost his bat but managed to get his foot inside the crease as he turned around for the second. All good to go.
19.4 overs (2 Runs) Fuller in length, around off, Singh whips it to deep mid-wicket for a couple of runs. 3 needed off 2 balls.
19.3 overs (6 Runs) SIX! RINKU SINGH, YOU GEM! The local talent of India is taking on one of the established all-rounders in international cricket. 5 needed off 3 balls. Fuller in length, wide outside off, Rinku Singh rifles it over long off for a maximum.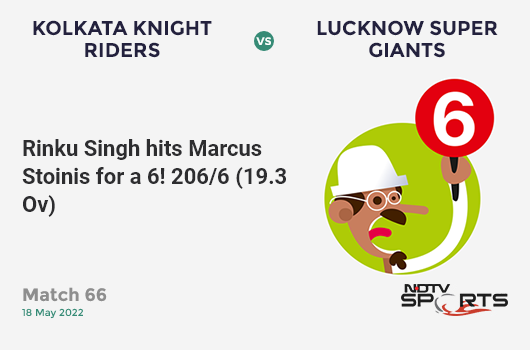 19.2 overs (6 Runs) SIX! OUT OF HERE! Rinku Singh, you beauty boy! Short in length, around off, Singh holds his balance inside the crease, generates immense power behind his shot and pummels it over wide long on. 11 needed off 4 balls.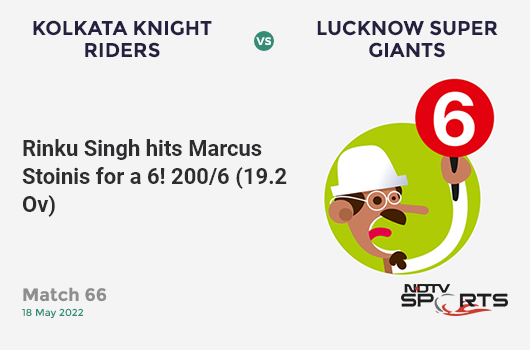 19.1 overs (4 Runs) FOUR! Cracking shot! Too full in length and wide outside off, Rinku drills his drive and finds the gap at extra cover for a boundary. 17 needed off 5 balls.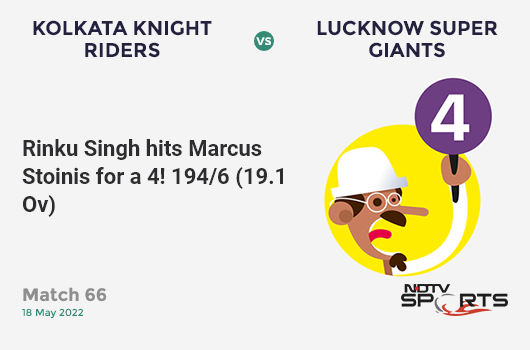 Marcus Stoinis to bowl the final over. Can he defend 20 runs and send Kolkata packing?
18.6 overs (1 Run) Well bowled! A yorker around leg, Singh swings his bat at it but fails to connect properly. It rolls to square leg and they cross. 21 needed off the final over.
18.6 overs (1 Run) Wide! Too full and down the leg side, Rinku holds his ground and allows it through.
18.5 overs (1 Run) Keeps his length very full, around leg, Narine clears his front leg and whips it to deep mid-wicket. Only a single again.
18.4 overs (1 Run) Holder follows the batter down the leg side with a low full toss, Rinku flicks it to deep mid-wicket, only a run. Single is a win for Lucknow.
18.3 overs (6 Runs) SIX! Rinku Singh flexing his muscles! Short again from Holder, on the slower side, Rinku Singh runs down the track and smacks it over wide long on. 25 needed off 9 balls.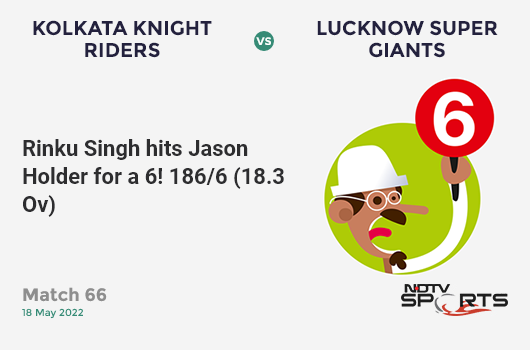 18.2 overs (1 Run) Holder goes short and on middle, Narine takes his eyes off and pulls it through square leg for one.
18.1 overs (6 Runs) SIX! Up and over! Narine is the man for Kolkata. Fuller and around middle, angling in, Narine stays deep inside the crease and lifts it over the leaping long on fielder for a biggie. 32 needed off 11 balls.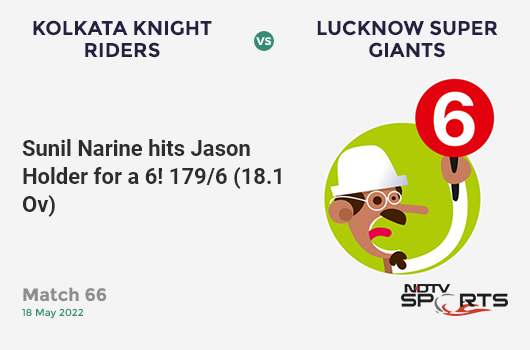 17.6 overs (0 Run) Can't get it away and it will be a dot ball. Avesh Khan ends the night giving away 60 runs off his 4 fours. This is full and at the stumps, Singh shuffles but he cannot get it past the man at backward square leg. 38 needed now off 12 balls.
17.5 overs (1 Run) Does get it right this time Avesh Khan. Very full and outside off, driven through extra cover for just a single.
17.4 overs (6 Runs) SIX! Poor from Avesh Khan and he is having a night to forget out there. Avesh misses the blockhole and ends up serving a juicy full toss outside off. Sunil Narine hangs deep and muscles it over the wide long off fence for a biggie. 39 needed now off 14 balls.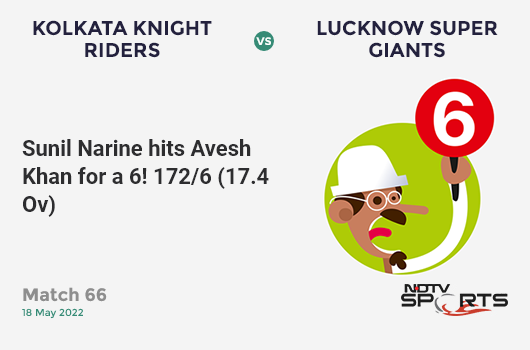 17.3 overs (1 Run) Better from Avesh, full and on off. Singh works it through mid-wicket and picks up a single.
17.3 overs (1 Run) WIDE! Full and wide, a bit too wide though. Wide called.
17.2 overs (6 Runs) SIX! A much-needed maximum for Kolkata. Slower delivery, shorter in length and around leg. Rinku Singh picks up the length early and smokes it over the square leg fence for a biggie.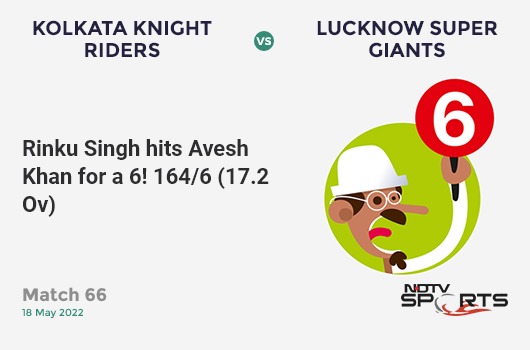 17.1 overs (2 Runs) Full and at the stumps, Rinku Singh shuffles across the off stump and laps it behind square on the leg side for a couple of runs.
Avesh Khan (3-0-43-1) to finish his spell here.
16.6 overs (6 Runs) SIX! A touch short in length, around off, Sunil Narine turns inside the crease and powers it over deep mid-wicket for a maximum. 4-0-20-3, what an effort from Mohsin Khan!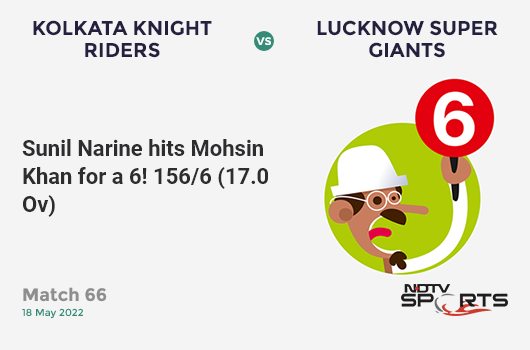 16.5 overs (0 Run) This is a slower short ball, around off. Narine looks to pull it across but gets a bottom edge back onto the deck.
Sunil Narine is in next. Mohsin Khan is seen clutching his hamstring. Let's hope he is doing fine.
16.4 overs (0 Run) OUT! DRE RUSS HOLES OUT! A body blow to Kolkata. Mohsin Khan has been magical this evening. Dishes out a slower one, at 123.3 clicks, full and outside off, Andre Russell winds up for a big shot down the ground but gets more height than distance. Deepak Hooda catches the ball at the edge of the fence at long off. Well done, Hooda. Well done, Mohsin. And well done, Krishnappa Gowtham, his fielding effort on the last ball kept Andre Russell on strike. All these things matter.
16.3 overs (1 Run) Great fielding by Krishnappa Gowtham. Short and around off, Rinku pulls it behind square leg and takes a run. Krishnappa Gowtham makes a diving stop and releases the ball immediately despite being off-balance, denying the batters the second run.
16.2 overs (4 Runs) FOUR! Wrong line from Mohsin Khan. Delivers it full and on the pads, Rinku Singh nudges it neatly off his pads to fine leg for a boundary.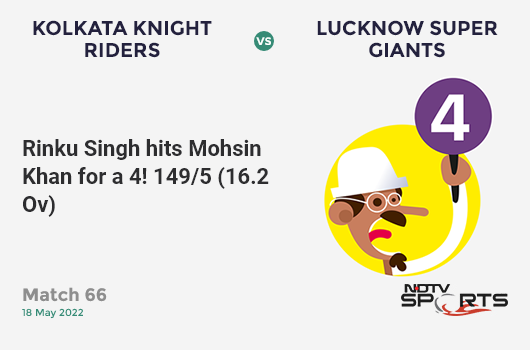 16.1 overs (1 Run) AERIAL BUT SAFE! Mohsin Khan bowls a slower one, full and way wide outside off, Dre Russ reaches out and tries to power it over covers. But it takes the toe end and flies behind cover-point. It drops safely and the batters cross.
Will Avesh Khan bowl out here? Or will Rahul keep him for the last couple of overs? No, it's Mohsin Khan who will bowl out. He has figures of, 3-0-8-2 so far.
15.6 overs (1 Run) Bishnoi goes short around off, from 'round the wicket, Russell mistimes his pull to deep mid-wicket. Only a run.
15.5 overs (1 Run) Short and wide outside off, Singh cuts it to deep point for a run.
Rinku Singh comes in at number 7 for Kolkata. Can he conjure up some magic here?
15.4 overs (0 Run) OUT! STUMPED! Ravi Bishnoi shows the courage to toss it up despite going for a maximum. It's a googly, landing outside off, Sam Billings skips down the track and tries to heave it over the leg side but misses. Quinton de Kock does the rest neatly. A fine knock from the Englishman but Kolkata needed more from their set batter. 69 needed off 26 balls.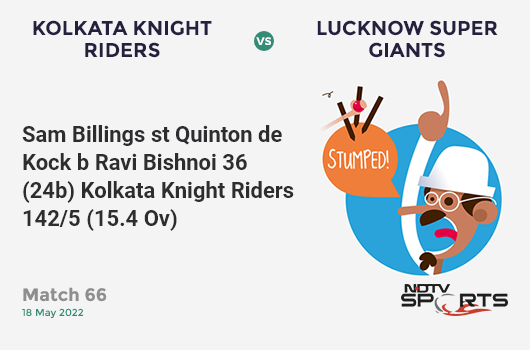 15.3 overs (6 Runs) SIX! Boom! Billings gets one away! Loopy and full, around leg, Sam Billings sits down on knee and muscles it over fine leg for a maximum.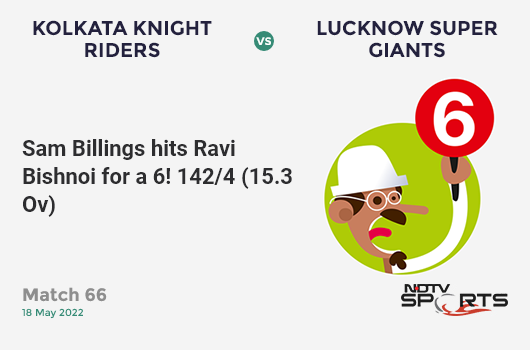 15.2 overs (1 Run) Shortish around leg, Russell gets back and forces it to long on for a run.
15.1 overs (1 Run) Flighted and full, around off, Billings drags his attempted slog-sweep to deep mid-wicket for a run.
Match Reports
Topics mentioned in this article