Story Progress
Back to home
IPL Highlights, MI vs RPS: Pune Win By 3 Runs, End Mumbai's Winning Streak
IPL Highlights, MI Vs RPS: Rising Pune Supergiant's win over Mumbai Indians gave them a third victory on the trot while Mumbai suffered their first defeat after six consecutive wins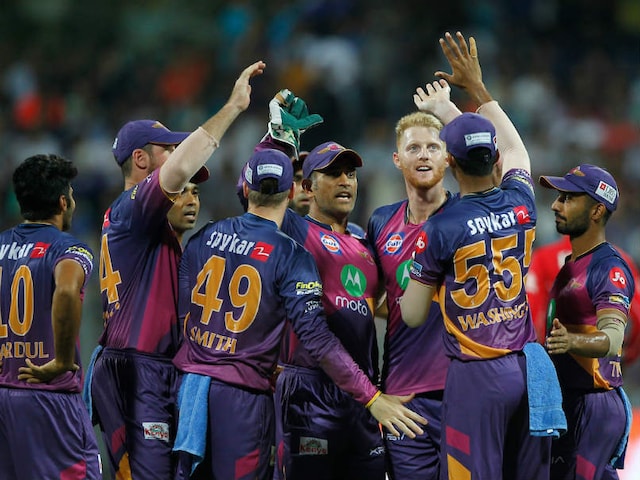 IPL Highlights, MI Vs RPS: Pune beat Mumbai by 3 runs.
© BCCI
Mumbai Indians (MI) came close but failed to go the distance and win their seventh IPL match on the trot as they lost to Rising Pune Supergiant by 3 runs at the Wankhede Stadium on Monday night. It seems the Pune team is Mumbai's weak spot as they had lost to them in the first match too! While Mumbai restricted Pune to 160/6 to set up an achievable target, they lost wickets in quick succession before captain Rohit Sharma's 30th IPL half century, the first of the season, saw them close the gap considerably. Ben Stokes' (2/21) economical bowling was key in turning the game around to ruin Sachin Tendulkar's birthday party. (SCORECARD)
Catch the highlights and updates of MI Vs RPS match in Mumbai, here: 
23:49 IST: Thanks for joining us for the live blog this evening. Do join us for Tuesday's game against Royal Challengers Bangalore and Sunrisers Hyderabad at Bengaluru. Good night! 
23:48 IST: Ben Stokes is the deserving man of the match! 
23:35 IST: Pune beat Mumbai by 3 runs as they halt their win-streak!! Great job RPS!!! 
23:34 IST: SIX!!! A beautiful boundary by Harbhajan BUT it's a win for Pune!!
23:33 IST: McClenaghen run out!! Mumbai (151/8)  need 10 off 1 ball  
23:30 IST: OUT!!! Rohit caught and bowled by Unadkat! A big wicket but it seems Unadkat has hurt his head taking the catch!! Mumbai need 11 in 2 balls
23:29 IST: SIX!!! Rohit Sharma is leading the way!! He muscles the ball over long on for a crucial maximum. Will this be the game changer? Mumbai need 11 of 4
23:27 IST: OUT!! A brilliant dive and catch by Stokes as Pandya walks back (13 off 11).    
23:26 IST: It's a tense situation at the Wankhede. Let's see what happens in the last over!
23:24 IST: Very economical bowling by Stokes, giving away only 7 runs. Mumbai are 144/5 and need 17 off the last over!
23:22 IST: A wide from Stokes! That's criminal, especially in such an important stage of the match
23:21 IST: Mumbai need 23 off 11 balls for a win. Will they be able to do it?
23:19 IST: FOUR again! Pandya giving Rohit company with two back-to-back boundaries!
23:18 IST: FOUR! Pandya powers through the off side for his maiden boundary!
23:16 IST: 50!!!! A single brings up Rohit Sharma's 30th IPL half century and the first this season!  
FIFTY! @ImRo45 brings up his 22nd #MI half-century. A gem of an innings from our skipper.#CricketMeriJaan #MIvRPS pic.twitter.com/1ZCK8rv2Ii

— Mumbai Indians (@mipaltan) April 24, 2017
23:13 IST: Phew, not out! An appeal for stumping but Hardik Pandya is saved for now 
23:10 IST: OUT!!! Smith runs and covers a considerable distance to take the catch as Pollard is dismissed for 9. Mumbai are 123/5 (16.1 overs) 
23:07 IST: Mumbai are 122/4 at the end of 16 overs.   
23:05 IST: SIX!!! The Mumbai captain is taking MI towards victory single-handed it seems! 
23:00 IST: FOUR! Rohit is on fire! He is on 40 and inching closer to his 30th IPL half century. 
22:56 IST: Followed by a SIX!! Imran Tahir seems helpless as Rohit takes him to the cleaners
22:55 IST: FOUR! What a boundary by Rohit  
22:52 IST: FOUR! Keiron Pollard smashes a boundary off Stokes. 
22:49 IST: OUT!!! Second wicket for Stokes as Karn is bowled. (Mumbai 86/4 in 12.1 ovs) 
22:47 IST: SIX! Karn hits a maximum after Tiwary drops him on the previous ball. What a punishment!
22:44 IST: FOUR!! Stylish boundary by Rohit after he scoops it away to fine leg
22:39 IST: Mumbai need 93 runs in 60 balls for a win
22:37 IST: FOUR and FOUR!! Beautiful placement by Rohit... 
22:35 IST: OUT!!! Poor shot selection from Parthiv as he departs for 33. Mumbai are 60/3 at the end of nine overs.  
22:31 IST: FOUR! Rohit Sharma smashes Christian for a powerful boundary! 
22:28 IST: OUT!! Nitish Rana goes for 3. Mumbai are 51/2 (7.2 ovs)
22:26 IST: Great bowling by Sundar, very economical bowling! Gave away only 6 runs 
22:23 IST: Something for Sachin fans from the Wankhede:
#IPL #HappyBirthdaySachin @sachin_rt pic.twitter.com/bO9UEcJClr

— IndianPremierLeague (@IPL) April 24, 2017
22:19 IST: Mumbai are 44/1 at the end of 6 overs
22:18 IST: FOUR! An easy shot by Parthiv
22:12 IST: OUT! Buttler out! Stokes takes the first important wicket as Mumbai are 35/1 (4.2 ovs)
22:09 IST: FOUR! It seems Parthiv and Buttler keeping the number of boundaries in tandem. Third boundary for Buttler, Parthiv made the same number in the last over.  
22:04 IST: FOUR and FOUR! What stylish boundaries by Pathiv, three in a row!! An expensive over from Sundar! 
22:03 IST: FOUR! Parthiv smashes Sundar for a boundary 
22:02 IST: Mumbai are 14/0 at the end of the second over
22:00 IST: FOUR and FOUR!! Buttler smashes Shardul Thakur for two back to back boundaries
21:56 IST: Very good over to begin with as Mumbai are 3/0
21:53 IST: Parthiv Patel and Jos Buttler open for Mumbai again. They have opened in all the games for Mumbai so far. Washington Sundar takes the new ball for Pune.
21:52 IST: Mumbai need 161 to win! And here we go
21:41 IST: Stay tuned for Mumbai's innings. They are aiming for their seventh straight win
21:38 IST: Pune end their innings at 160/6. Well done RPS!  
21:36 IST: OUT! Tiwary given LBW, departs for 22  
21:35 IST: And FOUR again!! Tiwary is going all out to deliver for Pune
21:34 IST: Four! Great start to the over by Tiwary who got into position early to smash the bowl off Bumrah
21:33 IST: Let's see what Pune do in the last over
21:32 IST: What a shot! Tiwary times it brilliantly for a boundary. Pune are 149/5 at the end of 19 overs 
21:29 IST: McClenaghan bowls a wide... 
21:27 IST: Two overs left. Pune are 142/5 at the end of 18 overs. 
21:23 IST: OUT! Bumrah takes the prized wicket of MS Dhoni who departs for 7
21:21 IST: Pune are 137/4 at the end of 17 overs
21:18 IST: Four and four!! Manoj Tiwary gets off to a flying start 
21:14 IST: OUT! Johnson cleans up Stokes as the Englishman departs for 17 off 12.  
21:12 IST: FOUR! Stokes gets a boundary off McClenaghan. Lucky very lucky! 
21:09 IST: Pune are 120/3 at the end of 15 overs. Pune are doing it in singles and doubles right now. The boundaries seem to have dried up suddenly. 
21:07 IST: Congratulations start pouring in for Bhajji!
T20 wickets! Congratulations to #Bhajji on this remarkable achievement!#CricketMeriJaan #MIvRPS #MI pic.twitter.com/sOPRrnzDOD

— Mumbai Indians (@mipaltan) April 24, 2017
21:04 IST: FOUR!! Loose delivery from Johnson as Ben Stokes smashes a boundary!
21:00 IST: Pune are 104/3 at the end of 13 overs. Second time out happening now!
20:57 IST: OUT!!! Harbhajan takes the prized wicket of captain Smith for his 200th T20 wicket!!
20:56 IST: MS Dhoni has plenty of fans at Wankhede it seems! He is playing his 150th IPL match today! 
20:53 IST: Oh my god what a drop! Bhajji drops Smith! And Smith punishes Mumbai with a FOUR on the very next ball! 
20:51 IST: OUT!! Tripathi falls short of his second IPL half century as he departs at 45. Karn takes second wicket on his Mumbai debut. 
20:50 IST: Four!! Captain Smith gets going...
20:45 IST: Pune are 84/1 at the end of 10 overs
20:44 IST: SIX!! What a sweep by Tripathi as captain Smith joins him
20:42 IST: OUT! Rahane looking to cut the ball but it was too close to the body. It pops up in the air and a simple return catch by Karn. (Rahane dismissed for 38 runs)  
20:40 IST: Best opening partnership for Pune this season by Rahane and Tripathi.
20:39 IST: Fans at Wankhede have placards wishing Sachin everywhere! 
20:36 IST: FOUR again! But this time from Rahane! Pune are 69/0 after eight overs. Rahane on 34, Tripathi on 33
20:35 IST: Four and Four!! Tripathi is giving Rahane company... This is the second time this season that Pune have not lost a wicket in the first six overs!
20:30 IST: Sachin thought he would cut the cake quietly but didn't expect the whole stadium singing for him he says! He's been flooded with good wishes on Twitter! Virat Kohli's tweet is just an example:
Happy B'day Paaji . May God bless you with more happiness and peace in life. My cricket hero always. @sachin_rt pic.twitter.com/HGgrdFGv3x

— Virat Kohli (@imVkohli) April 24, 2017
20:29 IST: Bhajji given the ball as the crowd sings Happy Birthday to Sachin! The legend is celebrating his 44th birthday.
20:26 IST: FOUR! Rahane is all about timing. Beautifully timed boundary wide off mid on
20:24 IST: Six! What a shot by Tripathi! Hits a maximum off Karn Sharma over long-on boundary
20:22 IST: At the end of 5 overs, Pune are 37/0 
20:20 IST: Four! Rahane has been excellent since the start. Beautifully timed boundary... 
20:16 IST: Karn Sharma given the ball... Very economical over
20:12 IST: Four! Rahane gives just a little push and the ball goes to the fence...
20:10 IST: FOUR! Rahane hits Mitchell McClenaghan for a classy boundary... Very very confident batting
20:09 IST: Run out appeal against Rahane but hey, replays confirm he's not out!
20:07 IST: Four! Tripathi adds to the tally 
20:05 IST: SIX! Rahane gets things going for Pune! At the end of the 1st over, Pune are 9/0 
20:03 IST: First extra for the evening, Johnson bowls a wide
20:01 IST: Mitch Johnson with the ball. Ajinkya Rahane and Rahul Tripathi open for Pune 
19:58 IST: Get ready folks, the start is about to start. Pune will be hoping for a good start.  
19:51 IST: Did you know MS Dhoni will be playing in his 150th IPL match today? He's played 129 matches for former team Chennai Super Kings and 21 for Pune!
19:48 IST: Watch Karn Sharma get his Mumbai Indians cap
#IPL Match 28: Karn Sharma gets his @mipaltan cap from @MahelaJay #MIvRPS pic.twitter.com/ut7WHMe9CF

— IndianPremierLeague (@IPL) April 24, 2017
19:32 IST: Krunal Pandya will be missing from the Mumbai line-up with an injury. Karn Sharma will be replacing him. There's no change in the Pune line-up.  
#IPL Match 28: Here are the Playing XIs for @mipaltan vs. @RPSupergiants #MIvRPS pic.twitter.com/kBiQjPk2kf

— IndianPremierLeague (@IPL) April 24, 2017
19:30 IST: Mumbai Indians captain Rohit Sharma wins toss and elects to bowl! 
Promoted
19:23 IST: We are minutes away from the toss... Mumbai Indians will be keen to gift mentor Sachin Tendulkar a win on his birthday and extend their win-streak. Pune, on the other hand, will be hoping to beat the home team once again! Pune have gained some momentum with their back-to-back victories after three defeats.  
#IPL Preview Match 28 - @mipaltan vs @RPSupergiants. Match starts at 8 PM IST today https://t.co/QcQOXPc4vI #MIvRPS pic.twitter.com/Ann0jiKFrP

— IndianPremierLeague (@IPL) April 24, 2017
19:18 IST: Hello and welcome to the live blog of the Mumbai Indians vs Rising Pune Supergiant IPL match! 
RPS, on the other hand, were looking like they would go down to another loss before Dhoni crafted one of his classic chases. The former India captain hammered 61 not out off just 34 balls as the Pune team rose from 121/4 at the beginning of the 17th over to carve out 58 runs in 3.5 overs. That win should work wonders for RPS and even MI, eying a revenge win, would be a little wary of MS Dhoni.