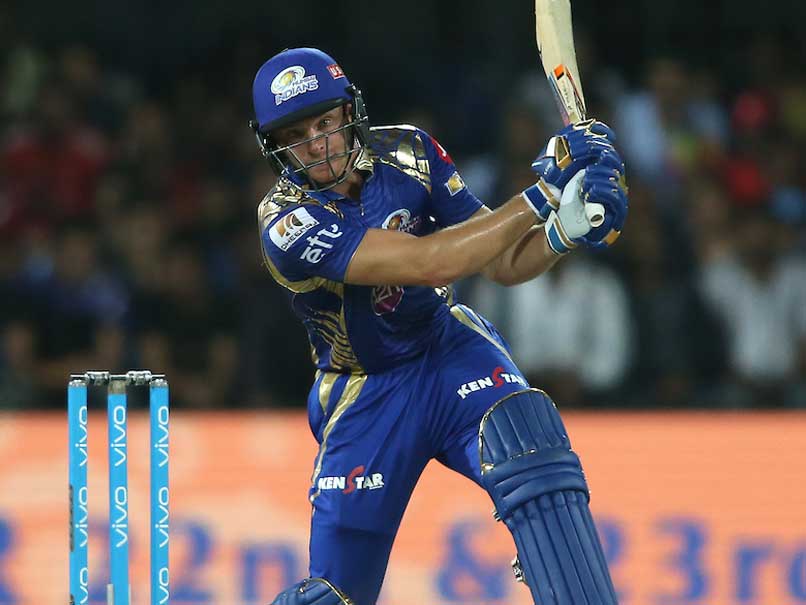 IPL highlights, KXIP vs MI: Jos Buttler was adjudged the Man of the Match for 37-ball 77.
© BCCI
Mumbai Indians (MI) thumped Kings XI Punjab (KXIP) by 8 wickets in chase of 199 in the 22nd match of Indian Premier League (IPL) on Thursday. Parthiv Patel and Jos Buttler's fiery start suggested that Mumbai Indians had come to the field with their hunting mode on. Not letting the Punjab bowlers settle a bit, Parthiv and Buttler went berserk from the very first ball and kept the required run rate in check. Though Parthiv fell for 37, Buttler kept on hitting the ball cleanly for Mumbai. Adding salt to the wounds, Nitish Rana, too, smashed a 34-ball 62 to help Mumbai overhaul the competitive target rather easily. Bringing up his half century, Nitish Rana reclaimed his orange cap as Mumbai sit atop of the IPL points table with 10 points. With five consecutive wins, Mumbai is riding high on confidence as, it seems, they are on a rampaging mode. Tough luck for KXIP and Hashim Amla  who helped Punjab to put a good total on the board. Courtesy of Rana and Buttler, Holkar stadium saw a brilliant display of fireworks. After their fourth consecutive loss, KXIP stand fifth on the table with 4 points. Jos Buttler was adjudged the Man of the Match. (SCORECARD)
Catch all the highlights of Kings XI Punjab and Mumbai Indians in Indore here.
23:24 IST: Thank you for reading our live blog. Please come back tomorrow for an another high-voltage game of Indian Premier League.
23:08 IST: Nitish Rana finishes off in style with a six! Mumbai Indians beat KXIP by 8 wickets, finish 199 for two in 15.3 overs.
23:04 IST: Back-to-back boundaries from Pandya. Mumbai on fire, need 8 runs in 30 balls.
23:03 IST: Four! Mumbai in hurry to complete the game, Pandya blasts Ishant Sharma for yet another boundary.
23:01 IST: Six! Slower delivery from Ishant Sharma, Hardik Pandya carves it for a biggie.
23:00 IST: Six! Rana top edges  Ishant SHarma for a maximum and brings up his fourth IPL fifty. 
22:53 IST: Out! Mohit Sharma traps Buttler 77(37) with a slower delivery. Maxwell completes the catch. Mumbai Indians need 33 runs in 41 balls
22:50 IST: Six! Buttler is blowing the roof away at Indore.
22:49 IST: Six! Buttler not wasting time, flat hits Sandeep for a maximum.
22:46 IST: Another big over for Mumbai Indians. 16 runs off Swapnil over.
22:45 IST: Six! Rana has gone berserk. Mumbai Indians edging closer to win.
22:44 IST: Six! Rana tonked Swapnil over square leg boundary.
22:42 IST: Mumbai bring another 50-run partnership.
22:39 IST: Six! Nitish Rana welcomes Ishant Sharma with a huge maximum.
22:38 IST: Mumbai looking solid at this point, need need 76 runs in 60 balls.
22:33 IST: Six! Buttler blasts Axar Patel for a huge maximum on the leg side.
22:29 IST: SIX again! This time for Buttler who has brought up his total to 48.
22:27 IST: SIX!!! Nitish Rana hits a powerful shot off Stoinis!
22:24 IST: Buttler is inching closer to a half century!  
22:18 IST: Out! Stoinis gets Parthiv Patel off a slower delivery. Punjab get first wicket. Mumbai 81/1.
22:16 IST: Mumbai on hunting mode now. More boundaries for the visitors.
22:15 IST: Six! Marcus Stoinis welcomed by a maximum on the leg side.
22:14 IST: Four boundaries in an over for Mumbai Indians. Current rate run over 13. MI stand at 68 for zero after 5 overs.
22:13 IST: Four! Mohit being clobbered by the Mumbai openers.
22:11 IST: Four! Buttler dealing in boundaries now. Crunches Mohit Sharma through the covers.
22:08 IST: Four! On the pads again to Parthiv and he doesn't miss many.
22:07 IST: Four! Buttler getting into the act, blasting bowlers all around the ground.
22:05 IST: Six! Parthiv Patel bowled on the pads, and Patel dispatches it on the leg side.
22:04 IST: Sandeep Sharma dispatched for a flat six by Buttler. After 3 overs, Mumbai 34 for zero.
21:58 IST: Four! Parthiv Patel beautifully guides Ishant Sharma for a boundary.
21:56 IST: Four! Buttler scores a boundary off Ishant Sharma.
21:54 IST: Six! Buttler walks down the pitch and flicks Sandeep Sharma for a maximum easily. Mumbai 10 for zero after the first over.
​21:50 IST: Sandeep Sharma bowling the first over of the second innings.
21:49 IST: Parthiv Patel and Jos Buttler come out in the middle to open the batting for Mumbai Indians.
21:40 IST: Stay tuned for the second innings.
21:36 IST: Punjab have put up 198 for four at the end of 20 overs for Mumbai Indians to overhaul. Hashim Amla 104 not out! 
21:32 IST: Hashim Amla scores maiden IPL century 102 (58) with a six!!
21:31 IST: Six! Hashim Amla moves to 96, hammers Malinga for a maximum over the keeper's head.
21:30 IST: Last over to go, Amla on 90 and Punjab stand at 180/4.
21:28 IST: Amla fails to capitalise on the free hit but hits a boundary the next ball.
21:27 IST: No Ball from Bumrah and free hit for Punjab.
21:26 IST: Last two overs remain in the first innings of the match.
21:25 IST: Four! Last ball boundary from Hashim Amla.
21:22 IST: Out! Slower ball off McClenaghan, Marcus Stoinis 1(3) caught by Pollard.
21:17 IST: Mumbai fighting back! Bumrah bowls Glenn Maxwell 40(18) with a slower delivery.
​21:12 IST: Four! Amla and Maxwell annihilating the bowlers now. Punjab 161 for two (16)
21:11 IST: Six! Hashim Amla smokes Malinga over point! Amla on fire!
21:09 IST: Six! Malinga dispatched for a 97 metre maximum by Hashim Amla.
21:06 IST: Big Over for KXIP! 28 off Mitchell McClenaghan over. Maxwell on fire. Punjab after 15 overs, stand at 139 for two.
21:05 IST: Six! Maxwell dispatches the ball over square boundary for a maximum!
21:04 IST: Four and a No-ball! Well Well now, Maxwell is changing gears rapidly.
21:03 IST: Four! McClenaghan is being taken to task by Maxwell!
21:02 IST: Back-to-back sixes from Glenn Maxwell!! Punjab gaining momentum.
21:00 IST: Nelson is here!
20:59 IST: Four! Giving himself room, Maxwell carved Bumrah for a boundary on the off side.
20:58 IST: Four! Bouncer from BUmrah, Maxwell swings and edges it over keeper for a boundary.
20:51 IST: Hashim Amla brings up his half-century, Punjab 91 for two.
20:50 IST: Four! Malinga punched down the ground by Amla.
20:47 IST: Four! Beautiful shot from Amla, guides Malinga for a boundary.
20:45 IST: Out! Wriddhiman Saha becomes Krunal Pandya's first wicket. Saha dances down the wicket, misses the ball as it crashes right into the stumps. Punjab 80 for two.
20:44 IST: Six! Amla slams Krunal straight down the ground for a maximum.
20:42 IST: Halfway through the first innings, Punjab stand 69 for one.
20:33 IST: Brilliant over from Harbhajan Singh, concedes only six runs. Punjab 58 for one after eight overs.
20:25 IST: Out! McClenaghan strikes for MI. Marsh flicks the ball straight to Kieron Pollard.
20:24 IST: Crunched!! Marsh puts away McClenaghan with authority.
20:22 IST: Brilliant fielding from Krunal Pandya, saves a certain boundary at point.
20:21 IST: After 5 overs, Kings XI Punjab stand at 39 for no loss.
20:18 IST: Six! Amla welcomes Malinga with a hufe boundary, hits the ball on the up. 
20:15 IST: Four! Short and wide from Harbhajan Singh, Marsh cuts and says thank you!
20:12 IST: Four! Shaun Marsh dealing in boundaries right now
20:11 IST: Four! Marsh lighting up at Indore. Cuts Hardik for a beautiful boundary.
20:07 IST: Dropped chance! Amla gets a life line as he slashes and the ball went through the fielders hands. 
20:03 IST: Decent start for KXIP, 8 for zero after the first over.
20:02 IST: Four! Shaun Marsh hits the first boundary of the innings on the off-side.
20:00 IST: Hardik Pandya is staring the proceedings for Mumbai Indians
19:59 IST: Shaun Marsh and Hashim Amla are opening the batting line-up for KXIP.
19:58 IST: Players are making their way out to the field in Indore.
19:43 IST: Here are the playing XI for both teams.
19:41 IST: Mumbai Indians are going in with no change in the line-up.
19:40 IST: Kings XI Punjab get Shaun Marsh, Marcus Stonis, Gurkeerat Mann Singh and Swapnil Singh back in the playing XI. Eoin Morgan, Cariappa and David Miller miss out.
19:30 IST: Mumbai Indians win toss and elect to field against Kings XI Punjab in Indore.
19:24 IST: It's toss time! Let's go.
19:23 IST: Rohit Sharma and his boys warming up before the match.
19:11 IST: Harbhajan Singh to reach a new milestone?
19:05 IST: As far as Kings XI Punjab are concerned, they are yet to find their mojo back after their first two wins out of five matches.
19:04 IST: Mumbai Indians will be looking to extend their winning run to five consecutive matches.
19:03 IST: Hello and welcome to the live blog of the match between Kings XI Punjab and Mumbai Indians at Indore.
On the flip side, Rohit Sharma is still in the playing XI only by the merit of being MI skipper. His return from injury has not been auspicious.
MI are largely dependent on Nitish Rana, Kieron Pollard and the lower middle-order of Krunal and Hardik Pandya to get them the wins. Their bowling has been led by Krunal and the likes of Harbhajan Singh. But they are steady rather than incisive.