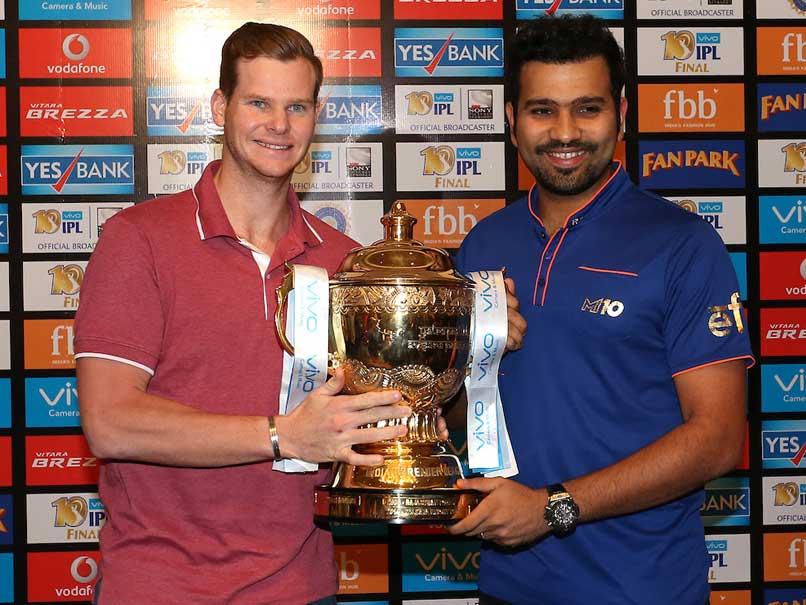 Steve Smith and Rohit Sharma with the IPL trophy.
© BCCI
Steve Smith's Rising Pune Supergiant (RPS) have caused Mumbai Indians (MI) a lot of grief in the Indian Premier League (IPL) 2017. They've played each other thrice and every time Pune's been victorious, including the last meeting in the first Qualifier. So, obviously the IPL-10 final has generated a lot of interest in the head-to-head record as Pune take on the Rohit Sharma-led Mumbai side in Hyderabad on Sunday. However, despite the admirable record, Smith played down past results.
"Obviously, we can take a little bit of confidence from that. In the end, finals cricket is finals cricket and it comes down to that game and who plays best on that day," Smith said in the pre-match presser.
Rohit Sharma assured fans they would put their best foot forward in the final. "We have not had great history against Pune. They have been playing some really good cricket throughout the tournament. It's just that we were not good on those days. That's probably the reasons we lost the game," Sharma said.
"Tomorrow, we got to make sure that we better and we play good cricket and focus on what we need to do as a team. If all those things have been looked after, results will take care of itself. You need to concentrate on the process rather than thinking too far ahead," he added.
Sharma wasn't worried that some players couldn't live up to their billing. "We certainly did not have any individual brilliance throughout the tournament. Guys have come at different points and taken up the responsibility. (It) goes to show that team work is so much important whether it's bowling or your batting," he said.
While Mumbai are aiming to win the title for the third time, Pune have reached the final for the first time after finishing seventh last season which was their first year in the tournament.
(With PTI inputs)