Story Progress
Back to home
IPL 2017: Glad That You Haven't Watched Me Bat, Rahul Dravid To Rishabh Pant And Sanju Samson
Delhi coach Rahul Dravid lavish in praise of Rishabh Pant and Sanju Samson's match-winning partnership.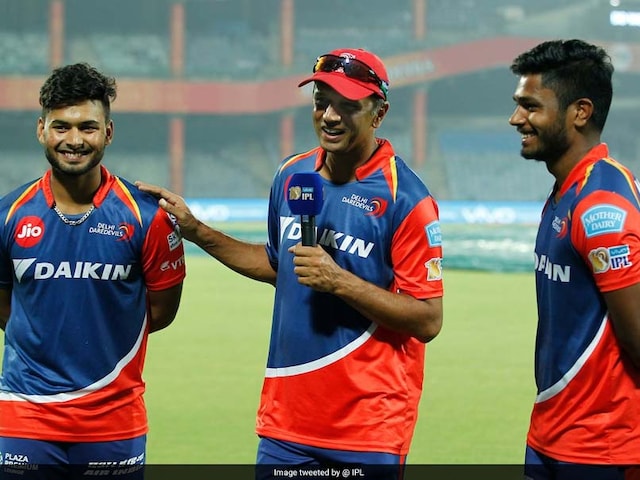 Rahul Dravid with Rishabh Pant and Sanju Samson after the match.
© IPL Twitter
Highlights
Rishabh Pant made 97, Sanju Samson 61 against Gujarat

Delhi beat Gujarat by 7 wickets

Rahul Dravid is the Delhi Daredevils coach
Delhi Daredevils' Rishabh Pant and Sanju Samson's match-winning partnership of 143 off 63 balls for the second wicket against Gujarat Lions made coach Rahul Dravid glad to share a joke with them. "Glad that you haven't been watching videos of me batting," Dravid jokingly told Pant and Samson after their aggressive knocks. Thanks to Pant's 97 and Samson's 61, Delhi recorded a seven-wicket win over Gujarat on Thursday at Feroz Shah Kotla.
"I am glad that you have not been watching too many videos of me batting when you need 208 in 20 overs. Well done boys, terrific innings," Dravid told the duo in an interview posted on IPL's official website.
Dravid was lavish in his praise of Pant's selfless approach despite being quite close to getting a hundred. "What I found impressive in Rishabh's batting is that he was not worried about his hundred. He was always looking to take the team home. But I am a hard taskmaster and I hope next time you will finish the job and stay not out," he told the duo.
"Incredible innings from the two boys and truly well deserved," Rahul Dravid added.
Promoted
Delhi are currently fighting to stay alive in the league after a disastrous first half in the tournament.
(With PTI inputs)
Topics mentioned in this article