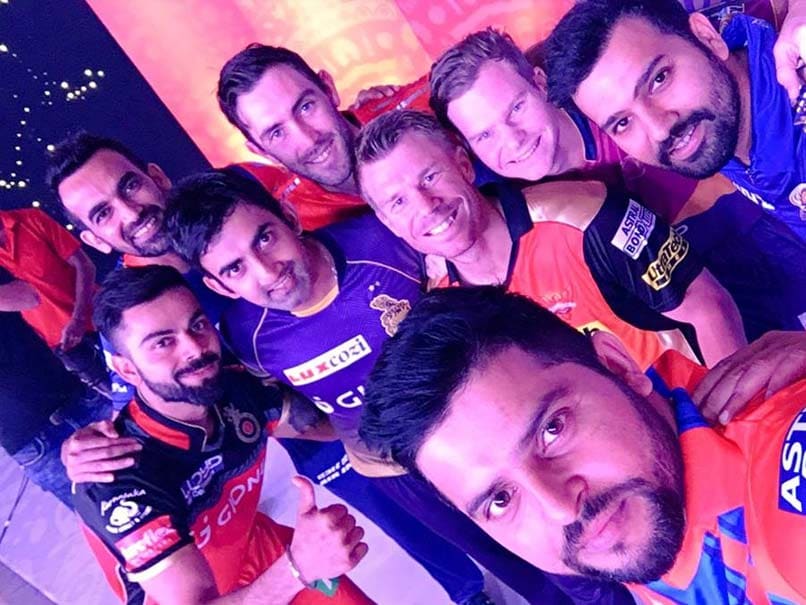 All the captains of the Indian Premier League in selfie mode
© BCCI
Team fortunes and individual performances do not always match. The Indian Premier League Season 10 has seen some skippers doing way better than their teams, while the table toppers do not necessarily have the best individual performances from their captains. You can have a David Warner, with his side not always rocking. Then you have Mumbai Indians, with Rohit Sharma in indifferent form.
How are the captains and teams performing:
David Warner, Sunrisers Hyderabad (SRH): The Australian is currently holding the orange cap, which is enough said. Warner has led the team from the front, with 235 runs from five innings with a top score of 76 not out and an average of 78.33. His strike rate, however, his not the best at 137.42.
Team performance: SRH are at the third position on the points tally after five matches. They have won 3 games and lost 2, for a total of 6 points.
Gautam Gambhir, Kolkata Knight Riders (KKR): Gambhir was holding the orange cap not so long ago, but has now come down the lost to N0. 4. He too has played 5 matches and compiled 196 runs. Like Warner, he too has the best score of 76 not out. Gambhir averages 65.33 and has a strike rate of 142.02.
Team performance: KKR are sitting on top of the table, with 4 wins and a solitary loss and 8 points. They have a run-rate of +1.013.
Steve Smith, Rising Pune Supergiant (RPS): Steve Smith has done what he does best --- score runs. He missed out on one game with an upset stomach, but still has 180 runs from 4 innings, with a top score of 84 not out, an average of 60.00 and a strike rate of 133.
Team performance: RPS are not in a happy position, with just 2 wins from 5 matches. They are just over GL in the table.
Suresh Raina, Gujarat Lions (GL): Raina too has had a decent outing with the bat, having scored 159 runs from 5 innings with a highest of 68 not out and an average of 53.00. His strike rate is 134.74.
Team performance: GL are currently languishing at the bottom of the table, with just one miserable win from 5 matches.
Virat Kohli, Royal Challengers Bangalore (RCB): Kohli was out of action for the first two RCB matches, due to the injury he picked up during the Australian Test series. He has so far played 3 matches and scored 154 runs, at an average of 51.33 but a moderate 132.75 as strike rate.
Team performance: RCB were at the bottom of the table before they got past GL on Tuesday. They have played the maximum matches of any team so far, but have only 2 wins from 6 games, putting them on 6th on the table.
Glenn Maxwell, Kings XI Punjab (KXIP): Maxwell doesn't score that many, but he scores them quickly. The Aussie has scored 122 runs from five innings, with a best of 44 not out and an average of 40.66. His strike rate, however, is 174.26, the best among the captains.
Team performance: KXIP are on 5th position on the table, with 2 wins and 3 losses.
Rohit Sharma, Mumbai Indians (MI): Sharma is struggling. There is no other way to say it. He has scored just 49 runs in five matches, 40 not out coming in just one game. He is averaging a pathetic 12.25 with a strike rate of 102.08.
Team performance: MI are however No. 2 on the table, just behind KKR, and that too just on run rate. Evidently, they are not dependent on their captain for success.
Zaheer Khan, Delhi Daredevils (DD): Zaheer is the only bowler among the captains in IPL 10. He has done well, as he is expected to as one of the best India has produced. DD have played only 4 matches so far, and Zak has claimed 7 wickets, with best figures of 3/20 and average of 16.71. He has an economy rate of 7.80.
Team performance: DD have played the minimum number of matches so far, and are plumb in the middle of the table, with 2 wins and 2 losses.