Story Progress
Back to home
Highlights, India vs England, 2nd ODI: Hosts Win Thriller In Cuttack by 15 Runs, Win Series
India defeated England by 15 runs to take an unassailable lead of 2-0 in the series.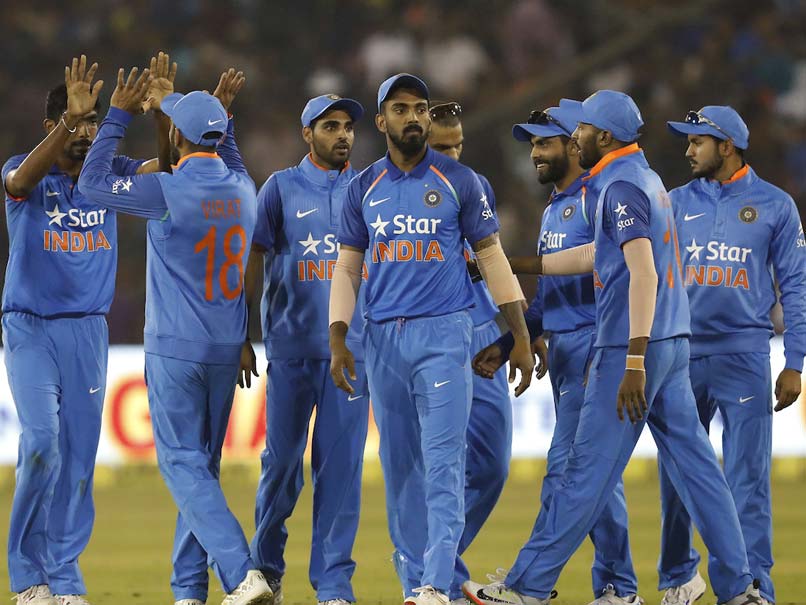 India beat England by 15 runs in the second ODI to clinch series
© BCCI
Riding on Yuvraj Singh's brilliant 150 and MS Dhoni's handy 134, India beat England by 15 runs in a thrilling match to take an unassailable lead of 2-0 in the series. Chasing a mammoth total of 382 runs, England's chase was led by Eoin Morgan 102, who was supported by Jason Roy 82, Joe Root 54 and Moeen Ali 55; but the visitors ended 15 runs short of the Indian total of 381/6. The third match of the series will be played in Kolkata on January 22. (SCORECARD)
Get highlights of India vs England, 2nd ODI here.
Indian captain Virat Kohli after the match: We were wondering if we had a good start where we were going to end up. 25/3, scoring at four runs an over and ending up with 381 was incredible.
Both the spinners coming off a strong Test series has been a strong point for us. The way they struck in the middle overs and pulled things back for us for useful. I think we are playing up to only 75 percent of out potential.
England captain Eoin Morgan after the match: We weren't at our best today. Disappointed to get very close and not manage to get over the line. We weren't at our best today with the ball and to bowl to Dhoni and Yuvraj with the bats these days and the five men inside the circle is never easy. We showed a lot of fight
Man of the Match Yuvraj Singh after receiving the award: I have been hitting the ball really well and working very hard on my fitness and the results showed today. Yes, the lady luck is there and the blessings of my mother and mu Guruji have helped me here.
I rate this innings as my best because I started my career as a lower order batsman but getting a chance to play long helped me here. I had a lot of belief in myself and spoke to Sanjay and told him that a big one was coming soon. 
21:59 IST: Yuvraj Singh receives the Man of the Match for his brilliant 150-run knock. And he says "It's by best knock". Hope you enjoyed our live blog. Catch our live updates again on January 22 in the third ODI of the series. Adios!
2-0. Game set and Match #TeamIndia @Paytm #INDvENG pic.twitter.com/zLeFzoAwsQ

— BCCI (@BCCI) January 19, 2017
21:42 IST: That's it! India win the match by 15 runs and clinch series 
21:41 IST: Just one ball left and England need 17 runs
21:40 IST: Crowd has started to celebrate now. England need 17 from 2 balls
21:38 IST: England need 18 off 3 balls.
21:37 IST: Bhuvneshwar Kumar to bowl the last over and starts off with a good delivery
21:34 IST: FOUR! Extraordinary shot by Liam Plunkett. England need 22 runs off 6 balls
21:32 IST: OUT! Morgan is run-out and a very good fightback by India. England captain out on 102
21:31 IST: FOUR! Eoin Morgan scores his 9th ODI hundred and match headed for a tense finish now
21:30 IST: England need 33 off 12 balls
21:25 IST: FOUR! Clipped away by Morgan on the leg side for a boundary. Need 40 off 16 balls. 
21:24 IST: England need 46 runs off 18 balls
21:22 IST: FOUR! 17 runs from the over and England continue fightback
21:20 IST: Appeal! Wrapped on Plunkett's pads and umpire gives him out. Third umpire changes the decision following the review and it's not-out
21:18 IST: SIX! Morgans steps out and bangs it over mid-wicket
21:10 IST: FOUR! England need 63 runs from 24 balls
21:07 IST: OUT! What a comeback by Bumrah. Cleans him up for 5
21:06 IST: FOUR! Woakes hits Bumrah for a boundary
21:01 IST: OUT! Full marks to Bhuvneshwar Kumar. Inside edge and right on to the stumps. The change of bat does not work for Moeen Ali.
21:00 IST: This match is certainly heading for a tense finish
20:59 IST: England need 85 runs off 42 balls
20:58 IST: FOUR! 14 runs off the over
20:57 IST: FOUR! Flat hit by Moeen Ali and Jadeja misjudges it again
20:56 IST: FOUR! Morgan hits it in his favourite area. Jadhav showing his variations in bowling
20:55 IST: While England team look a bit anxious, Virat Kohli and Co. are busy making game plans
20:50 IST: England need 100 runs off 48 balls. Moeen Ali 45*, Eoin Morgan 65* at the crease 
20:42 IST: DROPPED! That's in the air and the best fielder of India Ravindra Jadeja drops it. It was Moeen Ali
20:40 IST: Virat Kohli is looking for a wicket here as he throws R Ashwin to bowl his last over
20:38 IST: England need a couple of big overs like this to put India under pressure
20:36 IST: FOUR! Morgan cracked it for a boundary. Pandya needs to change his length
20:35 IST: SIX! Fourth six for Morgan and pressure on Hardik Pandya again
20:30 IST: Fifty! Eoin Morgan completes his 32nd half-century. Big task ahead of him and he needs to do bulk of the scoring 
20:27 IST: We must say that spinners brought back India into the game. The target looks difficult for England now. They need 137 runs off 78 balls
20:22 IST: FOUR! First ball after drinks and Moeen Ali hits the boundary again through the short fine-leg off Kedar Jadhav
20:20 IST: Now the run-rate is over ten. Good over by R Ashwin
20:16 IST: FOUR! Moeen Ali hits it for a boundary through the mid-wicket
20:13 IST: Missed chance by India. Could have been a run-out but Dhoni fumbles. Dhoni fails to pick the throw up and Moeen Ali survives
Only old notes are out of circulation.
Great knocks from @YUVSTRONG12 and @msdhoni . pic.twitter.com/A87EmghpV8

— Virender Sehwag (@virendersehwag) January 19, 2017
20:12 IST: England need 160 off 102 balls 
20:11 IST: FOUR! Kohli brings Kedar Jadhav now and Moeen Ali smashes it for a four
20:06 IST: England need 176 runs off 112 balls. Moeen Ali comes into the attack
20:05 IST: OUT! Ashwin decieves Jos Buttler and MS Dhoni will not miss those stumping chances. The big fish is gone
20:04 IST: SIX! Morgan hammers it for a maximum off Hardik Pandya's bowling
19:57 IST: SIX! Morgan clears the long-on boundary off Ashwin's bowling.
19:55 IST: The Indian spinners have turned this game around in a matter of minutes.
19:49 IST: OUT! Ashwin gets rid of Ben Stokes early. England in trouble now
19:43 IST: OUT! Superb delivery by Ravindra Jadeja, completely beats Jason Roy. Much needed wicket for India. Out on 82!
19:42 IST: FOUR! It was in the air and just missed Ravindra Jadeja at the covers. Gets the much needed boundary 
19:41 IST: India were 132/3 at this stage. England are 162/2
19:38 IST: The required rate touches 8.72 and the current run rate is 6.53
19:36 IST: SIX! Roy cleared the front leg and hits a superb shot off R Ashwin for a maximum
19:33 IST: England need 237 in 27 overs now. Roy and Morgan in the middle
19:27 IST: FOUR! Jason Roy not letting it go. He plummets the pull down and beats the full length dive from Bhuvi at long-on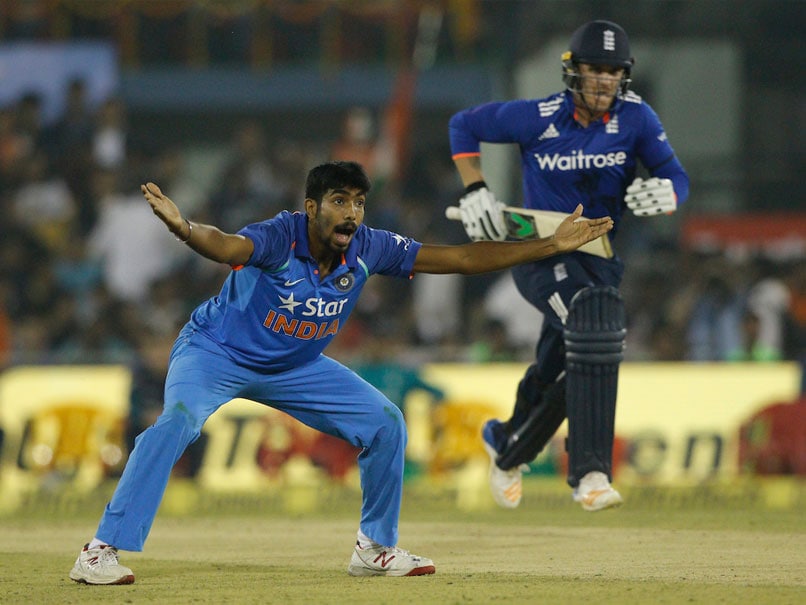 Jasprit Bumrah gets Alex Hales' wicket. Photo Credit: BCCI
19:21 IST: OUT! Root loses concentration and plays a silly shot after competing his half-century. Ashwin strikes
19:18 IST: Fifty! Joe Root completes his 19th ODI fifty with a four. England would want him to get a 100 now.
19:17 IST: Fifty! Jasoy Roy completes his 7th ODI fifty. England look solid in 382-run chase
19:12 IST: England need 263 runs in 32 overs. India need wickets to comeback
19:10 IST: DROPPED! Jasprit Bumrah got his fingers to it. It is a half chance, but would have been a wonderful catch. Roy gets the boundary
19:09 IST: FOUR! Joe Root smashes Hardik Pandya for a boundary again. He is on 46 now
19:05 IST: England 105/1 after 16 overs. Jason Roy 43*, Joe Root 39*
19:03 IST: FOUR! Another four through the off side. Virat Kohli looks worried now
19:02 IST: FOUR! Pandya bowls the short ball and Root upper cuts it to the boundary
18:55 IST: SIX! That's a monster hit by Jasoy Roy. First maximum for England
18:52 IST: England are 81/1 after 13 overs. Jason Roy 30*, Joe Root 29*
18:50 IST: FOUR! Pandya pitches it short and Roy puts it to the boundary towards deep square leg
18:47 IST: Hardik Pandya now into the attack. He replaces Jasprit Bumrah
18:43 IST: England are 66/1 after 10 overs 
18:32 IST: FOUR! Slashes, and slashes it hard. Kohli has set a trap for him by placing two men on square, he clears both of them
18:27 IST: Good over by Bhuvneshwar Kumar, just two from it. England 46/1 
18:26 IST: FOUR! This time Jason Roy gets it pass the fielder. England 44/1 after 6 overs
18:24 IST: FOUR! Room given outside the off stump and Root smashes it for a boundary off Bumrah
18:20 IST: FOUR! Joe Root comes in at No.3 and starts off with a boundary. England 32/1
18:16 IST: OUT! Jaspreet Bumrah pitches it up and gets the outside edge. Hales gone for 14
18:14 IST: FOUR! Edged and over the man at short third man. Strange field set by Kohli. When the bowler is swinging the ball you cannot have a short third man as the edge tends to fly off the bat quickly and eludes the man at 45 most of the times.
18:10 IST: FOUR! Leg-byes. Hales is down on the ground. A lovely toe-crusher, Hales was moving across the stumps to open the on-side for the free-hit
18:07 IST: FOUR! Cut away nicely and Hales opens his account, England are off the mark as well. A freebie first up from Bumrah. Wide outside off stump, Hales cuts well and places it past backward point
18:05 IST: Bhuvneshwar starts off with a maiden over
18:00 IST: Welcome back! Jason Roy and Alex Hales are at the crease. Jason Roy is on strike. Bhuvneshwar will open the attack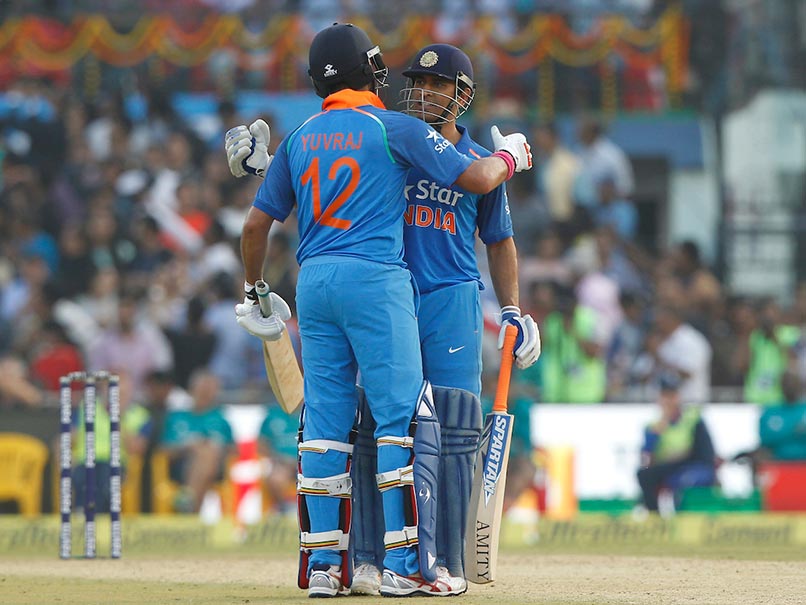 MS Dhoni hits his 10th ODI Century. 
Photo Credit: BCCI
17:35 IST: India have posted a huge total and it will not be easy for England to chase down a mammoth score of 352 runs. To catch visitors' reply, follow our live blog and we will be back after a short break
17:32 IST: Short ball to end the innings by Woakes. India sore 381/6 in 50 overs
17:31 IST: SIX! Jadeja hits a short arm jab for a maximum. Straight six by him
17:30 IST: FOUR! Jadeja hits in his area over deep mid-wicket for a boundary
17:28 IST: India 370/6 with 4 balls to go. Pandya 18*, Jadeja 6*
17:27 IST: Good shot by Ravindra Jadeja but goes straight to the fielder 
17:25 IST: One over to go now and India 367/6. Hardik Pandya and Ravindra Jadeja at the crease
17:20 IST: FOUR! Full toss by Jake Ball and Hardik Pandya hits it over the extra cover boundary
17:18 IST: OUT! Dhoni falls on 134 off 122 balls
17:17 IST: SIX! Inside out by Dhoni and maximum again
17:15 IST: SIX! We saw the best of Yuvraj. Now witness the best of MS Dhoni. He is not sparing any England bowler
17:13 IST: SIX! Liam Plunkett would remember this day forever. Dhoni hits him for another maximum
17:12 IST: India 337/5 after 47 overs 
17:10 IST: SIX! Pandya pulls it for a six. Stokes tries to catch the ball and misses it
17:09 IST: FOUR! Hardik Pandya hits boundary off the first ball
17:07 IST: OUT! And Jadhav's short innings' comes to end. He scored 22 off 10 balls
17:06 IST: FOUR! Cheeky one by Jadhav again and it's a boundary
17:05 IST: SIX! Terrific shot by Kedar Jadhav over long off
17:03 IST: India have scored 52 runs in the last 31 balls
17:01 IST: FOUR! No respite for England. Centurion of the first ODI Kedar Jadhav joins the party now
17:00 IST: FOUR! Strong bottom hand coming into play again. Smashes it for a boundary
16:56 IST: FOUR! Boundary by Kedar Jadhav as India reach 296/4 in 44 overs
16:54 IST: FOUR!  A little bit of drama here. Dhoni was bowled out but it was a free hit, got four runs as byes
16:50 IST: OUT! Yuvraj Singh is out after a brilliant 150 off 127 balls
16:49 IST: Hundred! MS Dhoni hits 10th century of his career. First since 2013. Take a bow Dhoni
16:46 IST: SIX! Poor delivery by Woakes and MS Dhoni smashes it over long on for a maximum. That's a world cup style sixer
16:45 IST: Yuvraj Sing completes 150 off 126 balls. India 274/3 after 42 overs
16:40 IST: Yuvraj Singh reaches the landmark of the highest individual score by Indian against England. Beats his own previous best of 138 runs
16:33 IST: REVIEW! Yuvraj Singh given out by the on-field umpire. The ball clearly hitting the ground and turned down by the third umpire 
16:30 IST: SIX! Again a huge hit by Yuvi! He is dealing in sixes now. Cleans it over long on
16:25 IST: FOUR! Lovely use of the wrists. Sheer elegance by Yuvraj Singh
16:22 IST: SIX! Yuvraj Singh is on fire! Pulls it for a six
16:18 IST: FOUR! Eleven runs off the over. High quality batting by India
16:16 IST: SIX! MS Dhoni just whacked that delivery for a six. What a blow by him  
16:10 IST: FOUR! Easy pickings for Yuvraj Singh as he hit back to back boundaries. He is on 116 now.
Yuvraj's making us believe in fairytales. Never give up. Well played, Yuvraj 'Dhamakedaar' Singh. #IndvEng

— Aakash Chopra (@cricketaakash) January 19, 2017
16:08 IST: 
Yuvraj Singh in ODIs
14th 100
4th 100 v Eng
7th at home
Last 100 came in 2011 World Cup#IndvEng

— Mohandas Menon (@mohanstatsman) January 19, 2017
An emotional moment for @YUVSTRONG12 as he brings up his 14th ODI ton #TeamIndia #INDvENG @Paytm pic.twitter.com/cX88vImx0v

— BCCI (@BCCI) January 19, 2017
16:03 IST: FOUR! Two-hundred comes up for India now. Dhoni changed his bat before the over and can see the change with a high backlift
15:55 IST: Hundred! Yuvraj Singh completes 14th century of his ODI career. India 190/3 in 33 overs 
15:54 IST: Yuvraj Singh goes for the big one and lands just short of the fielder.
15:52 IST: FOUR! What a shot by Yuvraj Singh and as Ravi Shastri would say, "that has gone like a tracer bullet."
15:43 IST: Four! 150 partnership between Yuvraj Singh and MS Dhoni. These two will look to play big shots now
15:40 IST: FOUR! Two back to back boundaries for India and MS Dhoni. Ben Stokes is struggling and Dhoni taking him on.
15:39 IST: FOUR! That brings up 62nd half-century for MS Dhoni. India 162/3
15:35 IST: India 156/3 vs England after 29 overs
15:33 IST: DROPPED! Never easy to catch these ones. Jake Ball tried hard but drops it. It was a leading edge by Dhoni.
15:30 IST: SIX! That's trademark MS Dhoni's shot. Steps out and smashes it out of the park.
15:24 IST: FOUR! Yuvraj Singh pulls David Willey for a boundary and he will be eyeing 100 now.
15:22 IST: Yuvraj reaches 75 and Dhoni on 31. The southpaw doing bulk of the coring in that partnership.
Most ODI runs in India
6976 Sachin Tendulkar
4001* MS Dhoni
3406 R Dravid#IndvEng

— Mohandas Menon (@mohanstatsman) January 19, 2017
15:18 IST: FOUR! Boundary this time for Dhoni. Bottom hand coming into play, leaves no chance for fielders.
15:17 IST: 100-run partnership between Yuvraj Singh and MS Dhoni off 118 balls. India in good position now.
15:15 IST: FOUR! Yuvraj Singh is dealing in boundaries now. He flicks it nicely.
15:10 IST: FOUR! Poor delivery by Ben Stokes. Banged the ball short and Yuvraj pulls it a little wide of the fielder at deep fine leg.
15:08 IST: SIX! What a shot that is. Lofts it with a straight bat for a first six of the match.
15:06 IST: FOUR! Dhoni dances down the track and hits it for a lovely boundary off Moeen Ali.
15:05 IST: FOUR! Poor delivery by Moeen Ali and Yuvraj sweeps it for a boundary behind the wicket keeper.
15:03 IST: A reminder again. India play only one ODI match after this before the Champions Trophy in June. England play 8 games.
Yuvraaaaaj! That's a half century for @YUVSTRONG12. Vintage shots on display at the moment #TeamIndia #INDvENG @Paytm pic.twitter.com/BXfB0CU2df

— BCCI (@BCCI) January 19, 2017
15:01 IST: Fifty! Yuvraj Singh completes 52nd fifty of his ODI career. He completes it in 56 balls.
14:59 IST: Yuvraj Singh and MS Dhoni have accumulated 67 runs now for the fouth wicket. India 92/3 after 20 overs.
14:58 IST: Dhoni averages 91.8 against the off-spinners with a strike rate of 81.
14:57 IST: Driven nicely by MS Dhoni off Moeen Ali for 2 runs.
14:51 IST: Moeen Ali comes into the attack now. Yuvraj Singh attacks him straightaway for 2 runs.
14:48 IST: FOUR! Big high back lift followed by a short-arm jab. Yuvraj Singh on a roll here.
14:38 IST: FOUR! Dhoni hits Liam Plunkett for a four again. Must say this, Yuvraj and MS have steadied India's ship now.
That is 4000 ODI runs for @msdhoni in India, only the second batsman after @sachin_rt to get to that milestone #INDvENG @Paytm #TeamIndia pic.twitter.com/BjYlSvriUU

— BCCI (@BCCI) January 19, 2017
14:34 IST: STATS! 4000 runs in India for Dhoni with that shot.
14:32 IST: Jabbed away for FOUR! A little bit of width and strong wrists of Dhoni lands it for a boundary.
14:31 IST: Maiden over by Liam Plukett. India 58/3 after 13 overs.
14:27 IST: It seems, short balls is the new ploy of England. But Dhoni and Yuvraj both are good players of the long hops.
14:25 IST: Twelve runs off the over, India 55/3 after 11 overs.
14:24 IST: FOUR! Another one for Yuvraj Singh. Punched it through the mid-off.
14:22 IST: FOUR! You can't give easy half-volleys to Yuvraj. Top shot for a boundary.
14:21 IST: Dhoni glances down the mid-wicket for two runs. Could have been three but Dhoni says No.
14:20 IST: After 10 overs, India 43/3.
14:18 IST: FOUR! Short delivery by Jake Ball and Yuvraj pulls it for a boundary.
14:16 IST: Third consecutive maiden over by Chris Woakes. India 39/3 after 9 overs.
14:12 IST: FOUR! That's the third boundary of the over. Yuvraj Singh getting into the groove here.
14:11 IST: FOUR! Trademark shot of Yuvraj and hits Jake Ball for a boundary again.
14:10 IST: FOUR! First boundary for Yuvraj Singh through the leg side.
14:05 IST: Maiden over by Chris Woakes. India 27/3 after 7 overs.
13:59 IST: MS Dhoni is off the mark with a single. India 27/3 after 6 overs.
13:54 IST: So, India have lost three wickets under five overs. Yuvraj and MS Dhoni in the crease now. Big responsibility on the veterans.
13:53 IST: OUT! Shikhar Dhawan is out bowled here. Cleaned up by Woakes again. India in big big trouble. Dhawan gone on 11.
13:52 IST: DROPPED! That could have been the third wicket. Woakes drops Shikhar Dhawan, was a difficult chance though.
2nd ODI. 2.6: WICKET! V Kohli (8) is out, c Ben Stokes b Chris Woakes, 22/2 https://t.co/gPr1tmJsbF @Paytm #IndvEng

— BCCI (@BCCI) January 19, 2017
13:50 IST: Yuvraj Singh comes in at No.4. Good chance for England to tighten things up.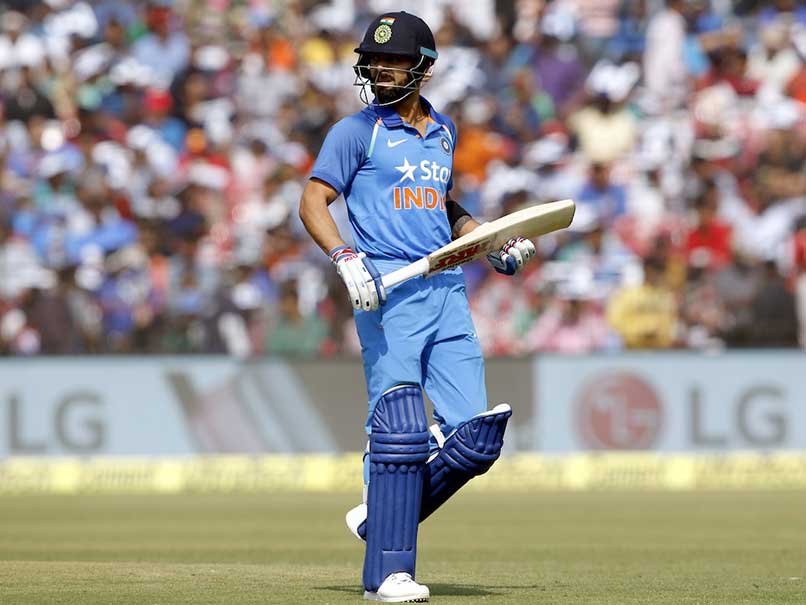 Rare failure for Virat Kohli. Photo Credit: BCCI
13:46 IST: OUT! The Indian captain is out here. Got the outside edge of the bat and gone for 8.
13:45 IST: Back to back boundaries for Kohli here. He is on a roll.
13:44 IST: FOUR! Superb shot by Virat Kohli and smashes it for a boundary. 
13:40 IST: OUT! Length ball by Woakes and Rahul is out here. Brilliant catch by Ben Stokes in the second slip. He is out on 5.
13:39: IST: FOUR! Consecutive boundaries for the opener and hits it on the up again.
13:37 IST: FOUR! Fine shot by Shikhar Dhawan through the covers and hits it for a boundary.
13:33 IST: Shikhar Dhawan gets off the mark with a quick single. India 6/0 after the first over.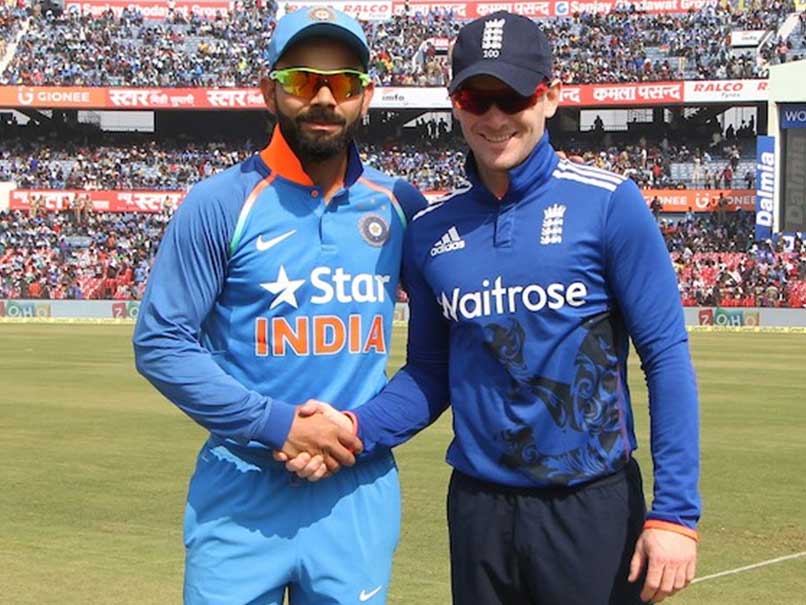 England won the toss and put India into bat. Photo Credit: BCCI
13:30: FOUR! Chris Woakes starts the proceedings for England and it's a boundary straightaway of Lokesh Rahul's willow.
England have won the toss and they will bowl first. India's only change - Bhuvneshwar Kumar in for Umesh Yadav @Paytm #INDvENG pic.twitter.com/RZEADwDGOo

— BCCI (@BCCI) January 19, 2017
Teams:
India (Playing XI): Shikhar Dhawan, Lokesh Rahul, Virat Kohli(c), Yuvraj Singh, MS Dhoni(w), Kedar Jadhav, Hardik Pandya, Ravindra Jadeja, Ravichandran Ashwin, Bhuvneshwar Kumar, Jasprit Bumrah
England (Playing XI): Jason Roy, Alex Hales, Joe Root, Eoin Morgan(c), Ben Stokes, Jos Buttler(w), Moeen Ali, Chris Woakes, Liam Plunkett, Jake Ball, David Willey
13:10 IST: For England, Liam Plunkett comes in place of spinner Adil Rashid.
13:05 IST: Just one change in India line-up, Bhuvneshwar Kumar comes in place of Umesh Yadav.
13:00 IST: England have won the toss and opt to bowl first. That means, India will bat first.
12:35 IST: India had won the toss in the first ODI and will be hoping for a similar outcome. Captain Kohli along with coach Anil Kumble were seen closely scrutinising the pitch.
Inspecting the pitch- #TeamIndia Captain @imVkohli and Head Coach @anilkumble1074. #INDvENG pic.twitter.com/E0k1p0jqRQ

— BCCI (@BCCI) January 19, 2017
12:31 IST: Earlier in the day, Yuvraj Singh was seen practicing. Here's sneak peek.
#TeamIndia all-rounder @YUVSTRONG12 in the nets. Match starts at 1:30 PM IST today #INDvENG pic.twitter.com/4sa21jlH5O

— BCCI (@BCCI) January 19, 2017
12:30 IST: Hello and welcome! It's the all important second ODI at Cuttack and England will be looking to avoid a series loss and take the series to Kolkata. Virat Kohli-led India will be aiming to wrap up the series here and make the 3rd ODI a mere formality.
While the Indian batting looks to be firing on all cylinders, Kohli would be a little worried about his team's bowling which took quite a beating at the Maharashtra Cricket Association Stadium. A similar performance would mean more pressure on the batsmen, especially on the likes of the captain and Mahendra Singh Dhoni.
Pacers Umesh Yadav and Jasprit Bumrah were particularly expensive in the first ODI and could not keep a check on their full tosses and no balls, in their attempt to bowl yorkers.
The Cuttack game is also a chance for both Dhoni and Yuvraj, who have won India several matches in the past together, to spend some valuable time at the crease. Though, Dhoni batted well in the practice game at the Brabourne Stadium in Mumbai ahead of the series, a good outing in an official game will definitely boost his confidence.