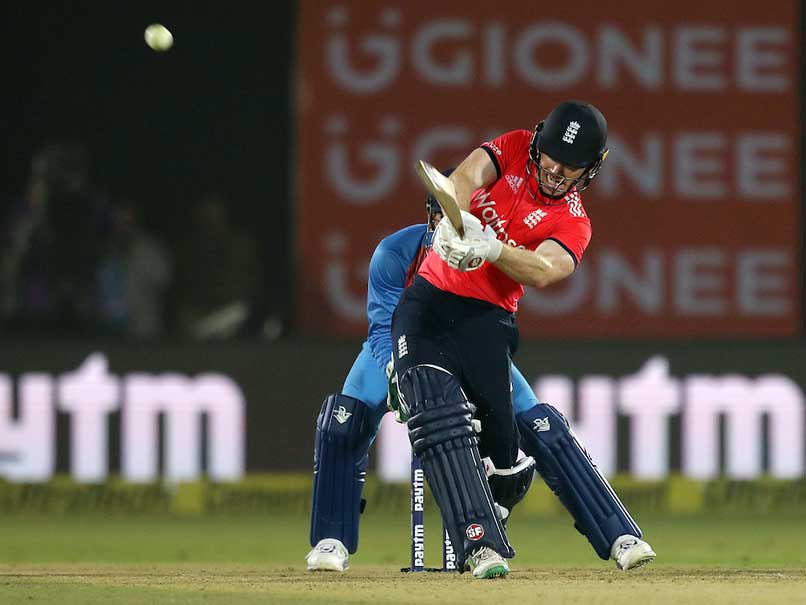 India vs England: Eoin Morgan notched his eighth T20 half-century to help the visitors take a 1-0 lead.
© BCCI
England cantered to a seven-wicket win in the first Twenty20 against India at Green Park, Kanpur, on Thursday to take a 1-0 lead in the three-match series. India started off well with Virat Kohli looking in good touch. Suresh Raina also threatened for a while but England managed to peg back India with wickets at regular intervals. England's chase began in destructive fashion as Sam Billings and Jason Roy took a liking to the Indian bowlers. Yuzvendra Chahal brought India back into the game with two wickets in an over but Eoin Morgan and Joe Root guided England home with relative ease.  (SCORECARD)
Get highlights from the India vs England 1st T20 here.
20:00 IST: That's it from us today. Do join us for the second T20I in Nagpur on January 29.
19:56 IST: Moeen Ali is the Man of the Match.
19:48 IST: Virat Kohli: England have played better cricket than us today. We accept that. With the ball, in the field and with the bat, they were precise. Today England performed the way we know they can. Credit to their bowlers for bowling hard lengths, they extracted pace and bounce. As I said, they were precise. Explosive start at the top. There are things we need to address and learn from this game. I have confidence in him (Chahal). Plays with me in RCB. Bowls with the new ball there as well with mid-on and mid-off up. He has the wicket-taking ability and is confident in his skills. Youngster showing character is always a positive sign. This is a format you need to enjoy and have to play at your intense best.
19:39 IST: Single to finish off the proceedings. England beat India comfortably by seven wickets. England take 1-0 lead. Root is unbeaten on 46.
1st T20I. It's all over! England won by 7 wickets https://t.co/QlYuJUHrAp @Paytm #IndvEng

— BCCI (@BCCI) January 26, 2017
19:38 IST: Scores are tied!! England need one more run to win.
19:37 IST: Four!! Another boundary from Root and England just need two more runs to win.
19:36 IST: Four!! Full, straight and Root lifts it over the mid-on boundary.
19:32 IST: Root's stumps are uprooted again but it was a free-hit. Lucky for the Englishman. England need 16 off 18 balls.
19:31 IST: Free-hit for England!! Bumrah had done this in the ODIs as well. Kohli looks frustrated.
19:28 IST: WICKET!! Root is clean bowled by Bumrah. But wait a minute it's a No-Ball!!
19:27 IST: No need for England to panic they just need 19 from 24 balls.
19:23 IST: WICKET!! Morgan tries to clear the boundary but picks out the long-off fielder. Maiden T20 wicket for Rasool. England 126-3 after 15.2 overs. Need 22 off 28 balls.
19:22 IST: Six!! With that Morgan brings about his eighth T20 half-century.
19:21 IST: Six runs from the over. England need 28 off 30 balls.
19:19 IST: Great attempt from Raina. He caught the ball but the momentum took him over the boundary, however, he still managed to throw the ball back into the ground. Saved four runs for his team.
19:18 IST: England require less than six runs per over now. Should canter to victory!
19:16 IST: Six!! Short of length from Rasool and Morgan deposits it over the square leg boundary.
19:13 IST: Another good over for the batting side. England need 45 runs to win from 42 balls.
19:11 IST: Four!! Root shimmies down the track and times his drive to perfection. England looking very comfortable here. India need a wicket desperately.
19:08 IST: Six!! Half-tracker from Raina and Morgan smashes it for a maximum. England 94-2 after 12 overs.
19:07 IST: Perfect situation for Root with the run rate not being too high.
19:05 IST: Six runs from the Pandya over.
18:59 IST: Six!! Morgan sweeps Chahal and it sails over the square leg boundary. Second boundary of the over. England are 76-2 after 10 overs.
18:58 IST: Four!! Root comes down the track and smashes it through covers. Great looking shot!
18:57 IST: Good comeback over from Bumrah. Just two runs from the over. England are 64-2 after 9 overs.
18:50 IST: Raina into the attack!
18:48 IST: England knock it around for singles and doubles after getting the early boundary.
18:46 IST: Four!! Morgan breaks the shackles with an inside-out drive.
18:45 IST: Just two runs from the Chahal over. England are 48-2 after 6 overs.
18:43 IST: England's current run rate is over 8.5 and they need to score at 6.97. So run rate not a problem. India need to keep picking up wickets.
18:39 IST: Spin from both ends as Rasool comes into the attack.
18:36 IST: WICKET!! Another wicket for Chahal. Billings came down the track and yorked himself. India back in the game! England are 43-2 after 4 overs.
18:34 IST: WICKET!! Roy is bowled by Chahal. Great comeback from the leg-spinner.
18:33 IST: Six!! Roy sweeps Chahal over deep mid-wicket. The onslaught continues.
18:29 IST: 12 runs from the over. England are 36-0 after 3 overs.
18:27 IST: Six!! No relief for India from the other end as Roy gets into the attack and deposits Nehra over the long-off boundary.
18:25 IST: Four!! Short this time from Bumrah and Billings helps himself to another boundary. 20 runs from that over. England are 24-0 after 2 overs.
18:24 IST: Six!! Billings shimmies to the off-side and laps it to fine-leg for a maximum.
18:23 IST: Four!! Another length delivery from Bumrah and an other boundary for Billlings.
18:22 IST: Four!! Billings with an uppish drive and it's England's first boundary.
18:21 IST: Four runs from the first over. Steady start for England.
18:18 IST: Misfield from Kohli and Roy picks up a double.
18:17 IST: Dot ball to start off.
18:15 IST: Jason Roy and Sam Billings to open the innings for England while Ashish Nehra has the ball.
18:06 IST: England have done extremely well to restrict India to this score. It looked India would score much more when Kohli and Raina were batting but the visitors kept picking wickets at regular intervals to peg back the host.
18:05 IST: A double to end the innings. India finish on 147-7 after 20 overs.
18:04 IST: Two dot balls!
18:03 IST: WICKET!! Rasool run out 5(6). India 145-7 after 19.4 overs.
18:02 IST: Four!! Dhoni with back to back boundaries. Just what the doctor ordered for India.
18:01 IST: Four!! Finally Dhoni gets one away and it's powerful shot down the ground. Boundary after 23 balls. Need more of that!
17:59 IST: India haven't hit a boundary in the last 21 balls. India are 134-6 after 19 overs.
17:57 IST: India dealing in just singles and doubles right now. Need the boundaries big time!
17:55 IST: Six runs from the over. India need a big one to get past 150. India are 128-6 after 18 overs.
17:54 IST: Dhoni faced four balls but failed to get it to the boundary. Good bowling from Jordan.
17:50 IST: Five runs and a wicket from the Mills over. India are 122-6 after 17 overs.
17:48 IST: Rasool, who is making his debut, comes out to bat.
17:47 IST: WICKET!! Pandya is dismissed for 9 as Tymal Mills picks up his first international wicket.
17:45 IST: 11 runs from the Ben Stokes over. India are 117-5 after 16 overs.
17:41 IST: Four!! Dhoni drives powerfully and gives India a much-needed boundary.
17:39 IST: India need a good over soon to get up to 150. India are 106-5 after 15 overs.
17:37 IST: Brilliant fielding by Stokes. Saved two runs for his team.
17:35 IST: Great spell by Moeen comes to an end. 22 runs from his four overs and 2 wickets.
17:30 IST: WICKET!! Manish Pandey lbw b Moeen 3 (5). India lose another one and Pandey falls cheaply. England are in control now.
17:28 IST: WICKET!! Raina is bowled by Stokes for 34 off 23 balls. He tried to flick the full delivery to the leg but had moved a little too much. India are 95-4 after 12.3 overs.
17:27 IST: Six!! Raina with the first maximum of the match. It was on his legs and Raina hit it to his favourite part of the ground -- mid-wicket boundary.
17:21 IST: Four!! Raina comes down the track and drives beautifully to collect another boundary. A lot rests on his shoulders.
17:16 IST: WICKET!! Yuvraj is gone for 12 off 13 balls. Brilliant catch by Adil Rashid at fine-leg. India are 75-3 after 10.1 overs. 
17:14 IST: Four!! Full delivery from Moeen and Yuvraj smashes it back straight down the ground. India are 75-2 after 10 overs.
17:13 IST: England have pulled it back very well. Up to Raina and Yuvraj to give India the impetus now.
17:05 IST: WICKET!! And it's the big wicket of Virat Kohli. Moeen Ali strikes with his first ball of the match.
16:58 IST: Four!! Raina gets into the act. It's lofted straight over the head of the bowler as the left-hander picks up his second boundary. India are 47-1 after 6 overs.
16:51 IST: WICKET!! Rahul is gone for 8. He tried to pull a short delivery from Jordan but looked hurried into the shot and managed to lob an easy catch to Adil Rashid at short fine-leg. Another failure for Rahul. India are 34/1 after 4.3 overs.
16:46 IST: Back to back fours from Kohli!! Both uppish drives and both find the boundary. The Indian captain is looking in ominous touch.
16:44 IST: Good over from Mills. Just 6 runs from that. India are 22-0 after 3 overs.
16:42 IST: Rahul gets a healthy edge but it's wide of the point fielder.
16:39 IST: Kohli has a strike rate of 111.4 in the powerplay.
16:39 IST: Four!! Full from Jordan and Kohli lifts it over mid-on for his second boundary.
16:37 IST: Dot ball.
16:36 IST: Chris Jordan starts off with a no-ball. Free-hit for India!
16:35 IST: Four!! Again it's short, again it's wide and again it's four but this time off the bat of Rahul. India are 9-0 after 1 over.
16:34 IST: Mills seems to has a physique of a boxer than a cricketer.
16:32 IST: Four!! Short, wide and Kohli cracks it off the backfoot. First boundary for India and Kohli.
16:31 IST: The first ball is a 90mph delivery.
16:30 IST: Left-arm fast for England as T20 specialist Tymal Mills has the ball.
16:29 IST: Virat Kohli is opening for India!
16:25 IST: The two teams are out for the national anthems.
16:15 IST: Kohli could open alongside KL Rahul while Parvez Rasool is in the playing XI. Here are the two teams.  
IND XI: L Rahul, V Kohli, MS Dhoni, Y Singh, M Pandey, H Pandya, S Raina, P Rasool, Y Chahal, A Nehra, J Bumrah

— BCCI (@BCCI) January 26, 2017
ENG XI: J Roy, S Billings, J Root, E Morgan, J Buttler, B Stokes, M Ali, C Jordan, L Plunkett, A Rashid, T Mills

— BCCI (@BCCI) January 26, 2017
16:03 IST: Eoin Morgan wins the toss and England will bowl first.
England have won the toss and they will field first. @ImParveezRasool makes his T20I debut #TeamIndia #INDvENG @Paytm pic.twitter.com/ALdzCEsJ4a

— BCCI (@BCCI) January 26, 2017
16:02 IST: Toss time!!
15:55 IST: Hello and welcome to the live blog of the first T20 between India and England.
India were comfortable winners in the Test and ODI series and will look to carry forward that momentum into the T20 series. Meanwhile, England are coming back at the back of winning their first international match in this India tour.
India have played England eight times in T20s and not fared too well majority of the times. India have managed three victories to England's five. Even when playing at home, India have managed just one win in three matches with the English coming out victorious in the other two.
Under the new leadership of Virat Kohli, India will look to set the record straight. Kohli is yet to captain Team India in the shortest format of the game but will be familiar with the role having captained the Royal Challengers Bangalore in the Indian Premier League for since 2011.
Suresh Raina and Ashish Nehra will return to the squad and are expected to be in the playing XI while in the absence of Ashwin and Jadeja, Amit Mishra is expected to get the nod.
For England, Joe Root, who missed the final ODI, is fit but David Willey, who was injured in England's consolation win at the Eden Gardens, is not available for selection.